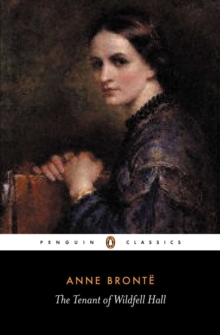 The Tenant Of Wildfell Hall,
Paperback
Description
The Penguin Classics edition of Anne Bronte's The Tenant of Wildfell Hall, her groundbreaking study of a woman's valiant struggle for independence from an abusive husband is edited with an introduction and notes by Stevie Davis. Gilbert Markham is deeply intrigued by Helen Graham, a beautiful and secretive young woman who has moved into nearby Wildfell Hall with her young son.
He is quick to offer Helen his friendship, but when her reclusive behaviour becomes the subject of local gossip and speculation, Gilbert begins to wonder whether his trust in her has been misplaced.
It is only when she allows Gilbert to read her diary that the truth is revealed and the shocking details of the disastrous marriage she has left behind emerge.
Told with great immediacy, combined with wit and irony, The Tenant of Wildfell Hall is a powerful depiction of a woman's fight for domestic independence and creative freedom. In her introduction Stevie Davies discusses The Tenant of Wildfell Hall as feminist testament, inspired by Anne Bronte's experiences as a governess and by the death of her brother Branwell Bronte, and examines the novel's language, biblical references and narrative styles. Anne Bronte (1820-1849), youngest of the Bronte sisters, was born at Thornton, West Yorkshire.
Her father was a curate, and her mother died when she was a baby, leaving five daughters and one son.
After the death of her sisters Maria and Elizabeth from tuberculosis in 1825, the Bronte children were homeschooled, and together they created fantasy worlds and kingdoms which they explored in writing.
Anne worked as a governess between 1840 and 1845, after which she published Agnes Grey (1847) and The Tenant of Wildfell Hall (1848) under the pen-name Acton Bell.
Anne Bronte died in 1849. If you enjoyed The Tenant of Wildfell Hall you might also like Edith Wharton's The Age of Innocence, also available in Penguin Classics.
Information
Format: Paperback
Pages: 576 pages
Publisher: Penguin Books Ltd
Publication Date: 29/02/1996
Category: Classic fiction (pre c 1945)
ISBN: 9780140434743
Other Formats
Paperback from £2.50
Hardback from £7.45
Leather / fine binding from £9.89
EPUB from £0.99
eAudiobook MP3 from £5.84
PDF from £4.14
Free Home Delivery
on all orders
Pick up orders
from local bookshops
Reviews
Showing 1 - 5 of 13 reviews.
Previous | Next
Review by CatyM
16/06/2015
In summary - I loved this book. I didn't like all the characters - good grief, were some of them annoying - but I really liked the book. It took me quite a long time to read: while I was reading it, I was really into it; once I put it down, it was a little difficult to pick up again. I was fascinated by the structure, by the diary and letters inside other letters, and the way the commentary from Markham jumped about. It was intriguing to have Helen's commentary on her marriage nestled inside Markham's commentary on his relationship with Helen. I didn't always like Helen, but I admired her commitment to her marriage, her commitment to her son, and her commitment to her faith. I was gripped by the way Brontë showed her characters getting to know one another and discovering what they were really like, and how the relationships changed and developed. Not just Helen and her husband, but also Markham and Helen, Markham and Lawrence, and the many secondary characters.(But really? Writing that in her journal while her husband was in the room? Even if she thought he was asleep? Behold - an original early Victorian example of a TSTL heroine! Good grief.)The language of the book is rich and evocative, and the characters deftly painted. No punches are pulled in commenting critically on the inequality between men and women, and the double standards pertaining to marriage both in society and in law. For some modern readers, I suspect that the extent to which Helen's faith pervades her musings in her journal and the vast array of biblical references would be off-putting. The book would simply seem too religious. For me, this was a bonus, because it made me question the extent to which my own faith affects my actions.Despite having taken so long to get to the end of it, this was one of those books that made me want to turn back to page one and begin all over again. It was just... edible.
Review by melondon
16/06/2015
Amazing book. Found it more absorbing than the other Bronte sisters.
Review by StoutHearted
16/06/2015
The Tenant of Wildfell Hall is one of the least-studied novels of the Bronte sisters, but perhaps the most realistic. It doesn't have those happy coincidences that were a beloved trope of Charlotte's, nor the over-romanticized male hero of Emily's "Wuthering Heights." In fact, it's almost a rebuttal to the latter, and a damning portrayal of Heathcliff-like character as if through Isabella Linton's eyes. The brutal Gothic hero is exposed as a selfish, ruinous burden, while those who are forced to put up with such a jerk get the recognition they deserve. It's hailed as a feminist novel, though modern feminists may critique the lengths to which Helen goes to serve her duty as a wife.The novel has two narrators: The first, Gilbert Markham, is a gentleman farmer of modest means who writes a letter in which he describes the story of the mysterious lady who moved into Wildfell Hall. In the middle of his tale, he is privy to read this lady's journal, and the novel switches to her own narration of her turbulent past for many chapters. The lady calls herself Helen Graham, and when she moves into the neighborhood with her son and no husband, (and no desire to discuss her past), it causes gossipy tongues to wag. At first put off by her aloof manner, Gilbert eventually falls for her, but the strain of neighborhood gossip becomes too much and even he becomes suspicious, especially towards her landlord Mr. Lawrence, with whom she may or may not have a deeper relationship. It turns out that Helen loves Gilbert, too, so she sets to ease his mind by telling him all and lets him read her diary. It exposes a past filled with naivete, domestic abuse, and cruelty, and explains who Helen really is, why she must be so mysterious, and ultimately exposes her true character.Like most Bronte heroes, Gilbert's character is marked by whining and selfishness. And like most Bronte heroines, it is Helen who has the best character: strong, steadfast, spiritually solid, and with a pragmatic acceptance of her lot in life, as well as her duty towards others. Though others may judge her, she lives a blemish-free life among drunks, adulterers, seducers, and spiritually-lacking, morally-deficient, gossiping, deceitful people. First, she puts up with her abusive husband out of a misguided attempt to make him a better man by her example. When she realizes how out of her league she is, her epiphany "I am no angel!" serves to remind her more that she is a mere mortal, and can only put up with him now out of the imposed societal code that dictates a woman is a man's property. Her duty is to him, and his duty is to himself alone. There are no laws to protect her, and the rules of society deem that women who leave their husbands (for whatever reason) are considered to have lost their virtue. Second, she puts up with a town that demands her time and attention, and spreads lies about her for not exposing her past.Bronte does well skewering the hypocritical nature of early 19th century society. Although a very religious book – it quotes prodigiously from the Bible, and Helen maintains her trust in God and her morals throughout when others would tempt her away – it does not exempt the clergy from criticism. The Reverend Millward is a booze-loving clergyman who's more concerned with appearances than true spiritual morality. His daughter, Eliza, is jealous, spiteful, and quick to spread unfounded vicious rumors. The small-town characters are themselves skewed as a busybody, gossiping lot, who seek to torment their neighbors for their own pleasure, shunning them if they seem less than worthy. Then there's the upperclass gentlemen, men who leave the business of running their land to others while they cavort like playboys indulging in every vice. They are permitted to behave in the worst ways imaginable, and their wives are expected to put up with it. Any poor behavior upon his part would surely be blamed as a character flaw on her part. This lack of responsibility for one's actions is a common motif throughout the novel – even Helen succumbs to it. When she defends her decision to marry Mr. Huntington, a known scoundrel, she blames his bad behavior on his parents. Later, Mr. Huntington blames his bad behavior on Helen: he drinks because she nags, because she treats him coldly when he disappears for months at a time, he has affairs because Helen is a bad wife, etc. To the end, Mr. Huntington refuses to accept any responsibility for the position he has put himself in. As in Bronte's earlier work, "Agnes Grey," the author seems determined to portray an unvarnished account of life and what women suffer. In Agnes Grey, we saw the lot of the governess, and the cruel treatment she received. "The Tenant" exposed the lot of the wife, especially the wife tethered to an unfaithful, abusive husband. No matter what is done to her, Helen cannot divorce her husband. She is his property and nothing, not the wages she earns nor the child she bears, legally belongs to her. It is a cruel lot in life, blowing the lid off the romantic perception of the 19th century gentleman as a romantic hero. If you ever read "Wuthering Heights" and were disturbed by Heathcliff, or maybe to some extent by Jane Eyre's Rochester, this book will be a vindication to your thoughts.
Review by sally86
16/06/2015
I read this during a trip to Yorkshire when I accidentally ended up in Haworth for a weekend. First I re-read Wuthering Heights, just in case I was wrong about it (I wasn't). I wasn't going to bother giving Jane Eyre another chance, I've tried four times and hated it more each one. But despite my hatred for Emily and Charlotte, Anne Bronte, she is fabulous. Admittedly, The Tenant of Wildfell Hall is quite derivative of Sir Walter Scott, with it's strong female heroine, and somewhat standard gothic plot, but I don't think it suffers for it- it has a cracking narrative, characters you'd want to invite to one of those "if you could invite any five people to dinner who would it be" dinners, and so much emotion! I just can't help wondering why it is that Anne is the forgotten Bronte sister, while those other two hacks regularly top best books polls.
Review by ctpress
16/06/2015
Helen Graham rents the small cottage Wildfell Hall and move in there with her little son and the faithful maid-servant.. People in the small village are curious. Who is she? What is her background. She's evidently a widow - but not very eager to share about her life. And of course all kinds of rumors starts going around in the nosy little community.The young farmer Gilberg Markham falls in love with her - and starts to win her confidence. She will reveal her past to him in a long diary that takes up most part of the novel. She is in fact married to Arthur Huntingdon - a very mean and vile kind of husband and father. It is at times painful reading, and no surprise the public was chocked at the detailed glimpse into this bleak portrayal of marital tragedy - which includes the detrimental effects of alcohol, adultury and bad friends.I liked this second reading even better than the first. Also I would recommend the BBC tv-series adaptation from 1996 with Tara Fitzgerald as Helen Graham.