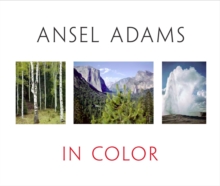 Ansel Adams In Color : Revised and Expanded Edition
Hardback
Description
Adams began to photograph in colour in the mid-1930s.
He did significant personal or 'creative' photography in colour and his distinctive visualisation of a scene and technical mastery is immediately evident in these photographs.
Overall, he made nearly 3,500 colour images, but only a small fraction have ever been published. Adams thought seriously about publishing his colour images but the task was not accomplished during his lifetime.
The Ansel Adams Publishing Rights Trust - with advice and counsel from John Szarkowski, former Director of Photography at New York's Museum of Modern Art; David Travis, Curator of Photographs at the Art Institute of Chicago and James Enyeart, former Director of the International Museum of Photography at George Eastman House--asked the distinguished master photographer Harry Callahan to select the best of Adams' colour work for publication in this book.
Information
Format: Hardback
Pages: 176 pages, Integrated: 74, full colour photos
Publisher: Little, Brown & Company
Publication Date: 01/10/2009
Category: Individual photographers
ISBN: 9780316056410
Free Home Delivery
on all orders
Pick up orders
from local bookshops
Reviews
Showing 1 - 3 of 3 reviews.
Review by gaby317
16/06/2015
"Throughout his life Ansel remained ambivalent about color photography - a sampling of his reflections on the subject is included at the end of this book. Much of his antipathy toward color stemmed from the extremely poor quality of color photographing. Another source of his frustration was the inability to adequately translate the brilliance of a color transparency into a fine print." -Foreward by John P. Schaefer and Andrea G. StillmanI had always loved Ansel Adams' black and white photographs of nature. His photos of Yosemite had added to the pleasure of my trip to the National Park years ago. I hadn't known that Ansel Adams had worked in color, much less, that he had over 3,000 color transparencies. He had worked with color photography when the medium and technology was in its early stages. His frustration with the technical limitations explain why he is best known for his black and white work. However, with the developments in photography and computers, it is now possible to see his work as he would have been prepared to show it. The photos in this book were selected by a photographer of Adams' generation and fellow member of the Detroit Camera Club who has expressed the debt he owed Adams for the direction and advice. Callahan is also highly regarded and has been described as one of America's greatest visual poets. He chose the photos based on his own aesthetic pleasure - "selecting those things that pleased me" without adjustments for historical reasons or concern for what the image might have looked like once. The essays and text that accompany the stunning photographs give a fuller understanding of Ansel Adams' work and the development of the art of photography. This book is such a pleasure - whether you read it carefully or glance at the photographs.Publisher: Little, Brown and Company; Revised edition edition (October 21, 2009), 168 pages.Review copy provided by the publisher.
Review by kimspam66
16/06/2015
The title says it all: "Ansel Adams in Color." Who knew that America's premier black and white photographer performed his film magic in color too? I certainly didn't."Ansel Adams in Color" is filled with Adams' gorgeous, technicolor, photographs along with accompanying essays. While Adams was ambivalent about working in color -- primarily due to the technical limitations at the time -- today's digital advancements allow the photos to shine. These majestic photos were taken primarily in the 40's- 50's and capture America's natural landscape at its zenith. The photographs include breathtaking shots of the Grand Canyon; Yosemite National Park; Death Valley; Hawaii; Alaska, Wyoming; and much more!"Ansel Adams in Color" would be a welcome edition to the collection of any photographer or Adams' admirer.Publisher: Little, Brown and Company; Rev'd edition(Oct. 21, 2009), 168 pages.Review Copy Provided Courtesy of Hachette Book Group.
Review by spvaughan
16/06/2015
This has become my "I need a break" book. You know when you have read all the intense books, seen all the intense news, and you just need to get away? I can look at the photos (I love photography) and drift and/or read the commentary and imagine. I think I love color photography the best because of hues and intensity and, maybe the reality of vision. Hachette may have given me this book to review but they should couldn't influence my opinion...just ask any other Ansel Adams fan or just plain photography fan...they'll tell you the same, this is a beautiful book!