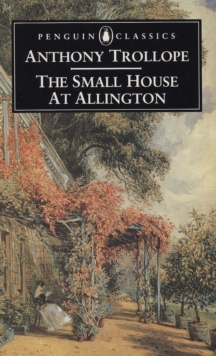 The Small House At Allington,
Paperback
Description
Engaged to the ambitious and self-serving Adolphus Crosbie, Lily Dale is devastated when he jilts her for the aristocratic Lady Alexandrina.
Although crushed by his faithlessness, Lily still believes she is bound to her unworthy former fiance for life and therefore condemned to remain single after his betrayal. And when a more deserving suitor pays his addresses, she is unable to see past her feelings for Crosbie.
Written when Trollope was at the height of his popularity, The Small House at Allington (1864) contains his most admired heroine in Lily Dale - a young woman of independent spirit who nonetheless longs to be loved - and is a moving dramatization of the ways in which personal dilemmas are affected by social pressures.
Information
Format: Paperback
Pages: 752 pages
Publisher: Penguin Books Ltd
Publication Date: 31/01/1991
Category: Classic fiction (pre c 1945)
ISBN: 9780140433258
Other Formats
Paperback from £8.35
CD-Audio from £18.95
Hardback from £9.15
Audio disk from £45.99
Paperback / softback from £15.79
EPUB from £2.54
PDF from £2.54
Free Home Delivery
on all orders
Pick up orders
from local bookshops
Reviews
Showing 1 - 5 of 10 reviews.
Previous | Next
Review by DieFledermaus
16/06/2015
This novel, the fifth in Trollope's Barsetshire series, actually takes place far from Barchester, in the country. Lily Dale, the heroine, is jilted by her fiance and spend the rest of the book dealing with it. Adolphus Crosbie - her ex-fiance - ends up marrying Lady Alexandrina of the de Courcys. Unsurprisingly, it turns out to be an enormous mistake and Trollope realistically chronicles their pre- and post- marital disintegration. Another character, Johnny Eames - Lily's close friend and would-be suitor - works in London and suffers romantic mishaps with his landlord's daughter. Although Trollope's audience loved Lily, she was rather annoying. Of course her love for Crosbie was enduring, intense, pure and selfless - all the stuff that people usually praise - but in practice it came out extremely grating. At first, when they were happily engaged, her behavior was complete devotion. She came on so strong that she was practically setting herself up for a fall. For example, she told Crosbie that nothing he could do would destroy her trust in him. Even if he hadn't dumped her, it still seems like there would have been disappointment. Crosbie could never love her as much as she loved him and while she may have been fine with this - she wouldn't be happy with herself, thinking that she caused his social position to be tarnished. Marrying her, he would never again be the man about town and would presumably end up financially strapped, with many children and always a little resentful of his country wife. Even after he married, she still spouted some creepy ideas that her and Crosbie's engagement would be the one that was recognized in heaven.Lily's reaction to Crosbie's treachery did contain some grief, but she also forgave him. Really, it happened almost immediately - not normal. She wouldn't even let anyone around her badmouth the jilter. In other non-Crosbie respects, Lily tended towards the light and flippant so she was sufficiently tolerable for a whole book.Crosbie himself had plenty of that sweet self-delusion making him out to be better than he was. No one can especially like him, given his actions, but his second engagement and wedding proved extremely interesting. Everyone knows it won't work and he did deserve unhappiness that way. He'd made a bad bargain - marrying a penniless titled woman always more expensive than one without noble connections. Then it turned out that he hated his wife's father, the earl, but couldn't appropriately express it since he married her partly for the influence. All the slings and arrows to his checkbook are accounted and worried over by Crosbie. Alexandrina, as befitting her status, is a little distant and doesn't love him. Their end is not surprising. Johnny starts out an awkward 'hobbledehoy' and apparently becomes a man at the end. His fanciful love for Lily is disrupted by her engagement to Crosbie and he later gets in trouble with Amelia Roper, his landlady's daughter. Amelia wants a husband - Trollope isn't too hard on her, she was neither the best or the worst - but Johnny clearly divides women into saints like Lily and lowly scum like Amelia.Another subplot - one more related to the de Courcy world - revolves around a possible affair between Plantagenet Palliser and Lady Dumbello (the former Griselda Grantly). Both seem unlikely for one - the work-obsessed, uptight Parliament member/heir to the Duke of Omnium and the ultrafashionable, monosyllabic, cold but socially adept wife of dim Dumbello. Griselda is apparently in danger because she talks to Palliser. He rather lamely tries to pursue her. Still, important because it's the first introduction of Palliser, who will go on to be the main character in Trollope's next series.Even though Lily is annoying, the usual good points about the novel - Trollope's superb prose and psychological characterization of people and relationships.
Review by littlegeek
16/06/2015
Enjoyed it, but Lily Dale gets wearing to this 21st century readers. As usual, the Trollopian way with all characters is on display. Especially delicious: the squire, the earl, Lady Julia, Hopkins, everyone at Burton Crescent.
Review by wrmjr66
16/06/2015
This is one of those books where 1-5 stars doesn't do it. On a 100 point scale, it's in the high 80s. There are moments that are really wonderful, comic and insightful. Like many triple-deckers, there are moments where it drags. Trollope is clearly setting up future books; not only <i>The Last Chronicle of Barsetshire</i>, but also the Palliser novels that are to come. The latter case is interesting from the perspective of his career, but in this book it adds a little-developed sub-plot with no connection to the main action of the book. Still, the sisters Lily and Belle Dale are interesting contrasts in how marriage and love effect young women. It isn't quite as good as <i>The Warden</i>, but it measures up to the others very well.
Review by sumariotter
16/06/2015
I love Trollope, ever since I watched the Pallisers on BBC. It is his incredible perceptiveness about people that I love and his humor and the way that he effortlessly creates a whole political and social world...I found this one totally engrossing though the ending was not the entirely happy ending I would have preferred and his heroinne Lily got on my nerves. Unlike Glencora who I love love loved! A little of that story got into this one...Trollope is a difficult author to know which book to recommend as his stories tend to overlap. I say, start by watching the Palliser series from BBC.
Review by jmoncton
16/06/2015
This is the 5th in the Barchester Towers series. As I continue on with this series I find myself enjoying each book more and more. I'm not sure if it's because some of the same characters continue to reappear or I have become more accustomed to Trollope's style. These books are charming and engaging. The focus of <i>The Small House at Allington</i> is the marriages of the Dale sisters, Lily and Bell. Neither has the requisite inheritance to help them with their choices, but, as with all Victorian heroines, they are intelligent, kind and beautiful. Great story.