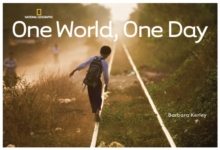 One World, One Day
Hardback
Description
At the end, photographer's notes accompany a reprinted thumbnail of each photo, illuminating the photographer's thoughts and methods in taking the picture, and including more information about the photo's location and subject matter.
Each photographer is given an opportunity to reflect on how the picture might resonate in the theme of the global family.
Such reflections are rooted in actual experience and tied to the pictures, so the result is fascinating.
Information
Format: Hardback
Pages: 48 pages, 40 full-colour photographs
Publisher: National Geographic Kids
Publication Date: 20/04/2009
Category: Age groups: children
ISBN: 9781426304606
Free Home Delivery
on all orders
Pick up orders
from local bookshops
Reviews
Showing 1 - 4 of 4 reviews.
Review by shelf-employed
16/06/2015
A beautiful book, filled with exquisite photos of children from around the world, engaged in everyday activities. One World, One Day reminds us how much more we are alike than different. Simple text, "At dawn, as the sun slips over the horizon, kids around the world get up wash up and celebrate a new day,"accompanies the many photographs. An author's note, explanations of each photo, and a highlighted map complete this great book.
Review by bperkins07
16/06/2015
Genre: This book is for some reason classified as fiction, though I might classify it is informational. The "story" just talks about things that children around the world do everyday, and has photos of children doing this. It is not just based on reality, but is reality, which is why I call it informational.Stars: Book
Review by BraleeGilday
16/06/2015
Review: This book represents one day, from sunrise to sunset, around the world and how kids in different countries have days remarkably similar to one another (and yet very different).Genre: InformationalCritique: This is a wonderful informational text, that uses a combination of text and pictures to portray the information. It is an interesting technique, as the text shows the similarities and the pictures are what differ (for example, "Time for school." is accompanied by many pictures of the many different ways in which children get to school). The information is accurate in this book, in that they are real pictures. At the same time, because similarities were focused on, rather than differences, it seems that there are a lot of cultures missing. In general though, it is very informative and vivid.
Review by nlinco1
27/08/2015
This book does not have many words on each page but the photographs tell a beautiful story. This book is essentially about unity of people of all races and cultures of the world. The book begins with this quote, " At dawn as the sun slips over the horizon, kids around the world get up was up and celebrate a new day." This run on sentence is a purposeful by the author. The reader's eye is carried from the left side on the book to the right side of the book on the opposite page as it reads the run-on sentences. On some pages there are a series of 4 different photographs of 4 different cultures eating 4 different things. However, each one of them are doing the same thing which is eating breakfast in this specific example, "Porridge pancakes churros toast. Hot sweet tea with plenty of milk. Lots of things taste good for breakfast." At the end of the day everyone plays, whether they are playing on a street cornier with sticks and old tires or playing baseball of a field with nice uniforms. The reader is able to connect with the children and the families in this book as they too follow the same sequence and actions of the day.