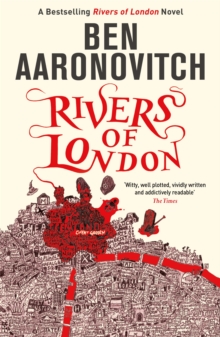 Rivers of London : The First PC Grant Mystery
Paperback
Part of the PC Grant series
Description
My name is Peter Grant and until January I was just probationary constable in that mighty army for justice known to all right-thinking people as the Metropolitan Police Service (and as the Filth to everybody else).
My only concerns in life were how to avoid a transfer to the Case Progression Unit - we do paperwork so real coppers don't have to - and finding a way to climb into the panties of the outrageously perky WPC Leslie May.
Then one night, in pursuance of a murder inquiry, I tried to take a witness statement from someone who was dead but disturbingly voluable, and that brought me to the attention of Inspector Nightingale, the last wizard in England.
Now I'm a Detective Constable and a trainee wizard, the first apprentice in fifty years, and my world has become somewhat more complicated: nests of vampires in Purley, negotiating a truce between the warring god and goddess of the Thames, and digging up graves in Covent Garden ...and there's something festering at the heart of the city I love, a malicious vengeful spirit that takes ordinary Londoners and twists them into grotesque mannequins to act out its drama of violence and despair. The spirit of riot and rebellion has awakened in the city, and it's falling to me to bring order out of chaos - or die trying.
Information
Format: Paperback
Pages: 432 pages
Publisher: Orion Publishing Co
Publication Date: 25/08/2011
Category: Fantasy
ISBN: 9780575097582
Free Home Delivery
on all orders
Pick up orders
from local bookshops
Reviews
Showing 1 - 5 of 22 reviews.
Previous | Next
Review by AHS-Wolfy
16/06/2015
Just coming to the end of his time as a Probationary Constable and hoping not to be posted to the Case Progression Unit (paperwork), Peter Grant talks to his first ghost who describes the murder at the scene he's guarding. Not something you can tell your superiors so the next night he goes back hoping for another meeting but this time Peter runs into Inspector Nightingale and finds himself explaining about the ghost. When the Inspector seems to take his story at face value this is when Peter's career prospects take a turn for the unexpected and he finds himself apprenticed to the last wizard in England.Can Peter learn enough magic to help solve what appears to be some kind of killer by possession case? Will his scientific mind be a help or hindrance? What kind of influence can he exert in a turf war between Father and Mother Thames and will he keep his hands off one of Mama's daughters or does he really want to? All of this is mixed into a very good police procedural and guide to London that is extremely readable. Peter Grant makes a good narrator for the investigation and the surrounding cast of characters fill out the scenery imaginatively. I certainly want to read the sequel sooner rather than later.
Review by dgbdgb
16/06/2015
Brilliant read - great fun
Review by wyvernfriend
16/06/2015
I couldn't help but feel sorry for Peter Grant, a bit unlucky in parts, not a great fit as a constable in the Metropolitan Police Force, his life changes when he sees a ghost while guarding a body. He's seconded to a force who police the things that go bump in the night (and at other times as well) and now he's learning magic and investigating a malicious spirit that's controling people.I read snippets out for my husband while I was reading this, I found it witty and entertaining and Peter really lept off the page. Some of the other characters were a little less real to me. This felt to me like Gideon (John Creasey); Felix Castor (Mike Carey) and Lord Darcy (Randall Garrett) met, resulting in this book. This is one of those books I really did enjoy reading and want to visit these characters again.
Review by hscherry
16/06/2015
A mixture of magic, detective story and history all rolled into one.. A bit hard to follow in places, but generally I really enjoyed it :)
Review by eclecticdodo
16/06/2015
A detective story set in a parallel London where magic is real but invisible to most. Peter Grant is a police constable and apprentice wizard; he and his boss, with the help of various magical creatures, protect the city from chaos. The level of detail really adds to the reading; from police procedures to accurate geography, the author has clearly done his homework. Described as "Harry Potter joins the Fuzz", it's definitely a book for adults not children; it's violent and dark, and there is swearing throughout. I found the ending a little weak, but I'll still definitely go on to read the next one.