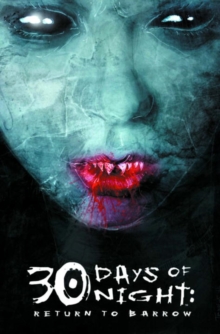 30 Days of Night: Return to Barrow : Return to Barrow
Paperback
Description
*30 Days of Night was one of the undisputed success stories of modern comics, spawning a bestselling trade paperback, a major motion picture deal, and the attention of thousands of fans longing for an innovative tale of terror.
Now the same creative team revisits Barrow, Alaska, the town where it all began, as the long night creeps once more over the tundra. Some things may have changed, but the horror remains...
Information
Format: Paperback
Pages: 144 pages, illustrations
Publisher: Idea & Design Works
Publication Date: 17/11/2004
Category: Comics and Graphic Novels
ISBN: 9781932382365
Free Home Delivery
on all orders
Pick up orders
from local bookshops
Reviews
Showing 1 - 4 of 4 reviews.
Review by clark.hallman
16/06/2015
This is the third book in this truly creative series of graphic novels. In this one the vampires return to try to finish, what they began in book one. There are some new characters along with some continuing characters, There is plenty of action and Ben Templesmith's art is right on target to convey it. The residents of Barrow , Alaska get some unexepcted help. I liked this book, and the previous two installments by Steve Niles and Ben Templesmith, very much.
Review by Jacey25
16/06/2015
30 Days of Night Return to Barrow was really a re-vamp of the first story. Stella is no longer the focus instead we follow the story of the latest to fill the sherrif shoes in the town of barrow now three years after the incident. It was a lot like a do-over of book one but that made it far superior to book two so...Three starsOverall the only book of the series I would reccomend to anyone is the first but I would definitely reccomend the first volume 30 Days of Night.
Review by stephmo
16/06/2015
In most movie series, there comes that inevitable installment where fringe characters are suddenly pushed forward and an entire plot is inexplicably woven around them usually in the name of setting things right, vengeance or reading the lost letters/journals/papers of someone who came before them. <i>Return to Barrow</i> is the graphic novel equivalent and only the briefest of cameos from previous primary characters is thrown in to hold this story together.As you may have guessed from the title, we return to Barrow in this tale where we meet brothers of not one but <i>two</i> the former Barrow massacre making preparations for darkness in Barrow. That's right. Barrow is still a functioning town with inhabitants that now want to fight off the annual vampire invasion. I know, I know - you read the previous installments. There are all sorts of silly questions to be answered about town-destroying fires, obliterated power plants and certain vows never to return from the undead. Have you forgotten the main rule of this type of sequel? Okay, I realize in film, it's usually <i>if your original sets still exist, think of the savings by setting another sequel there!</i>, but don't be silly, this is all drawn. In this type of sequel, the rule is <i>time moved on and it's not as if we carved those things we said in stone</i>.So why go back to Barrow? For a final showdown. Only you and I both know this is no final showdown. It's just a blaze of guns, blood and fire that will lead to more final showdowns. After all, at least one or two bigger characters made cameos in this to keep their options open. You know, in case their big screen careers don't pan out and they need to come back to the franchise at least one more time for a decent paycheck. One can hope that they at least come back at the point where they still have the power to ask for a decent script. If it weren't for Templeton's drawings classing up the joint, things could have been a lot worse.
Review by kraaivrouw
16/06/2015
This is the last of this series I'm going to review because it's the last of the series available in my local public library and I'm not into it enough to purchase and collect (which is not to say that I didn't enjoy it).Horror is very difficult to do well - on film, in comics, in short stories, or book length. There are so many different definitions of what horror really is for one thing, for another there are there are so many tropes out there that it's easy to be lazy about it. I love horror done well and am frequently disappointed, perhaps because for me it's very much less about the brutally graphic (you can find plenty of that in your average history book) and very much more interested in the building of suspense and the stuff that flits by the corner of your eye and then reaches out and grabs you when you turn away. This means that Shirley Jackson's <i>The Haunting of Hill House<i> absolutely works for me while Richard Matheson's similar book, <i>Hell House</i>, doesn't work as well. I'm not denying Matheson's place in the pantheon of horror writers, <i>I am Legend</i> is absolutely classic and scary, it's just that in comparison between the two I like Jackson's ghost story better.These days the best horror is few and far between, although there are many good practitioners of the genre. I loved <i>House of Leaves</i> by Mark Z. Danielewski, Joe Hill's <i>Heart-Shaped Box</i>; <i>The Shining</i> and <i>'Salem's Lot</i> still scare me. <i>The Reapers are the Angels</i> by Alden Bell is horror crossed with the post-apocalypse through way of Truman Capote and Eudora Welty - the writing is beautiful - its zombies more a part of the landscape and less the central fact of the book. [Yes, I know I haven't mentioned H.P. Lovecraft, but I just can't read him. Love the mythos, though.]In comics there's the inimitable Alan Moore (who is one of the only writers who's ever given me real live wake up screaming nightmares), Garth Ennis' run of <i>Hellblazer</i>, and lots of other good series. Some people say Neil Gaiman's <i>Sandman</i> is a horror comic and sometimes it is, but not always as explicitly as some other series.<i>30 Days of Night</i> is a good horror comic, although less for the story and more for the setting, idea, and Ben Templesmith's art. <i>Return to Barrow</i> is just that - a return to the original scene of the crime - sadly that makes it less interesting. The writing is decent, but because it's back in the same setting it has some limitations both artistically and as a story line. Same location, same atmosphere, hard not to repeat yourself (and hard not to ask why everybody there isn't dead with repeated attacks each winter).Having fallen in love with Templesmith's art, however, I'm probably the last person in the world to know about <i>Welcome to Hoxford</i> and his <i>Wormwood</i> series - both are on my buy list.It's hard to do horror well, but when it's done really well and the noises in the house make you jump it's like nothing else. <i>30 Days of Night</i> does horror well.