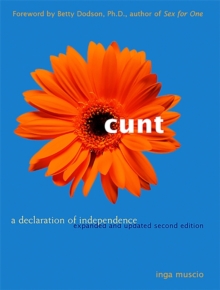 Cunt : A Declaration of Independence
Paperback
Description
An ancient title of respect for women, the word cunt" long ago veered off this noble path.
Inga Muscio traces the road from honor to expletive, giving women the motivation and tools to claim cunt" as a positive and powerful force in their lives.
In this fully revised edition, she explores, with candidness and humour, such traditional feminist issues as birth control, sexuality, jealousy between women, and prostitution with a fresh attitude for a new generation of women.
Sending out a call for every woman to be the Cuntlovin' Ruler of Her Sexual Universe, Muscio stands convention on its head by embracing all things cunt-related.
This edition is fully revised with updated resources, a new foreword from sexual pioneer Betty Dodson, and a new afterword by the author. Bright, sharp, empowering, long-lasting, useful, sexy....",San Francisco Chronicle ...
Cunt provides fertile ground for psychological growth.",San Francisco Bay Guardian Cunt does for feminism what smoothies did for high-fiber diets,it reinvents the oft-indigestible into something sweet and delicious.",Bust Magazine
Information
Format: Paperback
Pages: 416 pages
Publisher: Seal Press
Publication Date: 24/09/2002
Category: Cultural studies
ISBN: 9781580050753
Free Home Delivery
on all orders
Pick up orders
from local bookshops
Reviews
Showing 1 - 5 of 18 reviews.
Previous | Next
Review by julie_
16/06/2015
i wasn't sure whether to laugh or throw it out the window
Review by beau.p.laurence
16/06/2015
if you only read one third-wave feminist book, this should be it! a very down-to-earth conversational style. the 2nd edition is even better than the first, b/c Muscio corrected herself and included info & thoughts on non-women-born women
Review by findingmelmo
16/06/2015
This book, although it can seem overly biased and overly nudgy to some who have not been introduced to some extreme concepts involving feminism, it is very imformative, has many events and statistics to back up the claims, and is budding with ideas for woman's empowerment. This book allows skeptics to take a look at our society and how it effects woman in our culture directly as well as indirectly. Through unity, understanding, and self-respect woman can fight rape and sexism. Masturbation is advocated to become atune with the body and a close look is given to the signifigance of pleasure and reproductive organs. Liberation and openess to all people are two words that describe Cunt. This book changed my life. It is complete brilliance and I can credit my love for my body and anthropology to this book. I love Inga Muscio!
Review by HeatherLee
16/06/2015
Don't let the title scare you.I loved this book, simply because Inga reminded me why we need to stick together and love each other. I have experienced so much viciousness from women in my life, and I'll stand for no more. Her writing was so personal, I felt like she was right there reading to me. She just reached right into my heart and opened it up to some things I didn't think of before. She supported some of my current work with women - no matter how much they resist love them anyway. We need to be kinder to each other in such a world like this today. This is truly the most thought provoking book that I have ever read. I appreciated the way that Ms Muscio talked about how the choices that we make affect others. Before this, I never gave much thought to the type of business that I supported. The chapter on movies and the often violent content toward women really was a wake up call to me. Read this book with an open mind and an open heart.
Review by hearthfirecircle
16/06/2015
Very interesting and very radical piece of feminist literature. I found the concepts empowering, though not always medically factual.