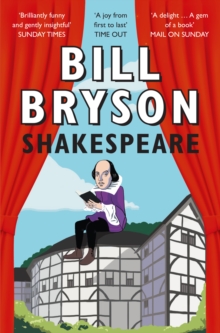 Description
From bestselling author Bill Bryson comes this compelling short biography of William Shakespeare, our greatest dramatist and poet.
Examining centuries of myths, half-truths and downright lies, Bill Bryson makes sense of the man behind the masterpieces.
As he leads us through the crowded streets of Elizabethan England, he brings to life the places and characters that inspired Shakespeare's work.
Along the way he delights in the inventiveness of Shakespeare's language, which has given us so many of the indispensable words and phrases we use today, and celebrates the Bard's legacy to our literature, culture and history.
Drawing together information from a vast array of sources, this is a masterful account of the life and works of William Shakespeare, one of the most famous and most enigmatic people ever to have lived - not to mention a classic piece of Bill Bryson.
Information
Format: Paperback
Pages: 272 pages
Publisher: HarperCollins Publishers
Publication Date: 01/04/2008
Category: Biography: literary
ISBN: 9780007197903
Other Formats
CD-Audio from £12.05
EPUB from £4.99
Paperback from £14.75
Free Home Delivery
on all orders
Pick up orders
from local bookshops
Reviews
Showing 1 - 5 of 18 reviews.
Previous | Next
Review by goancrow
16/06/2015
An pleasant read, history in a way that is accessible and enjoyable.
Review by psiloiordinary
16/06/2015
Ok you like Bill Bryson, so maybe you think that you can try this despite the title? Correct.I think Bill has undergone a personal epiphany which is now seeing the light of day in this book. The epiphany he had was while researching and writing "A short history of nearly everything", the epiphany was the scientific method and rational argument. Not just what we know but why we think we know it. No of course I am am not saying he was irrational before. But he never let a poor argument get in the way of a good story before. Or at least that's what his travel books feel like to me anyway.Now he wields a sword of logic and a shield with a sceptical eye painted on it as he looks at what we do actually know about Shakespeare, and why we think we know it. What we do actually know about Shakespeare is in fact, "not a lot". Bill tells us what we do know in an interesting and insightful way, with many a Brysonesque detour into interesting facts about the history, the people and the lifestyles of the time. What he also gives us as added entertainment is a taste of the huge number and variety of "independent thinkers" who have come up with various theories about Shakespeare and his works over the centuries. "Independent" in this case meaning "independent" of the evidence.So yes this book is well worth a go even if you have neither read Shakespeare nor read about the man nor read much about Elizabethan history before. Bill really is that good a tale teller, he really could pick any subject and make it entertaining. The great achievement here is that he has done it whilst sticking to the facts.
Review by minifig
16/06/2015
A well-written and interesting book. Everything you'd expect from Bryson.
Review by adzebill
16/06/2015
A splendid piece of demystifying; the world of Shakespeare, the hot air of the Authorship Question, the idea that he was a man of singular mystery for his time. Bryson does a great job of cutting through academic talk and boiling the life of Shakespeare down to an accessible short work with humour and charm. I was noting pithy gems of information in the margins all the way through.
Review by ThomasK
16/06/2015
Bill Bryson is a distinguished travel writer, known for his eloquent and witty style. With 'Shakespeare' he tries himself on a historic character that is hardly in need of just another biography with the compounding handicap that only scarce information on the life of this most famous playwright was handed down through history. However, the result is astounding. What knowledge is lacking on Shakespeare himself, Bryson provides plenty of insights on contemporary life on the turn from 16th to 17th century England. As always, his outstanding eloquence captivates the reader. An excellent book.