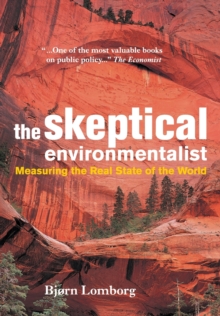 The Skeptical Environmentalist : Measuring the Real State of the World
Paperback
Description
The Skeptical Environmentalist challenges widely held beliefs that the environmental situation is getting worse and worse.
The author, himself a former member of Greenpeace, is critical of the way in which many environmental organisations make selective and misleading use of the scientific evidence.
Using the best available statistical information from internationally recognised research institutes, Bjorn Lomborg systematically examines a range of major environmental problems that feature prominently in headline news across the world.
His arguments are presented in non-technical, accessible language and are carefully backed up by over 2500 footnotes allowing readers to check sources for themselves.
Concluding that there are more reasons for optimism than pessimism, Bjorn Lomborg stresses the need for clear-headed prioritisation of resources to tackle real, not imagined problems.
The Skeptical Environmentalist offers readers a non-partisan stocktaking exercise that serves as a useful corrective to the more alarmist accounts favoured by campaign groups and the media.
Information
Format: Paperback
Pages: 540 pages, 9 tables
Publisher: Cambridge University Press
Publication Date: 28/08/2001
Category: Economic statistics
ISBN: 9780521010689
Free Home Delivery
on all orders
Pick up orders
from local bookshops
Reviews
Showing 1 - 2 of 2 reviews.
Review by tomxtobin
16/06/2015
I'm one of the seemingly rare people who not only doesn't trust the environmental movement's claims — I also oppose their base values of putting "the planet" ahead of ourselves, meaning I'd still oppose them <i>even if all their facts were correct</i> (which, ahem, they're not). As I considered myself a friendly audience going in, it was with some regret that I put down <i>The Skeptical Environmentalist</i> after perhaps reading a quarter of the book, deciding that I was wasting my time with something so absurdly boring. Lomborg talks about "The Litany" of the environmental movement — but his book is nothing but a litany of statistical refutations of their claims, along with the author's annoying concern for the welfare of impoverished Third World peoples. I think my mistake was viewing this as a book meant to be read front-to-back; instead, it probably works best as a reference tome to pluck specific bits of data to buttress one's arguments with the enviro-loonies (if one could be bothered arguing with them in the first place — I've given up caring about the opinions of people I don't know).
Review by PastorBob
16/06/2015
I've been paying attention to Lomborg for some time, and have seen his "Cool It" book which was much fun, but a relatively light read. The Skeptical Environmentalist lays out the solid data lying behind lighter presentations of Bjørn's lectures and work. Challenged by the claim of the great economist, Julian Simon, that the world was actually getting better whilst the masses were being led astray into believing otherwise, Lomborg undertook to research the real numbers and statistics lying behind the great crises and social problems in our world today. The result is a masterful assembly and presentation of the kind of information professors hide from undergraduates likely to question the political party line. With 2930 endnotes and a 70 page bibliography (in a 7" x 9.5" book!) Lomborg gives ample data on Human Welfare, Pollution, forestry, biodviersity, energy and resources, and much more. This book is a definitive must read for anyone hoping to interact intelligently with the greatest debates of our time.