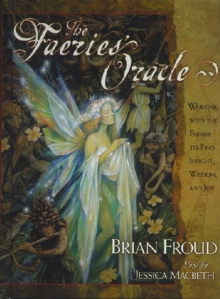 The Faeries Oracle
Paperback
Description
Using the enchanted art of Brian Froud as your guide, enter into the wise and wonderful world of the faeries.The Faeries' Oraclecalls on sylphs, pans, gnomes -- and, of course, faeries -- to lead you on a delightful journey of adventure, discovery, and enlightenment that will illuminate the future and heal the heart and soul.
This beautifully designed divination set contains everything you will need to explore this mysterious realm, including: * A complete deck of 66 radiant cards by Brian Froud featuring goblins, moon dancers, pixies, boggarts, and other faery folk we first met in Good Faeries/Bad Faeries * 208-page illustrated book with text by Jessica Macbeth, which will show you how to read the cards ofThe Faeries' Oracle,with particular instruction on personally connecting to and communicating with the faeries
Information
Format: Paperback
Pages: 224 pages, 2c t-o; 66 4-2c cards; ppr ovr brd bk; kit trim 6 3-8 x 8 3-8 x 1 13-16; shrink wrapped;
Publisher: Simon & Schuster Ltd
Publication Date: 11/08/2001
Category: Fortune-telling & divination
ISBN: 9780743201117
Free Home Delivery
on all orders
Pick up orders
from local bookshops
Reviews
Showing 1 - 5 of 7 reviews.
Previous | Next
Review by Ravenari
16/06/2015
I first picked up this deck, not because I wanted a wonderful oracle deck that was accurate, but because I just wanted to see the artwork - and it was cheap enough to justify buying!This is one of those purchases that pleasantly surprised me so many times that it's now my favourite oracle deck. From the first multi-card reading I did that was astonishingly 'spot on', to the humorous and personable tone of the book and it's author's insistence to find your own way around the cards and the meanings, to the actual illustrations themselves. Froud has really outdone himself with this deck, and all of the cards impart their own unique sense of personality, wisdom, beauty and life to the energy of a deck. This is a deck that I like friends and family and clients to touch, it spreads its energy freely, and gives all the more accurate readings for it. There's something 'fun' about this deck, no matter what issue you seem to be reading about. Whether it's the energy of the author, the cards, the faery, or Froud himself - who knows? It doesn't matter, these cards are wonderful, and I would recommend this as a great oracle deck for experienced readers, and for beginners.
Review by nehalemn
16/06/2015
A book listing the general description and meaning of the Faeries Oracle cards.
Review by lkrough2
16/06/2015
Gorgeous and fun cards from Brian Froud. One of the few decks that I believe has a life of it's (or their) own. The faeries jump off the cards and into your house to terrorize your cats and hide your jewelry. Buyer beware! :)
Review by cerridwenns_cat
16/06/2015
box set - book and cards. not traditional tarot but more complete than some oracle decks that are only geared towards certain emotions/states of mind, etc. have had this work really well for me. my friend who gave it to me couldn't get it to work for her for anything. decks are so individualistic. they either like you or they don't. froud's illustrations, as always, are exquisite.
Review by TheLeMur
16/06/2015
I have to admit that I'm one of the people who picked this up not for the tarot deck, but for the gorgeous artwork by Brian Froud. I had already seen many of the cards on his website, and could not have been more satisfied once I had them in my hands. One noticeable difference with this is that Froud is usually light and almost satirical, while Macbeth decided to take a much darker tone when it came to explainations of the cards and their meanings. I was okay with this, because his Faeries are much darker than the typical glowing pixies we see in children's books. In the actual book, Macbeth stresses the power of the individual rather than the cards, and searching for your own meanings through the cards. While I am not much of a tarot person, it was fun to dive in with this deck and actually use the cards for what they were meant for. The cards themselves are a nice size but not unwieldy, and each seems to have its own unique feeling to it, as each faerie Froud depicts has a clear life and emotion to it. Since, as I said earlier, I am not usually one for Tarot, this was a surprisingly satisfying buy. I recommend it to all lovers of Froud's work, or just any faery lover in general.