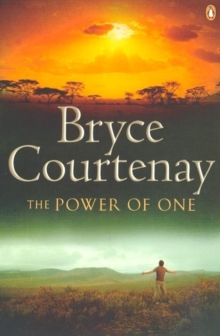 The Power of One
Paperback
Information
Format: Paperback
Pages: 640 pages
Publisher: Penguin Books Australia
Publication Date: 29/04/2006
ISBN: 9780143004554
Free Home Delivery
on all orders
Pick up orders
from local bookshops
Reviews
Showing 1 - 2 of 2 reviews.
Review by joyfulgirl
16/06/2015
If you have seen the movie with Stephen Dorf the book is 10 times better. They changed the ending for the movie so they could not go on to make the sequel, namely Tandia.Bryce Courtney is one of my favourite writers, and I am always moved by his books.The power of one tells the story of Peekay and his journey from childhood to adulthood. It is set in South Africa and begins as Hitler comes to power in Germany. Race, friendship, death, and self-belief are all themes that run through this story.
Review by evilmoose
27/01/2016
He certainly tells a ripping yarn, that Bryce Courtenay. It was interesting to read about the difference of opinion between him and Peter Carey - with Carey lamenting the decline in reading serious literary novels, and Courtenay lambasting him for being a snob. Honestly I feel like Courtenay has a point - just because a book has literary pretentions, doesn't necessarily mean it's good.This was a fun read, some really interesting history - I've read very little about South Africa, or Africa in general. And I was even almost thinking about giving it five stars. Until the ending. <spoiler>Because really? That's the way you want to end the story circle? With revenge? With brutal bloody revenge? That's the person you want him to be after the journey he's had? This is me, muttering with disappointment *mutters*</spoiler>