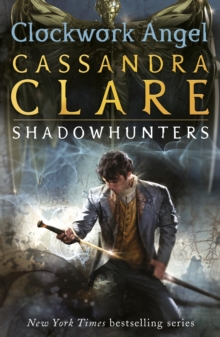 The Infernal Devices 1: Clockwork Angel
Paperback
Description
First in Cassandra Clare's internationally bestselling Infernal Devices trilogy about the Shadowhunters.Love is the most dangerous magic of all...
First in the bestselling prequel series to The Mortal Instruments, set in Victorian London.
Something terrifying is waiting for Tessa Gray in London's Downworld, where vampires, warlocks and other supernatural folk stalk the gaslit streets.
Tessa seeks refuge with the Shadowhunters, a band of warriors dedicated to ridding the world of demons.
Tessa finds herself fascinated by - and torn between - two best friends...
This edition contains a map and a new foreword by Cassandra Clare.
Read all the sensational books in The Shadowhunter Chronicles: The Mortal Instruments, The Infernal Devices, Tales from the Shadowhunter Academy, The Bane Chronicles, The Dark Artifices, The Last Hours and The Shadowhunter's Codex.
Information
Format: Paperback
Pages: 496 pages
Publisher: Walker Books Ltd
Publication Date: 04/09/2010
Category: Fantasy
ISBN: 9781406330342
Free Home Delivery
on all orders
Pick up orders
from local bookshops
Reviews
Showing 1 - 4 of 4 reviews.
Review by sithereandread
16/06/2015
CLOCKWORK ANGEL, by Cassandra Clare, is the beginning of a new series, The Infernal Devices. Set in 1878, this book thrusts you into a dangerous world of Shadowhunters and supernatural creatures living in Victorian England.I hate to admit that this is my first experience reading Cassandra Clare, but what an impression she made! This is also my first "steampunk" book, and since the Victorian era is one of my top eras (in terms of clothing and way of life) it was a double success in my mind. Before writing my review, I looked at The Infernal Devices, where there is a ton of information about this new series. I suggest you check it out, its a pretty cool site. One of the things I was psyched to see was that I didn't need to read The Mortal Instruments Series before this one (though I am going to start reading them ASAP). They complement each other but are not the same main characters.Aside from the fascinating backdrop of Victorian England, the characters and plot were quite fantastic. I liked Tessa very much. She was a proper girl, but she was determined. The mystery surrounding her powers kept me engaged as they unfolded. And I felt really connected with each of the characters at the Institute. Jessamine was such a brat, but a typical female of the time. The bantering that she engaged in kept me cracking up. Her person of choice to fight with was Will (swoon!). He was very mysterious and intriguing at the same time. Jem, his best friend, was a great friend and confident to Tessa. I was saddened to learn how each of them were orphaned, but I think this bonded them together more than anything.Clare captivated me from the start of the book. The mystery of the Dark Sisters and what they were doing with Tessa bombarded me with questions begging to be answered. As this world unfolded before me, I was blown away with the immense creativity that Clare illustrated before my eyes. I was interested to learn about the Shadowhunters and their background, and how they interacted with other supernatural characters. And I was intrigued with the many unique supernatural characters and their position in society. At the end of the book I was stunned with the amazing work I just read, and was also disappointed that it ended! I am excited to continue the series with Clockwork Prince.
Review by readingwithtea
16/06/2015
"That's the same symbol that's on the Dark Sisters' carriage - that's what I call them, Mrs. Dark and Mrs. Black, I mean..."Having had a rather good time with YA literature pretty much any time I've read any (The Hunger Games, Catching Fire, Before I Die, Elsewhere), I thought I'd finally give in and try out one of Mini-Me's favourite series. Being methodical, I thought I'd start with the prequel and carry on through the (currently) 4 volumes of the Mortal Instruments series...Well, this was not a good start. I gave up on page 117.While The Hunger Games was a well-crafted world to which a reader could easily relate, this was not only set in Victorian London but with a hefty dose of not terribly clearly explained magic thrown in as well. As a result, the setting was simply too remote to be able to make much sense of it.The female character, Tessa, had a fair amount of get up and go about her, but nothing very special, no shining light that those around her recognise. Will was a male character written for teenage girls - full of infuriating grins and sarcastic wit.And as for calling Mrs. Dark and Mrs. Black "The Dark Sisters" - I couldn't believe the lack of effort given to that particular name; it dragged the target age group down to 5-8 year olds. At least call them Mrs. Black and Mrs. Shadow, or something!
Review by sunnycouger
16/06/2015
I was a big fan of Cassandra Clare's other series so it just made sense to jump onto the prequel series, especially as the next book is out in a few months. I should mention to begin with that I adore the whole steam-punk, Victorian vibe in this book so that coupled with the fact that I am already a fan of the world makes me slightly biased, but regardless I think even if that weren't the case I would have enjoyed this a lot.<br/><br/>I know there has been a lot of crit that this book is just TMI in period costume, and I suppose on the bare bones there's a degree of truth. We have a heroine who ends up falling face first into the demon world, who discovers she's not quite as human as she thought she was and then we have the rugged, handsome, cold, tortured hero and the solid, reliable friend. It is a very bare bones look at it though as there are definitely parts of each of the characters that don't fit nicely into the Clary, Jace, Simon boxes that people want to fit them into. Will in particular has a much darker edge to him than Jace has for the most part. Even with Jace in his darkest moods he never behaved as self-destructive as Will does at times, or acted as cruelly towards Clary as Will does to Tessa. Obviously there is more to his character than his behaviour and I'm sure we'll find out sooner or later, but maybe it's my love of a tortured hero but I may love Will as much as I do Jace.<br/><br/>Tessa I found myself warming to quicker than I did Clary which is a good thing as I think it helped evoke your sympathy and understand her reactions to certain things as she tries to save her brother, unaware of what is really happening.<br/><br/>Jem...Jem is a good guy. He's certainly much more likable for me than Simon is and his story is tragic yet I enjoy the fact that despite the angst in his past he's just a nice guy. I hope we don't end up getting a love-triangle in the next few books as it would be amazing to have a nice, platonic male/female friendship where there is no feelings hidden or agenda behind actions. We'll see, but I have my fingers crossed. <i>Of course, since writing this I have discovered that it will be a love triangle which disappoints me for so many reasons - mainly because this messes with the Will/Jem friendship and again, I find it hard to root for a female character who has two guys on a string, especially when the two guys are friends. I know YA publishers 'encourage' their writers to throw them in, but I am sick of seeing them. This is why I don't read more YA books.</i><br/><br/>The secondary characters are fun and flawed and it was great seeing Magnus and Camille make an appearance. I'm a Magnus fan and it's nice to have that tie between the series, although part of me hopes that he's not a major part just because I'm interested in finding out more about some of the new characters like Henry (he's eccentric and bumbling but I kinda love him) and Sophie. All in all though it was just fun. Fingers crossed that the follow up is as good as this was, because I really enjoyed it.
Review by JustSitAndWooui
16/06/2015
This book was sooooo good! It had everything I probably ever wanted! I loved the story and the characters and those covers! So becautiful!
Also in the The Infernal Devices series | View all