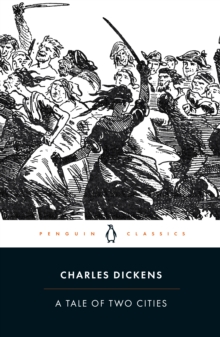 A Tale Of Two Cities,
Paperback
Description
Charles Dickens's A Tale of Two Cities portrays a world on fire, split between Paris and London during the brutal and bloody events of the French Revolution.
This Penguin Classics edition of is edited with an introduction and notes by Richard Maxwell. 'It was the best of times, it was the worst of times...' After eighteen years as a political prisoner in the Bastille the aging Dr Manette is finally released and reunited with his daughter in England.
There, two very different men, Charles Darnay, an exiled French aristocrat, and Sydney Carton, a disreputable but brilliant English lawyer, become enmeshed through their love for Lucie Manette.
From the tranquil lanes of London, they are all drawn against their will to the vengeful, bloodstained streets of Paris at the height of the Reign of Terror and soon fall under the lethal shadow of La Guillotine. This edition uses the text as it appeared in its first serial publication in 1859 to convey the full scope of Dickens's vision, and includes the original illustrations by H.K.
Browne ('Phiz'). Richard Maxwell's introduction discusses the intricate interweaving of epic drama with personal tragedy. Charles Dickens is one of the best-loved novelists in the English language, whose 200th anniversary was celebrated in 2012.
His most famous books, including Oliver Twist, Great Expectations, A Tale of Two Cities, David Copperfield and The Pickwick Papers, have been adapted for stage and screen and read by millions. If you enjoyed A Tale of Two Cities, you might like Dickens's The Old Curiosity Shop, also available in Penguin Classics.
Information
Format: Paperback
Pages: 544 pages
Publisher: Penguin Books Ltd
Publication Date: 30/01/2003
Category: Classic fiction (pre c 1945)
ISBN: 9780141439600
Other Formats
Hardback from £8.35
Paperback from £2.50
CD-Audio from £11.05
Mixed media product from £72.05
EPUB from £0.99
Free Home Delivery
on all orders
Pick up orders
from local bookshops
Reviews
Showing 1 - 5 of 54 reviews.
Previous | Next
Review by dgrayson
16/06/2015
I loved this book. I wasn't so sure about it as I started reading, but the way everything tied together at the end won me over.
Review by mattviews
16/06/2015
A Tale of Two Cities offers a swift, exciting story and an unforgettable rendering of the French Revolution, in a lethal, vengeful and exiguous Paris and a tranquil London. This novel as Dickens's most memorable effort to see a world in a very confined space indeed: a work very short by its nature and yet in which hundreds, even thousands of people do appear in a state of belligerence. The book is riddled with the howling mobs, epic scenes and tightly packed incidents that concentrate on a few central characters. It is an intimate piece of work, which somehow deftly evokes the epic presence of crowds and the vast movements of history, as well as the engrossing terror and compassion of individual characters. Within the condensations of historical time, the lives of the characters play themselves out. Besides the dreadful Madame Defarge of whose power derives from her surreptitious but all engrossing lust for vengeance on the Evremonde family (aristocrats), Dickens is particularly concerned with three men, all obsessed with the same dreamy, beautiful and svelte figure of desire: Lucie Manette. Doctor Manette, who had been for 18 years jailed by the Evremonde in the Bastille to cover up its atrocious crimes, reveals much more fully his character through actions than by mere dialogue and introspection. Realizing his tormented imprisonment that has thrown him into a delirious repression as strength, he announces himself to the Revolutionists and pleads for Charles Darnay's life and liberty. An heir of the Evremonde family but lives under the name Darnay in England, his ambiguous historical guilt is converged through a crucial historical ellipsis. The other central figure is Sydney Carton; a lawyer with thwarted ambition that takes on a mythical aspect at the end to save his friends and so to fulfill his promise. If Charles Darnay is the society's innocent victim who suffers because of the sins of his forefathers and of Madame Defarge's inveterate hatred of the aristocrats, Sydney Carton, who suffers from an inexplicable melancholy, is the sacrificial hero who redeems those sins in an re-enactment of Christ's expiatory death. The novel is also redolent of the theme of resurrection: the release of people from the realm of death and from their own morbid isolation. The novel begins with the rescue of Doctor Manette from the proximity of the Bastille. Apprehension, repression and revulsion weigh in his mind and make it difficult for him to utter a word upon the topic that oppresses him. There has always been a strong and extraordinary revival of the excruciating train of thought and remembrance that are the first cause of his malady. Charles Darnay, who is accused by being a traitor and forfeit to the French people, has to be rescued from the realm of death, or more precisely, the wrath of Madame Defarge by, ironically, Doctor Manette. Imbued from her childhood with a brooding sense of wrong, she is utterly implacable and inimical. She is intransigent to recognize in her determination to exterminate the entire Evremondes insanity. The inveteracy of her pursuit is unfathomable for she is completely deprived of pity and compassion. Her surreptitious, conspired management of Charles Darnay's arrest is cunning but not without immense cruelty. The scheme manifests in a woven form, or knitting, which represents calculation, patience, pertinence, and an urge to retaliate. The doctor realizes that up to that time, his imprisonment and repression have been associated in the minds of others with his personal affliction, deprivation and weakness. But he feels now, that his suffering is strength and power with which he can deliver Charles Darnay. The urge to returning to France has passed through his mind often as he cannot help thinking and having had some sympathy for the miserable people. Letter from an old servant who is in peril rouses the latent uneasiness in his mind to a vigorous resolution. One can immediately discern Darnay's futile attempt to save the servant and win influence with the revolutionists in order to do good, for no sooner has he arrived in Paris than he languishes in jail. The lack of reason and pity on Madame Defarge'' behalf is exposed to the fullest extent as one realizes how she has cunningly managed and manipulated the actions behind the scenes by letting Doctor Manette expend his force in a mock victory, accusing Darnay and re-arresting him, arraigning him to a new trial, and using the doctor's own manuscript on which written his confession and curse of his persecutors hidden in the Bastille against Darnay. All this Madame Defarge has premeditated in order to lure Darnay back to Paris and put whom on trial as a former aristocrat and a member of the very culpable Evremonde family who also happens to wrong the doctor. The root of all the terror and bloodthirst, or even the Revolution, under Dickens's hand in this novel, is Madame Defarge's hatred for the Evremonde who had caused the death of her family. She is therefore the revolutionary impulse incarnate who is held together by class-hatred. Stony, absorbed in her knitting, seemingly unobservant, she is in absolute control of the mob. With her indomitable will she seem less a person than a force of destiny. She might have imbued the mob with her incendiary speeches but the real diabolism of the revolutionary mob rests in its overweening arrogance, its god-like assumption of power over the lives of the French people. Portrayal of the Revolution is achieved through an acceleration of events such as the arrest on mere suspicion, the mock trials and sheer murderousness. Lastly the concept of martyrdom contained within the novel is to a good deal paradoxical: a Christianly, self-sacrificial death with a resurrection context and a prophetic countenance that brings together and contrasts ideas of justice and mercy. It echoes with the opening paradox "it was the best of times, it was the worst of times...."
Review by rachelellen
16/06/2015
I started listening to this on CD a month ago while I was sewing, and then I listened to it some more while I was painting my bedroom, and then I couldn't wait to get to the end, so I read the last half-dozen chapters from my copy of the book, in bed one night. I love Dickens, and this book is no exception; bonus points for teaching me more about the French Revolution than I learned in school, while managing to also maintain an individual human scope. Most of thecharacters are perhaps less "Dickensian" than usual, although there are notable exceptions (Mr. Cruncher as a messenger who "moonlights" as a grave robber and chides his wife for "flopping" is probably the <i>most</I> notable). Dickens doesn't have a 150-year-old reputation as the master of verbiage and characterization for nothing; what more can I say?
Review by TheTwoDs
16/06/2015
Though typically assigned as part of the curriculum in American high schools, most readers at this stage of their lives won't appreciate the spectacle and may walk away thinking they've learned a history lesson. However, Dickens was known to play fast and loose with historical facts, molding them as needed to suit his story, and what a story it is. France is boiling over, the common folk have been bled dry, financially, physically, politically, by the elite, aristocratic class. Owning no property, they can barely raise enough food to sustain themselves, and often, when the taxman cometh to claim the right of the landowners and obtain their due, the common folk may well starve. Conspiracies are hatched, freed prisoners are exploited, lists are kept.Against this backdrop, a Frenchman escaping his family's past marries a woman who has only recently found that her father is very much alive and did not perish in a political prison in France. Residing in England, the happy family should be able to escape the terribly bloodletting about to overwhelm the Gallic countryside. Alas, this is a Dickens tale, so contrivances and surprise, almost incredulous plot points are the rule and our heroes find themselves caught up in the Revolution and a possible date with the guillotine.Less socially critical than his earlier work, Dickens still manages to blame the Terror on the hubris of the wealthy elites; after all, you can only keep a populace oppressed for so long. Yet, the overexuberance of the reprisals and the score-settling of the tribunals and executioners is also cast in a murky light.Read it as the romantic adventure it was meant to be, not as the erroneous historical narrative which has assumed mythological proportions. Fun? Yes. Accurate? In a broad, overly generalized way. As a fine example of the cliffhanger storytelling which dominated mid 19th century English literature, it rightfully assumes its place amongst the classics.
Review by victrola
16/06/2015
I just reread this for the first time since high school and I found it just as great as I did then. I can't help but love Dickens and his insane coincidences. When I get about to the halfway mark I can barely put it down. Everything just comes together in those last few chapters, and the final pages give me the chills.