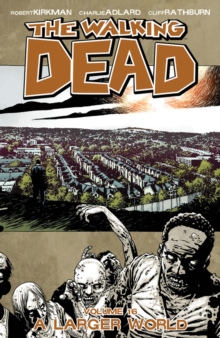 The Walking Dead : A Larger World A Larger World Volume 16
Paperback
Description
*The world we knew is gone. The world of commerce and frivolous necessity has been replaced by a world of survival and responsibility.
An epidemic of apocalyptic proportions has swept the globe, causing the dead to rise and feed on the living.
In a matter of months society has crumbled: no government, no grocery stores, no mail delivery, no cable TV.
In a world ruled by the dead, the survivors are forced to finally start living. * Rick discovers that there are communities of survivors nearby, and begins to explore a larger world. * Reprinting issues #91-96 of the Eisner Award-winning series, The Walking Dead.
Information
Format: Paperback
Pages: 136 pages, chiefly col. Illustrations
Publisher: Image Comics
Publication Date: 19/06/2012
Category: Horror & ghost stories
ISBN: 9781607065593
Free Home Delivery
on all orders
Pick up orders
from local bookshops
Reviews
Showing 1 - 5 of 7 reviews.
Previous | Next
Review by clfisha
16/06/2015
Kirkman manages to insert needed energy into a series that has been concentrating on character for a while, whilst they acclimatise to relative safety. As usual its a new direction not a rehash. More and more this comic is about exploration of apocalypse survival and less about eating brains and I love it. Long may it continue.
Review by suzemo
16/06/2015
This is another of the "slower" volumes in the series. There is a little action, there is more character development. I wouldn't like it as much, but they broaden the world that our fearless little group lives in by quite a bit, and I liked it. I'm not sure how our intrepid little zombie-survival band will ultimately fare with the new survivors they've met, but I'm interested to see the next development.
Review by Nialle
16/06/2015
Okay, so Rick has changed and we've discovered mercenary feudalism. WHERE IS TEH SCIENCE.
Review by norabelle414
27/08/2015
Life is decent in the Alexandria colony, but they soon start running low on supplies. They start scouting further out than they have in the past and discover....a larger world.A quiet plot, but obviously leading up to a larger arc and a new era.
Review by KittyBimble
27/08/2015
Well it suddenly got a bit more interesting. Rick and the group have been approached by a man named 'Jesus' who suggests a trading relationship with a nearby colony. Of course, it's not as simple as that. The cliffhanger at the end of this volume was tantalising. I am glad the story is starting to have a bit more substance. I can't wait to read on and find out what happens.