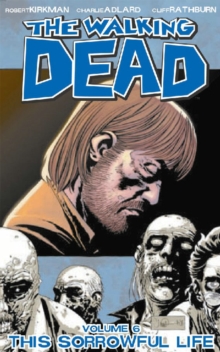 The Walking Dead : This Sorrowful Life v. 6
Paperback
Description
*The world we knew is gone. The world of commerce and frivolous necessity has been replaced by a world of survival and responsibility.
An epidemic of apocalyptic proportions has swept the globe, causing the dead to rise and feed on the living.
In a matter of months society has crumbled: no government, no grocery stores, no mail delivery, no cable TV.
In a world ruled by the dead, the survivors are forced to finally start living. * Trapped in a town surrounded by madmen, Rick must find a way out or die trying.
Meanwhile, back at the prison, the rest of the survivors come to grips with the fact Rick may be dead, and a major turning point in the series is reached. *Reprint Edition
Information
Format: Paperback
Pages: 136 pages, chiefly Illustrations
Publisher: Image Comics
Publication Date: 02/05/2007
Category: Horror & ghost stories
ISBN: 9781582406848
Free Home Delivery
on all orders
Pick up orders
from local bookshops
Reviews
Showing 1 - 5 of 10 reviews.
Previous | Next
Review by kayceel
16/06/2015
How I love this series... I'm a die-hard zombie fan, and even more of a fan of 'apocalypse' fiction - some event causes the death of massive amounts of the population and the survivors are left to try and piece together a new life. This series satisfies both loves! Not so crazy about the art, though. Just not up to the standards of the older stuff, in my opinion, tho I admittedly prefer my comics, art, etc. as realistically drawn as possible, so I'm not the most reliable of critics!
Review by Clurb
16/06/2015
Despite the fact that I'm eating this series up rather rapidly, after six volumes I'm still unsure about whether or not I'm enjoying it. The plot twists and turns without ever giving the feeling that it might actually be going somewhere, and both characters and extranious limbs are being cast away at an incredible rate of knots. The characters that are left are, for the most part, incessently whiny and unlikeable, and their dialogue trudges over the same old ground, volume after volume. But I find myself thinking that perhaps my inability to care about who'll die next is really the point of Kirkman's writing. In a dystopian future where survival is all, is there really any point in contriving to find more varied topics of conversation? And when the death rate is sitting steady at one of two characters per volume, what's the use of defining personalities or establishing relationships? What this series does very well is to convey the superfluous aspects of society, and to focus on the grinding conflicts of surviving whilst retaining your humanity. I'm just still not sure why I'm bothering.
Review by clark.hallman
16/06/2015
Although there does not seem to be a happy ending coming anytime soon, I continue to enjoy reading the Walking Dead graphic series. The Zombies are constantly lurking, just waiting for any opportunity to taste human flesh and satisfying that taste on a regular basis. However, it is no surprise that the dystopian society that has emerged after the Zombie epidemic took control has also resulted in a survival-of-the-fittest struggle between bands of human survivors. Rick's band of survivors fights for survival with both living and rotting people in this violent episode. I don't see anything but more of the same in future episodes. However, I will surely be reading them.
Review by Bookworm247
16/06/2015
So far, I don't care too much for the books of The Walking Dead, although, I absolutely love the TV version.
Review by LoftyIslanders
16/06/2015
Vol 6 has some torture scenes in it and is not for the faint of heart. It is however a great graphic novel