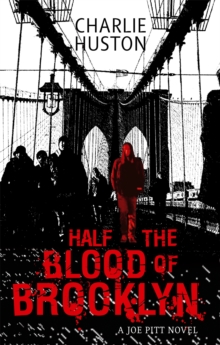 Half the Blood of Brooklyn : A Joe Pitt Novel
Paperback
Part of the Joe Pitt series
Description
There's a bad vibe in the air. Every Vampyre in Manhattan feels it in their bones ...and in their blood.
The mother of all gang rumbles is brewing between the divided Clans of the city's undead.
A battle royal for more turf that will tear the island from stem to stern. And just his luck, Joe Pitt is smack in the middle of it. A rogue Vampyre who shunned Clan life, Joe's his own man.
Kind of. Thing is, there's certain people have a claim on his talents.
When they need someone who's ...expendable, they call on Joe Pitt. They're calling now. With war drums beating from the Hudson to the Harlem River, Joe's been dispatched into the uncharted territory of Brooklyn to seal an alliance with the Freaks - a Clan who more than live up to their name.
But across the bridge, things go south with savage swiftness, as Joe gets swept into a murderous family feud between crazed Clans that will paint the borough scarlet from Gravesend to Coney Island.
Information
Format: Paperback
Pages: 256 pages
Publisher: Little, Brown Book Group
Publication Date: 07/02/2008
Category: Fantasy
ISBN: 9781841496801
Free Home Delivery
on all orders
Pick up orders
from local bookshops
Reviews
Showing 1 - 1 of 1 reviews.
Review by AHS-Wolfy
16/06/2015
This is the third in the <i>Joe Pitt</i> vampire/noir series of books so if you're thinking of reading these it might be a good idea to miss out the next paragraph if you want to avoid potential spoilers as it is definitely one best read in order.Now working for The Society, Joe is sent to Brooklyn on a recruitment mission. Something big is brewing and his boss, Terry, wants some new allies to help when it comes down. As Manhattan is pretty much squared off that leaves over the bridge and Joe is sent to bring back a representative from a clan called the Freaks. Even by vampyre standards these guys really do deserve their name. But with Joe being involved events don't transpire smoothly and he finds himself caught up in a local family squabble. Along with that little problem he also has the ongoing struggle of his rapidly dying Aids infected girlfriend to deal with. The decision to try and replace one disease with another is rapidly approaching and there's no guarantee that she'll survive the process or be happy about the outcome if she does. Added to all this is the complication of Amanda, the girl Joe saved in the last book. She wants to use her inheritance to find a cure for the vyrus and she wants Joe to be a part of it. So there's quite a lot going on in this book and I've not even mentioned the usual complications of The Coalition or Enclave dealings that Joe has.Despite having quite a few blood and guts moments I feel this book is more of a set-up novel for the remainder of the series and although it leaves you wanting to jump into the next book to find out what happens next I think I'll wait until I have the final volume on tap as well before I do.