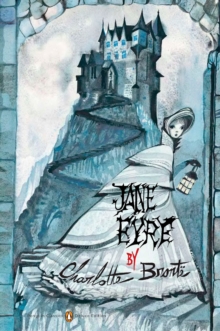 Jane Eyre (Penguin Classics Deluxe Edition)
Paperback
Description
One of the best novels ever written, in a chic new deluxe edition Orphaned Jane Eyre endures an unhappy childhood, hated by her aunt and cousins and then sent to comfortless Lowood School.
But life there improves and Jane stays on as a teacher, though she still longs for love and friendship.
At Mr Rochester's house, where she goes to work as a governess, she hopes she might have found them - until she learns the terrible secret of the attic.
Information
Format: Paperback
Pages: 464 pages
Publisher: Penguin Putnam Inc
Publication Date: 30/11/2010
Category: Classic fiction (pre c 1945)
ISBN: 9780143106159
Free Home Delivery
on all orders
Pick up orders
from local bookshops
Reviews
Showing 1 - 3 of 3 reviews.
There's a part of me that thinks I ought to be more harsh when reading this, seeing it for what it really is, a Cinderella story (even though the heroine is not pretty and the hero is not handsome). Over the years I've even expected to start hating it the way I eventually began to hate <I>Wuthering Heights</I> (I mean, really, Heathcliff, meet Jane Eyre - her life sucked, she got over it). Buuuuuuuut, I luuuurve it so. I love it, I love it, I love it and I see no sign of an impending hate-on for this story.<br/><br/>This week I felt like reading this and as is the way with a story you like, you want to make the best of the experience. So like an idiot, I discarded my £2 Penguin edition for a thicker, much more pliant and beautifully decorated edition that cost £13, just because it felt nicer to hold. Such a pleasurable experience, reading this wonderfully written book, relishing every perfectly chosen word and turning each page without a hurry. Also, there's this, which makes me love Jane all over again, every time:<br/><br/><I>Women are supposed to be very calm generally: but women feel just as men feel; they need exercise for their faculties and a field for their efforts as much as their brothers do; they suffer from too rigid a restraint, too absolute a stagnation, precisely as men would suffer; and it is narrow-minded in their more privileged fellow-creatures to say that they ought to confine themselves to making puddings and knitting stockings, to playing on the piano and embroidering bags.</I><br/><br/><3333333333333
Review by eidzior
16/06/2015
Jane Eyre is my favorite female character of all time. And Mr. Rochester has always been my favorite love interest. Though, to be fair, I haven't yet read "Pride and Prejudice" so we'll see if that changes.<br/><br/>Jane is so independent and so desperate to live her life on her own terms that she sometimes comes off as harsh and rude. For the times, however, I think that all of the Christian aspirations and self-infliction of suffering makes sense.<br/><br/>This novel, though a longer one, has always captivated me and, I think, always will. Jane feels sorry for herself as a child but grows to become a woman who understands that to suffer is to live and that finding your own happiness is what one should seek in life. She enjoys being a refined woman and knows herself well.<br/><br/>It's easy to find fault in her not becoming Mr. Rochester's mistress but she clings to her morals and for that I have always respected her. At the end of the book when it is proven that they both love each other for who each other is the ending is that much sweeter. Had she become his mistress I think the ending would have been much closer to her death in India or some such place. <br/><br/>One of my favorite things about "Jane Eyre" is the awful way that everyone constantly tells her how plain and horrible she is. It's terrible and I don't really understand why this was acceptable to do even to a woman of 19...however, it makes it so sweet and romantic when Rochester calls her his fairy and his sprite and talks of how pretty he finds her and how interesting. And I love how she calls Edward ugly but finds him handsome through her love for him. I like how it's not a perfect romance with beautiful people that don't seem real. At the end, she loves him even in his mangled state and finds herself happiest when with him.<br/><br/>My favorite favorite book in the whole world. Even before "Matilda" by Roald Dahl.
Review by ceecee83
16/06/2015
***WARNING*** There are spoilers in this review, but hey, it's a classic right? Although it is very likely that you have read Jane Eyre or at least know the story, this is a warning just in case!!***Let's just get this embarrassing girly moment over with right off the bat. **SIGH** I am SWOONING over 19th century men! :) *ahem* Okay.. Now that THAT is out of my system on to the review.I loved this book and its story! I have to say that Mr. Rochester has earned his spot in my heart, even though he is quite dark, mysterious and edgy. Or maybe that's the reason ;) Some of the things he says… just WOW. *insert more embarrassing swooning here*Other than having a schoolgirl crush on the dark hero of this novel, I absolutely adored Jane. My heart went out with her during all of her seemingly endless hardships at Gateshead and then at Lowood school. I jumped for joy for her when Mr. Rochester first revealed his feelings, and when she finds her cousins. And, of course I was also thrilled when she got her happy ending. I just felt like I knew her and was really close with her. The narration was so personal. Definitely one of my favourite heroines! I was so proud of her for always striving for independence and living her life according to her own will, not letting any man dictate who she was going to be. Jane Eyre teaches us that you can overcome your difficult past, decide your own destiny and that you are stronger than you believe. Strong women FOR THE WIN.This classic novel definitely possesses something else that makes it different from most. I loved the gothic element (an element shared by all the Brontë sisters) and the eerie, ghostly atmosphere was superb. Turns out I love a dark and mysterious classic!I love this coming of age story that is filled with mystery and terror, and the romance isn't too hard to read either! JUST CLASSIC AND ABSOLUTELY WONDERFUL :D