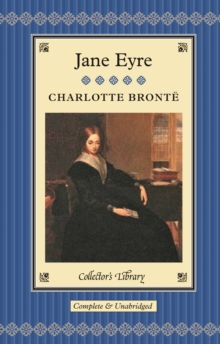 Description
The orphaned Jane Eyre suffers under cruel guardians, a harsh employer and a rigid social order.
But her plain appearance belies her indomitable spirit, sharp wit and great courage.
When she goes to Thornfield Hall to work as a governess for the mysterious Mr Rochester the stage is set for one of literature's great romances.With an Afterword by Sam Gilpin
Information
Format: Hardback
Pages: 656 pages, illustrations
Publisher: Pan Macmillan
Publication Date: 01/09/2003
ISBN: 9781904633037
Free Home Delivery
on all orders
Pick up orders
from local bookshops
Reviews
Showing 1 - 3 of 3 reviews.
Review by BookMarkMe
16/06/2015
Early days in my journey through the literary classics. To date my favourite by far. I love the beautifully descriptive language. I believed in Jane & Mr Rochester as characters and I found the story compelling.
Review by atreic
16/06/2015
I loved this book when I was a teenager. Jane's ability to keep her independance, spirit and principles in the face of the trials life throws at her is inspirational, and the book overflows with a love of passionate life.It is interesting to come back to as an adult though. Rochester/Jane seen with a greater sense of perspective is a very strange relationship. The age-gap, the power imbalence, the utterly messed-up way his courtship of her mostly involves pretending he is going to marry someone else... Their love is remarkable, but it's not really very _nice_.This time I also found myself intregued by the attitudes to marriage and religion. The constant theme, from both Rochester and St John, that they must marry Jane so that they have her secure forever is very claustrophobic. And I think the book shows an unusual attitude to religion - on one hand it is faith in God and morality that Jane uses as a reason to run from Mr Rochester, but at the same time she rejects what many would have seen as the 'God sent' calling from St John. Combined with the supernatural intervention at the point where Jane and Rochester pray for help, this picture of a God who prioritises the fulfilment of romantic love over dutiful work as a missionary is not one commonly found.
Review by NadineC.Keels
16/06/2015
Admittedly, seeing "spooky" snapshots of various Jane Eyre films made me reluctant to read this novel for years, but when I finally took the plunge, the book didn't feel quite as spooky and dark as the film snapshots looked. (I had the same feeling when I finally read Northanger Abbey after years of avoiding it, as all of the "spooky darkness" I found depicted on much of the media I've seen about it turned out to make up a pretty small fraction of the actual book.)Going into it, I didn't expect to admire Jane so much, but, ah! She's quite a cookie! What a head on her shoulders. She's not just some dull bore sitting off in a corner with dull thoughts, but she's quick as all get out, with a well of desires along with her resolve. I was miffed to see her depicted in an early film as a pretty thing, a little songbird perched at the piano, melting Mr. Rochester's heart with her sweet little tune. It took so much of the point out of her whole character, and I had to turn the movie off. (Rarely do I begin a movie without ever finishing it.)Jane's power as a heroine comes not from being a cutie, from being a figure of stunning talents to turn everyone's heads and make everybody worship her, but her power comes from her inner landscape. She doesn't have the face of a Miss Blanche to make her interesting, but the fact that Jane doesn't need that in order to be subtly fascinating is what makes her...fascinating. It's what makes her classic.I'm glad I finally took the plunge with this not-so-incredibly-dark-after-all book, now one of my all-time favorite novels.