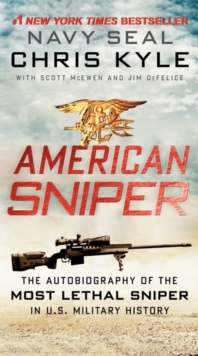 American Sniper: The Autobiography of the Most Lethal Sniper in U.S. Military History
Paperback
Description
Former U.S. Navy SEAL Chris Kyle tells the story of his legendary career, from 1999-2009, during which time he recorded the most confirmed sniper kills (officially a record 155, though the real number is even much higher) in the history of the United States military, any branch, from 1776 to present.
Nicknamed The Legend by his fellow SEALS, Kyle's service in Iraq and Afghanistan earned him seven medals for bravery, including two Silver Stars.
With the pacing of thriller, "American Sniper" vividly recounts Chief Kyle's experiences at key battles, including the March on Baghdad (beginning of Iraq War), Fallujah, Ramadi, and Sadr City.
He was shot in both the helmet and back; he witnessed the death of his two closest friends.
After his combat deployments, Kyle became the SEAL's chief sniper instructor, and he literally wrote the book on being a sniper: the Naval Special Warfare Sniper Doctrine, which is the first Navy SEAL sniper manual.
Today he is the CEO of an international security and training corporation. "American Sniper" is the story of the accomplishments of a husband and father who went from a Texas rodeo cowboy to his country's most legendary sniper. It describes the challenges of keeping a marriage and family together, and how after four deployments, Kyle ultimately chose to return to his wife and two children.
This is also the story of the men of SEAL Team 3 who fought and died as brothers with Kyle. "American Sniper" provides a rare, first-hand glimpse at the elite world of the SEALs and combat snipers who fought in a war where the "Rules of Engagement" only allowed for precise surgical strikes at the heart of a well-trained and well-organized opposition force, which had virtually no "Rules of Engagement".
Information
Format: Paperback
Pages: 448 pages
Publisher: HarperCollins Publishers Inc
Publication Date: 29/01/2013
ISBN: 9780062238863
Other Formats
Paperback from £7.69
EPUB from £3.49
Free Home Delivery
on all orders
Pick up orders
from local bookshops
Reviews
Showing 1 - 5 of 11 reviews.
Previous | Next
Review by Elliot1822
16/06/2015
American Sniper is a gutrenthcing, hard-hitting story of one man who had a tough but I feel a personally rewarding journey through the wars in Iraq/Afghanistan. I feel deep inside honored and proud of Chris Kyle defending not only Americans in Iraq and war zones, but any other military members as well. When Chris contemplated a second tour and re-enlisting for another 4-5 years of putting his country first, his wife felt a loss and anger towards her husband for not putting his wife and family first. Chris Kyle will always have my respect and admiration for helping to protect the ideas and values that make our country great. While some can argue his motives for leaving a wife and child for another tour has not feeling Chris Kyle felt strongly that in his training to be a warrior for our country he was being with his wife and family. It's sad to know that he's not with us and didn't fall in battle for his country. This book is a great read and I recommend it strongly.
Review by emed0s
16/06/2015
The only really positive thing about this book is that it manages to transmit honesty, I seriously doubt the author held anything back (except what the DoD ordered him to), and humbleness. On the other hand his writing its pretty plain and so are his descriptions of the combats he was involved in. I can't understand all the hype about this book.
Review by lanewillson
16/06/2015
Disturbing in every aspect, I found myself horrified that ours is a world that so greatly needs the talents, and expertise of men and women like Chris Kyle. At the same time I gained a new appreciation for how fortunate we are to have men and women like Chris Kyle serving as protectors of our freedom, and greater clarity into the sacrifices made in order to serve, not only by them, but also by their families and all who love and care for them.
Review by marshapetry
16/06/2015
Everyone should read this book!. It will make you realize how a country can invade countries with "preemptive" attacks and commit atrocities against others who are not "like us"; it shows why there will always be plenty of volunteers to perpetrate any kind of action against others. It is a sad sad book.
Review by mdubois
16/06/2015
A great American hero, but a fairly dull book as military biographies go. Bummer.