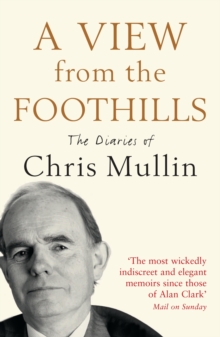 View from the Foothills : The Diaries of Chris Mullin
Paperback
Description
'It is said that failed politicians make the best diarists.
In which case I am in with a chance.' Chris Mullin Chris Mullin has been a Labour MP for twenty years, and despite his refusal to toe the party line - on issues like 90 days detention, for example - he has held several prominent posts.
To the apoplexy of the whips, he was for a time the only person appointed to government who voted against the Iraq War.
He also chaired the Home Affairs Select Committee and was a member of the Parliamentary Committee, giving him direct access to the court of Tony Blair.
Irreverent, wry and candid, Mullin's keen sense of the ridiculous allows him to give a far clearer insight into the workings of Government than other, more overtly successful politicians.
He offers humorous and incisive takes on all aspects of political life: from the build-up to Iraq, to the scandalous sums of tax-payers' money spent on ministerial cars he didn't want to use.
His critically acclaimed diary will entertain and amuse far beyond the political classes.
Information
Format: Paperback
Pages: 416 pages, 16 page mono plate section
Publisher: Profile Books Ltd
Publication Date: 01/01/2010
ISBN: 9781846682308
Free Home Delivery
on all orders
Pick up orders
from local bookshops
Reviews
Showing 1 - 2 of 2 reviews.
Review by the.ken.petersen
16/06/2015
More by luck than judgement, I read this book immediately after The Man's autobiography, 'A Journey'. I do not think that Tony Blair lied but, the problem with up to date political biographies is that most of the people concerned are still about and one does not want to appear bitchy.Chris Mullin viewed the Blair government from a relatively lowly position. He has no reason to protect the guilty and so, tells it as he sees it. Tony comes out pretty well, particularly when one considers that he and Chris were not from the same arm of the party. Gordon Brown, with whom one would have expected much more sympathy, is painted as a bit of a bully who carries his slights to the end. Rather less surprisingly, George Bush is given a hard time too. The view of the American President is the one area where the two books diverge noticeably. I shall have to read more about Mr Bush before deciding as to which account is the most reliable.I thoroughly approve of getting books about government whilst the issues are still alive, rather than the old British way of releasing certain details after 30 years: anyone old enough to have been interested at the time, is probably gaga when the anodyne revelations are made. This is not to say, that a later more considered view would not be good too. I also like the diary system because, in general, the remarks were made at the time of a particular incident, rather than with the wisdom of hindsight. I am not naive enough not to realise that any wildly inaccurate prediction will have been edited out but, it is probably the nearest to having been there that we plebs are likely to come.Suffice it to say, that whilst reading this book, I ordered a copy of Chris Mullin's second diary , 'Decline and Fall'. Thank you Mr Mullin, an excellent read.
Review by gbsallery
16/06/2015
Offers genuine insight into the early years of the New Labour ascendancy, which reveals a fair amount about what went wrong. Quite a depressing book for those interested in politics - it shows that decency and hard work count for very little against the mechanisms of state and power. Very readable, and has a light touch.