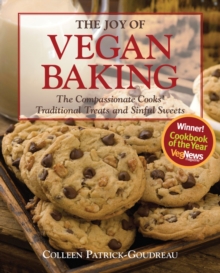 The Joy of Vegan Baking : The Compassionate Cooks' Traditional Treats and Sinful Sweets
Paperback
Information
Format: Paperback
Pages: 288 pages, With flaps
Publisher: Fair Winds Press
Publication Date: 04/10/2007
Category: Vegetarian cookery
ISBN: 9781592332809
Free Home Delivery
on all orders
Pick up orders
from local bookshops
Reviews
Showing 1 - 4 of 4 reviews.
Review by electric
16/06/2015
Amazing book. Not only does it include great receipies with beautiful photos, it also fully explains how to turn any regular recipe into a vegan one. Dairy and egg alternatives are mostly "normal" ingredients that can be found at any grocery store (even in Middle America) there are a few specialty ingredients but even those are backed up with sources to find them. Appendix is full of useful baking information. Even non-vegans will enjoy this book.
Review by mcglothlen
16/06/2015
This is an exquisite little book. I want to cook everything in it and that hardly ever happens with a cookbook. My only quibble is that it's a little preachy and she talks about "reclaiming" words such as butter for use by vegans as though it was taken away from them by force, which strikes me as exactly backwards logic.
Review by Lisa2013
16/06/2015
recommended for: EVERYONE who bakes or wants others to bake for themI generally read my cookbooks from cover to cover, but I picked up this one for an initial cursory look only and couldn't put it down and ended up reading the whole thing in one sitting.Not hyperbole: This is an amazing and remarkable baking book, for experienced bakers and novices alike. This cookbook has everything needed to successfully create delicious baked goods. It's also a beautiful book, containing many mouthwatering photos of the completed recipes. Great vegan book too. Colleen Patrick-Goudreau is a true hostess and nurturer. She gives her vegan story concisely and not with a hitting others over the head style, but effectively. Various vegan/animal facts tips are interspersed throughout the book. Good short explanation of why we REALLY don't need cow's milk. (And the fact is, the flavor of vegan baked goods is undetectable from those baked goods that use animal products.)And the cookbooks I love the most have delicious recipes, of course, but I usually like the ones with humor also; this isn't a funny book, but it is incredibly informational. Most recipes have extra information: a Compassionate Cooks' Tip and/or a Did You Know and/or a short section on Food Lore (history of a food in a particular recipe), all of which I found so interesting. I've never seen a baking/cookbook with better instructions for having a positive experience making the recipes. The Appendixes are truly amazing and especially helpful for someone like me who doesn't always know what baking terms mean.Great Defending Desserts section taking up 2 pages of the book, about how desserts are for treats, not for every meal eating, and so when making them one doesn't need to use healthier ingredients. (I usually do prefer whole wheat pastry flour to white flour though.)from the book's table of contents:The Whys and Wherefores of Choosing VeganThe How-to's and What-nots of Vegan Bakingthe recipes:Muffins, Biscuits, and SconesSavory Quick BreadsCakes and CupcakesPies and TartsBrownies and BarsCrumbles, Cobblers, Crisps, and Whole Fruit DessertsStrudel, Crepes, Blintzes, and PastriesYeast Breads and RollsMousses and PuddingsConfections and CandySorbets, Shakes, and SmoothiesCrusts for Pies and TartsHot and Cold BeveragesFrostings, Sauces, Syrups, and Spreadsfrom the appendixes: Baking Staples IngredientsEssential Kitchen ToolsResources and RecommendationsGlossary of Terms (these are cooking terms)Cake Pan SubstitutesCommon Ingredients Yields and EquivalentsBaking Soda and Baking Powder What's the Difference?Suggested Reading Suggested ViewingHer index of recipes has 3 parts: a general index that includes all of the recipes, and then a Seasonal recipe index (winter, spring, summer, fall), and a Celebrations and Occasions index (Holiday - including food gifts, Breakfast & Brunch, Tea Party, Children's Birthday Party.)
Review by flippinpages
16/06/2015
This is a fairly good cookbook. My biggest problem with it is that everything is way to sweet, and I have a very sweet tooth. The cheesecake recipe is probably the best although I take out 14 cup of the sugar. Worth buying for those that like playing around with recipes.
Also by Colleen Patrick-Goudreau | View all