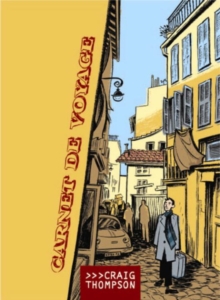 Carnet de Voyage
Paperback
Description
* Craig Thompson spent three months traveling through Barcelona, the Alps, and France, as well as Morocco, researching his next graphic novel, Habibi.
Spontaneous sketches and a travelogue diary document his adventures and quiet moments, creating a raw and intimate portrait of countries, culture and the wandering artist.
Information
Format: Paperback
Pages: 224 pages, illustrations
Publisher: Top Shelf Productions
Publication Date: 21/07/2004
Category: Travel writing
ISBN: 9781891830600
Free Home Delivery
on all orders
Pick up orders
from local bookshops
Reviews
Showing 1 - 5 of 13 reviews.
Previous | Next
Review by Crowyhead
16/06/2015
This book is really either for people who already love Craig Thompson's work, or for those who love travel writing. This is an illustrated travel diary of the several months Thompson spent in France and Morocco. He writes about his emotional state and about his impressions freely, and the illustrations are gorgeous and skillful, even when he admits that he's drawing with crappy felt-tip pens because his other supplies have disappeared. Some people might find his fits of depression and self-loathing tiresome, but for the most part I identified with his thoughts and fears and his sense of dislocation. Thompson describes this as a treat for his fans in between "real" books, and that's probably apt, but I really enjoyed this little book and I'm glad I picked it up.
Review by melissarecords
16/06/2015
A graphic version of a travel memoir, in a sketchbook format. The author records a tour of Europe in support of his recently published book and the research that he does in Africa in preparation for his next novel. I found this a very engaging book to read -- I was totally immersed in experiencing the sights, sounds and smells of travel, in a way that I don't always feel when reading the usual travel memoir. This book made me realize how very different it is to read a graphic novel than it is a text-only novel. There's lots more back-and-forthing with the eyes to take in the whole story. Only downside was that I found the ending to be abrupt. Argh! Who cares if the page limits were reached? Maddening to end the narrative just like that.
Review by tls1215
16/06/2015
This was the first graphic novel I ever read, and I thought it was amazing. I think the idea of a travel journal lends itself perfectly to a graphic novel, as the author drew what he was seeing on his journey. I've tried others since and haven't enjoyed them as much.
Review by nicole_a_davis
16/06/2015
I didn't like it much at first--I think because I didn't realize it was not a novel when I picked it up. But as I kept going I began to appreciate it more. I think I identified with it too because the author is from Portland and was spending time in France. I like the combination of diary and sketchbook, and he has a good balance of observational sketches and imaginative things that illustrate emotions. It is an inspiration to pursue more drawing myself.
Review by princessponti
16/06/2015
Craig's travel journel is a stunning piece of work. I was a little disappointed as really I've been yearning for the next instalment of Blankets (it feels strange to be waiting to find out what happened next in someones life!!). This book isn't a continuous story of a section of Craig life, it is as the title states, a travel journal. He draws beautiful pictures and details some of his experiences of his life on a book tour. It is still a wonderful book to have (I have one of the images framed), and as ever, Craig's beautiful soul shines through