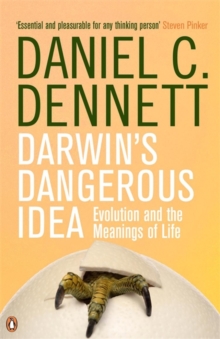 Darwin's Dangerous Idea
Paperback
Description
In Darwin's Dangerous Idea: Evolution and the Meanings of Life Daniel C.
Dennett argues that the theory of evolution can demystify the miracles of life without devaluing our most cherished beliefs.
From the moment it first appeared, Charles Darwin's theory of evolution by natural selection has been controversial: misrepresented, abused, denied and fiercely debated.
In this powerful defence of Darwin, Daniel C. Dennett explores every aspect of evolutionary thinking to show why it is so fundamental to our existence, and why it affirms - not threatens - our convictions about the meaning of life. 'Essential and pleasurable for any thinking person' Stephen Pinker 'A surpassingly brilliant book.
Where creative, it lifts the reader to new intellectual heights.
Where critical, it is devastating' Richard Dawkins 'A brilliant piece of persuasion, excitingly argued and compulsively readable' The Times Higher Education Supplement 'Superb ...This is the best single-author overview of all the implications of evolution by natural selection available ...deserves a place on the bookshelves of every thinking person' John Gribbin, Sunday Times 'Dennett's book brings together science and philosophy with wit, complex clarity and an infectious sense that these ideas matter, to us and the way we live now' A. S. Byatt, Sunday Times Books of the Year Daniel C. Dennett is one of the most original and provocative thinkers in the world.
A brilliant polemicist and philosopher, he is famous for challenging unexamined orthodoxies, and an outspoken supporter of the Brights movement.
His books include Brainstorms, Brainchildren, Elbow Room, Breaking the Spell, Darwin's Dangerous Idea, Consciousness Explained and Freedom Evolves.
Information
Format: Paperback
Pages: 592 pages
Publisher: Penguin Books Ltd
Publication Date: 26/09/1996
Category: Philosophy of science
ISBN: 9780140167344
Free Home Delivery
on all orders
Pick up orders
from local bookshops
Reviews
Showing 1 - 2 of 2 reviews.
Review by miketroll
16/06/2015
A brilliant exposition of the theory of evolution - so powerful and simple but so often poorly understood, if thought about at all. This book sets it all straight.
Review by psiloiordinary
16/06/2015
Cranes or skyhooks? I'm an unabashed crane man myself.Dennett explores the wider implications of Darwin's theory of natural selection. We get lucid summaries of the current debates on Natural Selection as a logical algorithm or philosophical approach, we are introduced to the mindboggingly complex library of Mendel and a quick tour of many of the biological challenges to Darwin's ideas and why they are now disregarded, finally a section on mind, meaning, maths and morality which is incredibly thought provoking.Dennett's style is careful and deliberate with as much thought given to the structure of his argument as the style of his prose. This is fortunate as he tackles some areas of thought in which it would be very easy to lose your way. I read this book a little while ago whilst on holiday and would recommend taking it in in fairly big chunks otherwise you will yourself having to constantly recap his complex arguments.In fact it's so good - you don't even mind that a lot of what he covers is actually philosophy.Ultimately Dennett aims o show that Darwin's theory and everything it tells us about the world around us is life affirming and how it can help to bring meaning to life.A cracking good read.