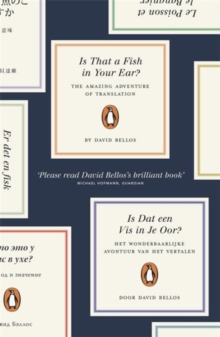 Is That A Fish In Your Ear?ation
Paperback
Description
Is That a Fish in Your Ear? by David Bellos asks: how do we really make ourselves understood to other people?
This funny, wise and life-affirming language book shows how, from puns to poetry, news bulletins to the Bible, Asterix to Swedish films, translation is at the heart of everything we do - and makes us who we are. Selected by The New York Times as one of the 100 Notable Books of 2011 'A wonderful, witty book ...richly original, endlessly fascinating ...for anyone interested in words' Economist, Books of the Year 'A scintillating bouillabaisse ...spiced with good and provocative things' Literary Review 'Dazzlingly inventive' The New York Times 'Clear and lively ...There is nothing quite like it' Spectator
Free Home Delivery
on all orders
Pick up orders
from local bookshops
Reviews
Showing 1 - 2 of 2 reviews.
Review by CliffordDorset
16/06/2015
The 'Hitch-Hiker's Guide' reference in the title suggests a jocular approach to the science and art of inter-Language translation, and Bellos maintains this light-hearted style as he tunnels deeply and extensively into its subject which proves to be one in which even the question of accuracy, and even of the possibility of translation itself are shown to depend on what we mean by accuracy and translation. Bellos' approach is both rigorous and firmly founded in the history of human communication, in all of its forms and intents, and it is entertaining. More than that, I feel it makes necessary reading for any who value the riches of language, and not just for the pedants who find the ability to share thoughts with precision. I should make it clear that I am no professional in language, merely an intrigued amateur, but for me, Bellos' progress towards his aims and objectives stands proudly alongside the books of the great Steven Pinker. I found but one unturned stone in his analysis, that of the translation of musical lyrics, particularly in the classical sphere, where source and destination texts may involve a biblical commonality that further complicates the prime requirement that the words must mellifluously fit the notes. A specialist probably deserving of a fleeting mention, certainly, and Bellos is easily forgiven its omission. An excellent book.
Review by dtw42
27/08/2015
Well worth a read as an introduction to one of those activities that's a "black box" from which most of us only ever see the output. Brings to your attention the competing tensions of which criteria to translate *by*, and what a thankless task it often is, especially in our Anglophile culture (apparently in Japan top translators are as celebrated and feted as top authors).