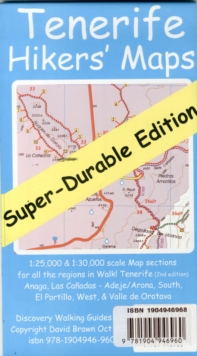 Tenerife Hikers' Super-Durable Maps
Sheet map, folded
Description
9781904946960 Tenerife Hikers' Maps Super-Durable Edition - Digital editions of this map are available for use on mobile phone apps from Viewranger, Memory Map and MyTrails, plus mapping gps units and Garmin Custom Maps versions.
Our latest large scale mapping for walkers has resulted in our 2013 publication of Tenerife Hikers' Super-Durable Maps.
Tenerife Hikers' Super-Durable Maps is a collection of six large scale map sections of the popular walking regions of Tenerife plus single route map sections for Walks 7 & 10 from Walk!
Tenerife. Map sections are for the Anaga, Tenerife West, El Portillo, Valle de Orotava, Guaza Plateau (Tenerife South) and Las Canadas/Adeje/Arona section.
Note that Tenerife Hikers' Super-Durable Maps is a collection of 25k/30k map sections on a double sided sheet of 840mm by 610mm which folds up to 220mm by 120mm.
It is not a map of all of Tenerife at 25k, that would be a map bigger than your garage.
Tenerife Hikers' Super-Durable Maps is produced using our 'Tour & Trail' level of detail ranging from major roads to secondary roads to minor roads to streets and camino rural narrow country roads, plus dirt roads and walking trails. Altitude background colouring is designed to clearly show the altitude range when travelling across the regions by car or on foot. 100 metre and 50 metre contours are clearly shown on the map along with a large number of individual height points and all of the official 'Trig' points.
Tour & Trail attention to detail is legendary as is our useful symbol range including miradors, picnic areas, petrol stations, bar/restaurants and parking areas where you can pull off the road safely.
You will easily identify springs, caves, sports grounds, cemeterys, churchs, chapels, lighthouses, towers and forts, camping areas, wind turbines, hotels and those all important information offices.
All the walking routes from Walk! Tenerife are highlighted on the map sections including the newly opened GR131 long distance walking trail on the relevant map sections.
The final stage of the GR131 from Vilaflor to Arona via Ifonche is well wayposted and personally recommended.
For adventurers on foot Tour & Trail Maps are researched and designed by hikers for use by hikers. Our comprehensive gps ground surveys produce the best road mapping available but the value of this on the ground research becomes even more important when you leave the tarmac.
All of our DWG walking routes are accurately gps surveyed giving you confidence in the accuracy of our Tour & Trail Maps.
We recommend everybody to obtain our Super-Durable editions printed with 100% oxygenation inks on Polyart by the UK's leading map printer, which produces a map that feels like silk but will stand up to the roughest treatment of outdoor adventuring and yet fold up like new at the end of your adventure.
Information
Format: Sheet map, folded
Publisher: Discovery Walking Guides Ltd
Publication Date: 04/10/2013
Category: Travel maps
ISBN: 9781904946960
Free Home Delivery
on all orders
Pick up orders
from local bookshops