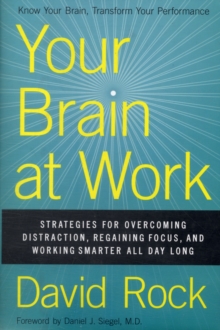 Your Brain at Work : Strategies for Overcoming Distraction, Regaining Focus, and Working Smarter All Day Long
Hardback
Description
Meet Emily and Paul: The parents of two young children, Emily is the newly promoted VP of Marketing at a large corporation while Paul works from home or from clients' offices as an independent IT consultant.
Their lives, like all of ours, are filled with a bewildering blizzard of emails, phone calls, meetings, projects, proposals, and plans.
Just staying ahead of the storm has become a seemingly insurmountable task.
We travel inside their brains as they attempt to sort vast quantities of information, prioritize it, memorize it, and act on it.
Fortunately for Emily and Paul, they're in good hands: David Rock knows how the brain works-and more specifically, how it works in a work setting.
He shows how it's possible for Emily and Paul, and thus the reader, not only to survive in today's overwhelming work environment but succeed in it - and still feel energized and accomplished at the end of the day. "The Brain at Work" explores such issues as: why our brains feel so taxed, and how to maximize our mental resources; why changing behavior is so difficult - and how to make it less so; why focusing on problems doesn't seem to create the desired change; how concentration and focus change the brain, and how to maintain energy and productivity at work; why providing critical feedback is so difficult, and how to make it easier; how corporate/office culture is formed and can most effectively be altered.
Other Formats
EPUB from £1.49
eAudiobook MP3 from £18.89
Free Home Delivery
on all orders
Pick up orders
from local bookshops
Reviews
Showing 1 - 2 of 2 reviews.
Review by motjebben
16/06/2015
David Rock has written an entertaining book with immediately practical application for one's working and non-working relationships. He has synthesized much of the latest neuroscience, applying it, in particular and in a heretofore unique way to improving one's use of one's brain/mind, in working situations. That the eminent neuroscientist and mightsight expert, Daniel J. Siegel, M.D., wrote the Forward for the book is further testimony to the quality of David Rock's synthesis and application of the concepts.Mindfulness is a key concept of the book - using one's "director" to observe one's mental processes and that the neuroscience explains how this works to improve ones mental functioning while at work.I was, at first, concerned when I read that David Rock had structured the book like a "play" with"acts", thinking that such a construct would only distract and/or add "filler" to the concepts. However, I found that after reading only a few pages, I immediately liked his use of the play, because he did this so well. Furthermore, as David Rock points out (and I believe Daniel Siegel would agree) the brain "likes" stories, which help integration in the mind/brain.
Review by MicheleKingery
16/06/2015
What good is knowledge if you can't do anything with it? Statements like we only use ten percent of our brain capacity are frustrating because they don't offer a solution for accessing the other ninety percent. Basically, what they amount to is like hearing: your brain function is roughly equivalent to that of the Geico caveman. You might as well make peace with the stultifying universe of mediocrity and ennui you're doomed to inhabit.Then along comes a book like David Rock's Your Brain at Work and the neurons start firing all over the place. The synapses start connecting so rapidly that my shriveled cerebrum can hardly keep pace. Answers, at long last! It's like a Christmas miracle. All over again.In clear, concise language Rock explains the physiology behind our lack of focus, constant frustration and befuddlement at missed cues, lost opportunities and the sense of feeling overwhelmed. Or as an old lady shuffling down the soup aisle in my local grocery store called it, "a brain fart". Couldn't have said it better myself.And yet. Rock offers hope in the form of lucid metaphors that expose our "stinkin thinkin" for what it really is. His central premise is that all the brain's a stage and all the thoughts merely players. It's up to us to get the most important players on stage at any given time. And keep the least helpful players off or on for the shortest amount of time. Once the brain latches onto an unhelpful thought, it quickly spirals down into more unhelpful thoughts until we're caught in a quagmire of our own making. Rock offers a plethora of friendly suggestions:...become aware of your own mental energy needs and schedule accordingly. Experiment with different timings. One technique is to break work up into blocks of time based on type of brain use, rather than topic. (p. 15)When you sense a strong emotion coming on, refocus...quickly...before the emotion takes over. (p. 118).Playing against yourself to improve your understanding of your own brain can be a powerful way of increasing your performance (p. 200)Chapters are structured with dual scenarios; what happens when you're on autopilot (translation: using the same old ten percent) vs what happens when you understand how the brain works and capitalize on that. Each chapter ends with (a summary) "Surprises About the Brain" and "Some Things to Try".I've been trying them. Rock's strategies work. With continued practice the other ninety percent of my brain might kick in more frequently, increasing my chances of completing all those unfinished projects. Hold on world, here I come.