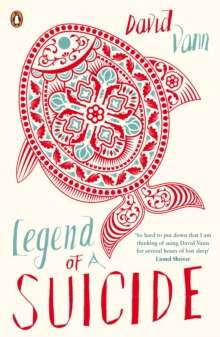 Legend Of A Suicide
Paperback
Description
Roy is still young when his father, a failed dentist and hapless fisherman, puts a .44 magnum to his head and commits suicide on the deck of his beloved boat.
Throughout his life, Roy returns to that moment, gripped by its memory and the shadow it casts over his small-town boyhood, describing with poignant, mercurial wit his parents' woeful marriage and inevitable divorce, their kindnesses and weaknesses, the absurd and comic turning-points of his past.
Finally, in Legend of a Suicide, Roy lays his father's ghost to rest.
But not before he exacts a gruelling, exhilarating revenge.
Revolving around a fatally misconceived adventure deep in the wilderness of Alaska, this is a remarkably tender story of survival and disillusioned love.
Information
Format: Paperback
Pages: 240 pages
Publisher: Penguin Books Ltd
Publication Date: 28/09/2009
ISBN: 9780141043784
Free Home Delivery
on all orders
Pick up orders
from local bookshops
Reviews
Showing 1 - 5 of 5 reviews.
Review by blackhornet
16/06/2015
I cannot believe I am the first LT member to review this book. As such, I am going to make a prediction: it is going to be big, very big. It is going to be big because it will do the rounds of reading groups, because it is very well written, and because of a thing that happens in the central long short story/ novella. My goodness! That thing! You will never forget it.The book has garnered plenty of publicity due to its semi-autobiographical nature. Vann's father was a dentist in Alaska and he did commit suicide. The stories in the collection all play with this key event in the author's life. They do so in a style reminiscient of Tobias Wolff. In fact, I would say Vann strives a little too hard to achieve this style; but the work still gets 5 stars from me due to that startling thing to which I have alluded. The Alaskan setting too is fabulously sketched and lends the book a spectral, other-worldly feel. The Road meets The Shining via This Boy's Life!
Review by laphroaig
16/06/2015
Semi-autobiographical, so not exactly an autobiography, not exactly a novel but nor a series of short stories, what matters most to Legend of a Suicide is its subject: the suicide of a father and its effect on his son. Although this can make its narrative disconnected, the writing is excellent, intimate and, at times, painfully honest. Roy is a troubled teenager whose father is a distant and accident-prone presence, but when he is invited to spend the year with his father on a remote Alaskan island, Roy reluctantly accepts. When he does so he is brought dangerously close to his father's problems. Roy tells the story as a "what-if", seeking both exorcism and revenge with a cruelly sweet fantasy.David Vann's own experience looms large in this novel. His own father committed suicide and the bulk of the story takes place in Alaska, Vann's own birthplace. At times it can seem too much of a personal journal than a novel for public disclosure, albeit an excellently crafted one. Similarly, at times its plot or pace could be tighter. For this reason is struggles to be compelling; but perhaps because of this it is a highly rewarding read.
Review by Adrianburke1
16/06/2015
How do you rate a book which shoots itself in the head halfway through?
Review by KymmAC
16/06/2015
I read it as a novel over a weekend and was blown away. It makes a little more sense as a story collection, but I´m glad I thought of it as a novel while I read it.
Review by alexbolding
16/06/2015
What can one say? The guy is simply unique. The voice, the story, the suspense, the sheer awkwardness at times. The father and son locked on an island in Alaska is a really up-close story that gets under the skin, certainly with the knowledge one has gleaned already from the three preceding short stories. The father cries at night, virtually every night, and sometimes tells his son about his sins (him fucking around with hookers or his assistant in the dentist practice). He falls at some stage and it is not clear if he deliberately stepped off the cliff. He can be quite manipulative to his 13 year old son, like when he senses his son would like to leave the island ahead of winter trouble, isolation and possible madness, and then he says to Roy, he can go – the island and the winter experience is something for men after all, real men, not 13 year old boys. And then Roy walks into his father holding a hand gun to his head in the cabin. Dad freezes, turns and gives the gun to his son, walking out into the snow. He hears the shot, but initially thinks nothing of it. When he returns after some hours he finds the dead body of his son on the floor. And that's the start of a wild trip of his father and the corpse, on a boat, landing on a long island, running out of fuel, breaking into an outhouse, lamenting his life, walking around the island, finally being discovered by a Police helicopter (after setting a section of the forest on fire, burning part of the outhouse). Being on trial for the murder of his son, escaping at some stage on a boat with two dubious types, who decide after receiving some money to kill the father, sensing they can do so with impunity since he's on the run from justice, a relatively quick death in the icy water follows. Well, some revenge in writing! I think it is the best revenge I ever heard of! Harrowing, yet so utterly rewarding for Roy. After this gut-wrenching story there follow two more short stories, where David tries to understand his father by settling in a place where his father worked and ran off with a woman. He traces the woman and invites her for dinner together with her husband. The guy does some weird things, like killing young salmon babies at night that he is supposed to rear during his day-time job. Most beautifully and again gut-wrenching is how he likes the woman and can imagine with hindsight how his father fell for her, despite the fact that that was the start of the unravelling of his father's family life and ultimately led him to his suicide.