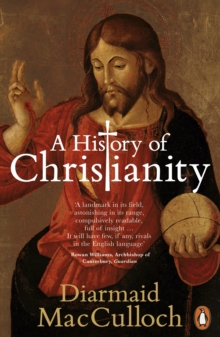 A History Of Christianity,
Paperback
Description
Diarmaid MacCulloch's epic, acclaimed history A History of Christianity: The First Three Thousand Years follows the story of Christianity around the globe, from ancient Palestine to contemporary China.
How did an obscure personality cult come to be the world's biggest religion, with a third of humanity its followers?
This book, now the most comprehensive and up to date single volume work in English, describes not only the main facts, ideas and personalities of Christian history, its organization and spirituality, but how it has changed politics, sex, and human society.
Taking in wars, empires, reformers, apostles, sects, churches and crusaders, Diarmaid MacCulloch shows how Christianity has brought humanity to the most terrible acts of cruelty - and inspired its most sublime accomplishments. 'A stunning tour de force' Simon Sebag Montefiore, Sunday Telegraph Books of the Year 'A landmark in its field, astonishing in its range, compulsively readable, full of insight ...It will have few, if any, rivals in the English language' Rowan Williams, Archbishop of Canterbury, Guardian 'A prodigious, thrilling, masterclass of a history book' John Cornwell, Financial Times 'Essential reading for those enthralled by Christianity and for those enraged by it' Melvyn Bragg, Observer, Books of the Year 'Magnificent . ..a sumptuous portrait, alive with detail and generous in judgement' Richard Holloway, The Times Diarmaid MacCulloch is Professor of the History of the Church at Oxford University.
His Thomas Cranmer won the Whitbread Biography Prize, the James Tait Black Prize and the Duff Cooper Prize.
He is the author most recently of Reformation: Europe's House Divided 1490 - 1700, which won the Wolfson Prize for History and the British Academy Prize.
Information
Format: Paperback
Pages: 1184 pages
Publisher: Penguin Books Ltd
Publication Date: 01/09/2010
Category: History of religion
ISBN: 9780141021898
Free Home Delivery
on all orders
Pick up orders
from local bookshops
Reviews
Showing 1 - 2 of 2 reviews.
Review by roblong
16/06/2015
Starts with the development of Jewish religion in the thousand years prior to Jesus's life and ministry, and also the rise of Greece and Rome that so shaped the religion that grew up afterwards. It then traces the subsequent story as Christianity spread through Europe and east to Baghdad and China, as well as south through Africa to Ethiopia. That's only the beginning of what is, for long periods and in many places, one side of a history of civilization. The amount of material to be covered is immense, but MacCulloch strikes a great balance between not dwelling on topics that entire books are written about for too long, while still giving sufficient depth that nothing feels glossed over. Very much worth the time, as a history of the world and of the ideas that have shaped it, many of which are still hugely important now, even in countries where secularism has taken over and religion - not just Christianity - has faded out of many people's lives.
Review by Widsith
16/06/2015
'What religion am I?' asks Homer Simpson in one episode of his family's eponymous cartoon. 'I'm the one with all the well-meaning rules that don't work out in real life...uh...Christianity.' One of the many pleasures in Diarmaid MacCulloch's amazingly comprehensive book is getting a handle on what historical basis there is for the rules and doctrines of this prolific and mercurial religion, which nowadays seems characterized by extreme reactions of either perfect secular indifference or increasingly literalist devotion.There are excellent books available for all kinds of angles on this story, but a single-volume history of the whole lot seems crazily ambitious. I think MacCulloch has done a beautiful job, and let's note the fact that anything which is acclaimed by both Christopher Hitchens and the Archbishop of Canterbury as being the definitive work of its kind must be doing something right. What makes it particularly impressive is that it combines a clear explanation of the usual theological debates of the early Church with a very wide-ranging, internationalist scope that also has perceptive things to say about Christianity's survival and development in Ethiopia, or why it succeeded in Korea but failed in Japan.Though MacCulloch is too even-handed to build a cumulative argument out of this story, the theme that emerges for me is the constant interplay between Christianity's interior, metaphorical truths, and the factual historicity of the information by which such truths have been communicated. This is related to a crucial duality present from the very start.<i>Jewish and Christian traditions want to say at the same time that God has a personal relationship with individual human beings and that he is also beyond all meaning, all characterization.</i>In part this comes from the dual heritage of Christianity, which is well encapsulated by this book's provocative subtitle, 'The First Three Thousand Years'. The first 70 pages trace the Greek philosophical traditions of thinking about divinity – the Platonic idea of a remote, unknowable God – which became fused with Judaic tradition in an uneasy but dynamic relationship that is unique to Christianity.One result of this, after the Enlightenment, has been a hyper-literalist defence of religion which in modern times can be seen, especially in the US, in the uneducated flourishing of 'Creationism'. MacCulloch, who demonstrates well that 'there is no surer basis for fanaticism than bad history', gives such concepts short shrift. <i>The modern conservative Christian (and Islamic) fashion of Creationism is no more than a set of circular logical arguments, and Creationist 'science' has been unique among modern aspirations to scientific systems in producing no original discoveries at all.</i>Quite; and yet, despite referring to modern 'fashion', one thing this narrative shows is that polarities of literalism and metaphoricity have always been there. In the second century, Marcion of Sinope was already writing commentaries on Biblical scriptures which denied any but the most literal interpretations; while his contemporary Origen could write such opposite things as this:<i>Who is so silly as to believe that God, after the manner of a farmer, planted a paradise eastward in Eden, and set in it a visible and palpable tree of life, of such a sort that anyone who tasted its fruit with his bodily teeth would gain life?</i>MacCulloch notes drily: 'Origen might be saddened to find that seventeen hundred years later, millions of Christians are that silly.' And yet neither of these theologians really won out: both saw their writings declared heretical, and the 'official' Churches have maintained an uneasy balance between the two ever since. Reading this, it's impossible to escape a sense of arbitrariness about such decisions among early religious authorities.This is particularly true when it comes to the bewildering array of theological debates over what exactly was meant by such counter-intuitive doctrines as the Trinity, or Christ's divinity. It's instructive to consider how little modern Christians think about such things, given their central importance to early thinkers. Were the three persons of the Trinity separate substances, or one substance manifested in three different essences? The difference was almost wholly semantic, and yet people fought and died over it. Did Christ have two distinct natures, fully human and fully divine, or did he have one composite nature which blended human with divine? The question was fought over with a violence and vehemence that now seems incredible. Those involved would be amazed to know that many modern Christians are probably not sure of the 'right' answers to these questions.While MacCulloch is bracingly clear on the arbitrary nature of many of these doctrines, he is also often critical of modern revisionism – he offers a reminder, for instance, that Gnosticism, far from being a kind of early New-Age mysticism, was generally much more ascetic and authoritarian than mainstream Christianity was. Similarly, a text like 1 Timothy 2:12, often pounced on by the anti-religious because its patriarchal ideas seem so opposed to modern values, is here given a far more interesting and nuanced reading:<i>One has always to remember that throughout the New Testament we are hearing one side of an argument. When the writer to Timothy inisists with irritating fussiness that 'I permit no woman to teach or to have authority over men; she is to keep silent', we can be sure that there were women doing precisely the opposite, who were probably not slow in asserting their own point of view. But their voices are lost […].</i>One thing that this book creates is a deep awareness of just how different things might easily have been, had a few decisions gone the other way. It is fascinating to realise, for example, that if Islam had not suddenly exploded across the Middle East, the centre of Christendom in the Middle Ages would almost certainly have moved east to the region of Iraq, rather than west to Rome. MacCulloch is especially good on the interplay between these two faiths, offering such titbits as the fact that Islamic minarets may well have come about in imitation of Christian stylites – the early Orthodox monks who lived their lives on top of pillars. Such fascinating windows on history and belief are thrown open right the way through to the modern day, revealing such unexpected delights as the fact that most Christians among the Maasai in southern Africa think of God as a woman.It's hard to find much fault with this book, although there will always be sections where the narrative flags a little, depending on where your interests lie. I thought the tone was exemplary – in the words of Rowan Williams, who reviewed it for the <i>Guardian</i>, it is 'neither uncritical nor hostile', which is no small achievement in itself. In one of his most felicitous phrases, MacCulloch describes Christianity at one point as 'a marginal branch of Judaism whose founder left no known written works'. Such a faith is always going to be a struggle between different interpretations, leading to a term – 'Christianity' – which can embrace the incense swung around an Orthodox icon, the speaking in tongues of a Pentecostalist, the resonant stone slabs which call faithful Ethiopians to prayer, and indeed the breezy indifference of Homer Simpson. If any book can give you a sense of how such diversity developed, and what it can possibly have in common – it's this one.