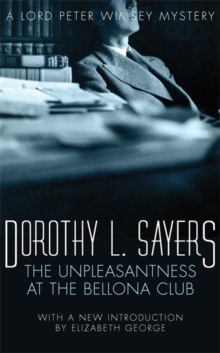 The Unpleasantness at the Bellona Club
Paperback
Description
A must-read for fans of Agatha Christie's Poirot and Margery Allingham's Campion Mysteries, Lord Peter Wimsey is the immortal amateur sleuth created by Dorothy L Sayers. Lord Peter Wimsey bent down over General Fentiman and drew the Morning Post gently away from the gnarled old hands.
Then, with a quick jerk, he lifted the quiet figure.
It came up all of a piece, stiff as a wooden doll ...But how did the general die?
Who was the mysterious Mr X who fled when he was wanted for questioning? And which of the general's heirs, both members of the Bellona Club, is lying?
Information
Format: Paperback
Pages: 288 pages
Publisher: Hodder & Stoughton General Division
Publication Date: 01/03/1977
Category: Crime & mystery
ISBN: 9780450016301
Free Home Delivery
on all orders
Pick up orders
from local bookshops
Reviews
Showing 1 - 5 of 5 reviews.
Review by thorold
16/06/2015
When an elderly retired general is found dead behind his newspaper in an armchair at the Bellona Club and Lord Peter Wimsey happens to be on the spot, the reader has a pretty good idea that it will turn out not to be a simple case of death from natural causes. I found this one less interesting than some of the other Wimsey stories seen purely as a detective story -- in the end, I didn't find myself very interested in who did it -- but it is worth reading for Sayers' sympathetic portrayal of the after-effects of World War I.
Review by Figgles
16/06/2015
I reread this as it seemed like a good read for November the 11th - the novel begins with the death of an aged General in the Bellona Club on Armistice day. Lord Peter Wimsey is called in to acertain the time of death and untangles a net of deception and murder, driven by a squabble over a huge inheritance. Nicely written, with an interesting sideline on bohemian London in the 20s as well as a sympathetic portrayal of a man suffering from what we would now call PTSD. Good solid read.
Review by shanaqui
16/06/2015
First book of the current readathon!<br/><br/>This is more or less the third time I've read this, so there were no surprises left. I can't actually remember the audio version very well, though -- in fact, this book in general left very little impression on me. I remembered the murderer, but I forgot all about Wimsey's tortured conscience, and about Ann Dorland, who turned out to be rather a good person. I only remembered the ending, with the <spoiler>suicide-as-justice</spoiler> theme, just before I read it.<br/><br/>There is a lot here I like, though: Wimsey's quarrels with Parker, Sheila, Ann, the awkward moments with Marjorie... Peter is, as usual, frightfully clever, and as usual, I wish there was more of Bunter. I do like the way it all resolves: it's very neat.
Review by Vivl
27/08/2015
It must be noted from the onset that from me 3.5 stars to DLS is equivalent to 5 stars for most other writers. I hold her very high in the firmament of writing in general, hence my standards for her are appreciably higher.One issue for me in terms of this most recent rereading was that I partly remembered whodunnit and why, probably because I watched the Ian Carmichael Wimsey series not so many years ago. Blessedly, my memory is flimsy enough that the ultimate crux of the matter escaped me completely, so from about the halfway point onwards I was as much in the dark as I was on first encountering this novel too many decades ago for me to care to count.Putting aside that small inconvenience, I was happy as usual to be lead hither and thither through Sayers' complicated and intelligent plot-line, with the puzzle aspect immeasurably enriched by flashes of almost cheeky humour and stunning moments of intensely insightful observation, on human nature and the human condition. The most incidental of Sayers' characters have flesh on their bones to a remarkable degree.The most enjoyable fleshing out for me, as ever, is that of our favourite characters: beloved Wimsey, of course, but also Parker and Bunter. The crumbs are coming together, the leavening is working its mysterious power, the dough is inexorably rising, I am mixing my metaphores like a mad thing, and the Wimsey loaf is beginning to show its bloom.
Review by pgchuis
27/08/2015
General Fentiman is discovered dead in his chair at his club and Lord Peter is asked to try to work out exactly when he died, since his rich sister also died that day and the order of their deaths affects who inherits her fortune. Very well plotted with unexpected twists for the most part, although the last third gets a bit less realistic. I found Ann Dorland's acceptance of what happened to her disappointing - Miss Climpson wouldn't have put up with it! Also, the way the murderer was treated at the end was unacceptable (at least to my modern sensibilities). The relationship between George and his wife was well-observed and I'm glad Ann got her happy ending.
Also in the Lord Peter Wimsey Mysteries series | View all