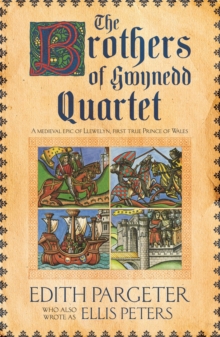 The Brothers of Gwynedd Quartet
Paperback
Description
From Edith Pargeter, who also wrote as Ellis Peter, BROTHERS OF GWYNNED is an epic quartet of novels telling the dramatic tale of Llewelyn, the first true Prince of Wales. 'A richly textured tapestry of medieval Wales' Sunday Telegraph Llewelyn has a burning vision: one Wales, united against the threat of the English.
But, before he can realise his dream, Llewelyn must tackle enemies closer to home.
Llewelyn's three brothers all stand in the way of his ambition to create an independent state.
The best-loved of the three, David, was brought up at the English court.
Restless, charming and torn between loyalties, David is fated to be his brother's undoing.
Despite the support of Llewelyn's beloved wife, Eleanor, Llewelyn finds himself trapped in a situation where the only solution is his own downfall and a tragic death...Here, in one volume, is the entire saga of the Brothers of Gwynedd, including: SUNRISE IN THE WEST THE DRAGON AT NOONDAY THE HOUNDS OF SUNSET AFTERGLOW AND NIGHTFALL 'Strong in atmosphere and plot' Daily Telegraph
Information
Format: Paperback
Pages: 960 pages, illustrations
Publisher: Headline Publishing Group
Publication Date: 17/08/1989
Category: Historical fiction
ISBN: 9780747232674
Free Home Delivery
on all orders
Pick up orders
from local bookshops
Reviews
Showing 1 - 1 of 1 reviews.
Review by fdholt
16/06/2015
The brothers of Gwynedd contains all four of the Welsh novels of Edith Pargeter: Sunrise in the west, The dragon at midday, The hounds of sunset, and Afterglow and nightfall. It is the story of Llewelyn, the one, true and only Prince of Wales along with his interactions with his three brothers. The story is seen through the eyes of Llewelyn's confidante Samson, born on the same day as the Prince. Through intrigue and battle, Llewelyn is seen as a truly majestic and tragic figure, and, by novel 4 and knowing what will happen, one still hopes that Llewelyn and Wales will succeed and that his brother David will not yet betray him again. Pargeter is sympathetic to the Prince even though he is listed as a rebel and traitor in most of the internet sources I checked to gain a better background for Welsh history. But the truth is that the victors write history and Edward Plantagenet won.The four novels are dense reading in very small print with a scholarly style and in a period of history that is unfamiliar to most modern readers. The sections on Welsh law and the treaties and court battles were difficult reading. There is no map of Wales included and one is definitely needed to track the unfamiliar place names. It's hard to figure out who Pargeter is talking about since the names are similar. (King Henry's wife, sister, son's wife and niece are all named Eleanor!) And it was really difficult to keep track of all the various characters so a who's who list would have been helpful. There was a very short glossary of Welsh terms.It took a long time to read these books carefully but it was well worth the time spent. I can recommend these books to anyone who enjoys medieval history as well as those fans of Pargeter's Brother Cadfael mysteries which she wrote as Ellis Peters.