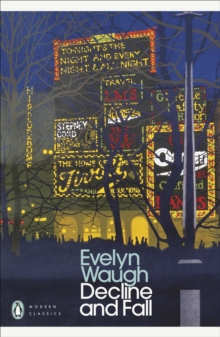 Decline and Fall
Paperback
Description
With his distinctive dark wit, Evelyn Waugh's Decline and Fall is a masterful social satire sending up the social mores of 1920s England, edited with an introduction by David Bradshaw in Penguin Modern Classics. Expelled from Oxford for indecent behaviour, Paul Pennyfeather is oddly unsurprised to find himself qualifying for the position of schoolmaster at Llanabba Castle.
Hi colleagues are an assortment of misfits, including Prendy (plagued by doubts) and captain Grimes, who is always in the soup (or just plain drunk).
Then Sports Day arrives, and with it the delectable Margot Beste-Chetwynde, floating on a scented breeze.
As the farce unfolds and the young run riot, no one is safe, least of all Paul.
Taking its title from Edward Gibbon's Decline and Fall of the Roman Empire, Evelyn Waugh's first, funniest novel immediately caught the ear of the public with his account of an ingenu abroad in the decadent confusion of 1920s high society. 'The funniest book I have ever read' Julian Symons, The Times 'His first, most perfect novel ...a ruthlessly comic plot' John Mortimer, Guardian 'Concocted of cruelty, bigotry, pederasty, white slavery, violence, madness and murder, Decline and Fall is fundamentally playful and side-splittingly funny' David Bradshaw
Information
Format: Paperback
Pages: 304 pages, illustrations
Publisher: Penguin Books Ltd
Publication Date: 05/07/2001
ISBN: 9780141180908
Free Home Delivery
on all orders
Pick up orders
from local bookshops
Reviews
Showing 1 - 1 of 1 reviews.
Review by TheAmpersand
16/06/2015
A briskly paced but densely written schoolboy farce which takes its hard-luck protagonist, Paul Pennyfeather, from Oxford to a down-at-the-heels boy's school in Wales to the arms of the formidable Margot Beste-Chetwynde and back. Humor doesn't often age gracefully, and so it's a testament to Waugh's talent that much of "Decline and Fall" is still genuinely laugh-provoking some seventy years after its publication, and to an American reader, no less. A few unforgettable characters, such as the protean Philbrick and the resourceful Grimes. also make this novel very much worth reading. I would have enjoyed "Decline and Fall" much less had I not read the perceptive introduction by a certain David Bradshaw that was included in my Penguin Classics edition. Knowing a bit about Waugh's own anti-modernist political and cultural leanings helped me put his spoofs, of modern writers, psychiatry, jazz musicians, and the Welsh, in proper perspective. If nothing else, "Decline and Fall" gives the lie the oft-heard assumption that there aren't any funny conservatives out there. While I enjoyed this book, I can't say that I'm quite finished with it and think that it probably deserves a reread. In a way, that might be the best compliment I can give it. After all, how often do you hear yourself saying that about a comic novel?