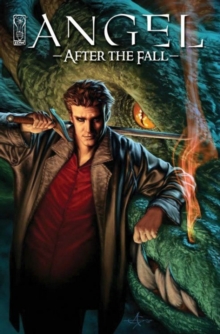 Angel: After the Fall : Volume 1
Hardback
Description
* In Angel's final television season, his world ended...but his story didn't.
Picking up where Season Five of the fan-favorite TV show left off, this first collection looks at who lived after that climactic battle, who died, and what happened to all of Los Angeles in its wake.
Information
Format: Hardback
Pages: 192 pages, chiefly col. Illustrations
Publisher: Idea & Design Works
Publication Date: 16/07/2008
Category: Horror & ghost
ISBN: 9781600101816
Free Home Delivery
on all orders
Pick up orders
from local bookshops
Reviews
Showing 1 - 5 of 8 reviews.
Previous | Next
Review by TheBooknerd
16/06/2015
I have to say, I don't care much for the art. Everyone is kind of funky looking and not always recognizable. As for the story, I naturally like it because it tells us, at last, what happened after that 'final' battle. Can't say that I found it very gripping, though.
Review by Alixtii
16/06/2015
The art is great, the writing is strong, and it's wonderful to see the continuing adventures of some of our favorite characters. I usually turn to graphic novels for stories more fun and upbeat than this, but after "Not Fade Away" there isn't much chance for that, I can't blame them for doing something different, and there are certainly plenty of moments where the humor shows through (Nina and Spike in particular have some great panels). But while the comic replicates the optimistic nihilism of the show at its darkest, it's never as intelligent as the show at its best, which means the adventures in apocalypse-land ultimately fail to resonate as strongly as they should. Still, a very well-executed exercise in apocalypse porn with several intriguing plotlines.
Review by ElizaJane
16/06/2015
Reason for Reading: I love "Angel" to the nth degree!Comments: I usually start my reviews with a brief summary but I can't with this book which picks up some time after the fight at the end of Season 5 of the television series Angel. The show ended with the end of the world and "the gang" taking on an epic battle against a horde of demons, including a dragon, which the viewer would assume continued until the bitter end. Well things are not exactly as they seem and the first five comics gathered here contain shocker after shocker about pretty much everything, especially about each individual member of the cast. And everybody is present and accounted for, except of course for dear Cordy. But we do have the return of three characters who had limited story lines in the show Groosalugg (from Pylea), Nina (the werewolf girl) and Gwen (the electricity girl).This is a perfect continuation of Angel. I am completely satisfied with the direction that has been taken. The characters retain their sense of voice from the show. You can hear the actor's voices in your head, the humour and sarcasm, plus the interaction between the various characters is all perfect. The artwork is delicious. It is aptly dark and broody but the use of colour has been wisely placed to make a stunning book to just look at.My book doesn't have a rating on it but I'd assume the comics were rated Teen. There is the typical violence of the TV show, that is the slaying of demons and beasts, nothing that would deserve a Mature rating. There are a few bits of language that wouldn't have made the show but nothing terribly profane or frequent. The only thing that could be of concern is the plenitude of women in barely there thong bikinis or bikini-like costumes, shown from various scintillating points of view.The book itself has bonuses. I have the hardcover which comes with a ribbon bookmark (fancy shmancy!). The book starts with a note from Brian Lynch, then once the five volumes are over there is an art gallery which includes the covers of the comic books, artwork by various artists and photos of Angel and Spike. Next comes the original proposals for each of the five volumes, these are textual short stories and not exactly how the finished comics turned out. Then comes a Sketch Gallery by Franco Urro and finally the book ends with an annotated script of chapter one. I actually read through the annotations right after reading chapter one and gained a lot of insight before continuing on with the story.If you have watched all five seasons then you must continue on with the story by reading this and be prepared to be shocked over and over as each chapter ends with a stunner. I can't wait to read the next one!
Review by fyrefly98
16/06/2015
Summary: After The Fall picks up some time after the big battle that ended Season 5 of Angel. It turns out that the senior partners Wolfram & Hart weren't too happy about Angel & Co.'s part in that fight, and as punishment, they sent the entirety of Los Angeles to Hell. The gang's all there... although most of them have undergone some pretty heavy changes from when we last saw them on our TV screens. Regardless, they're still fighting the good fight, which currently involves trying to wrest control of L.A. from the various demon warlords who hold power over demons and mortals alike.Review: Eh. This Joss Whedon TV-to-comics spin-off thus far is not wowing me nearly as much as Season Eight of Buffy. On the other hand, I was much more into Buffy than I was into Angel as TV shows, so it shouldn't be surprising that the same pattern holds true in the graphic novels. One of my main problems with Angel was the systematic assassination (literal and figurative) of the characters that I most liked in favor of storylines that I didn't particularly care about. And, while a lot of things have changed between the end of the TV show and the beginning of After the Fall, and while a lot of those changes are very interesting and could potentially play out in very cool directions, I was kind of going into this book with strained patience... which was not fully mollified by the directions taken by the story in this first volume.Lynch, for the most part, does a good job with the writing. People sound like themselves, and although the speech patterns on Angel weren't quite as idiosyncratic as they were on Buffy, the dialogue matches up with the characters without any noticeable flaws. Likewise, the artwork is fine - everyone is very recognizeable as themselves, with the possible exception of Nina (who wasn't really on the show enough to make a huge visual impression). The drawings and the panelling are all well-done, and dramatic, and dynamic, but they're just not really to my taste - I think it's the air-brushy style of painting that I don't care for. Overall, I'm going to keep reading; I've got enough invested in these characters that I want to find out where this story is going, but so far, it's not bowling me over the way I'd hoped. 3 out of 5 stars.Recommendation: Only for those who have watched all five seasons of Angel and want more; for those people I think the way you feel about Angel the graphic novel is going to depend largely on how you felt about Angel the show.
Review by EmScape
16/06/2015
I am not going to give even a summary of anything that happens in this graphic novel because I can't think of anything to say that wouldn't be a spoiler. It is generally revealed what happened to pretty much everyone since the final episode of Angel: The Series television show. It is also more awesome than everything.The dialogue is spot-on, the graphic renditions of the characters are much more realistic and identifiable than those in the first issue of Buffy Season 8, there are many interesting tidbits hidden in the pictures that I certainly did not catch the first time through.The most valuable thing, for me, (because I am not really a big reader of graphic novels) was the original treatment Joss wrote for the first arc of the series. Some things were cut, but it ended up being very true to how the novel actually turned out. It's always an amazing treat to get into Joss' head.