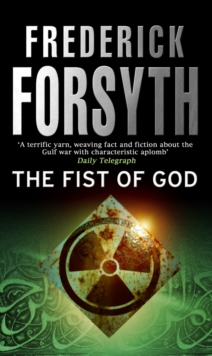 Description
During those fateful weeks before Saddam Hussein's invasion of Kuwait, a fragment of radio intercept had referred to Qubth-ut-Allah, a devastating secret weapon that could rain death and destruction on the Allied forces.
Despite Allied scepticism, Major Mike Martin, an SAS man who can pass as an Arab, is sent into Kuwait to assess Iraqi strength and help the resistance.
What he discovers there takes him into the heart of Baghdad, where he is to 'run' the Iraqi spy known as Jericho, the sleeper who might be prepared to provide vital information for money.
It is a highly dangerous operation, the results of which cause the Allies to delay their ground assault for four days - while Martin parachutes into the Iraqi mountains on the most hazardous mission of his life: to find and destory Qubth-ut-Allah - the Fist of God.
Information
Format: Paperback
Pages: 624 pages
Publisher: Transworld Publishers Ltd
Publication Date: 09/02/1995
Category: Thriller / suspense
ISBN: 9780552139908
Other Formats
EPUB from £3.99
eAudiobook MP3 from £9.60
Free Home Delivery
on all orders
Pick up orders
from local bookshops
Reviews
Showing 1 - 2 of 2 reviews.
Review by parthbakshi
16/06/2015
The best book i feel ever written on action behind enemy lines during the gulf war ,Though it is kind of pseudo fiction ,one gets a true account of what went on during the gulf war.Once you begin reading it ,You cant keep it down.
Review by abbottthomas
16/06/2015
This is an agreeable bit of fairly ancient 'history'. As usual with Forsyth there is a good mixture of fact, reasonable speculation and plausible fiction. The book is set in the time of the invasion of Kuwait by Saddam Hussein. It begins with the story of Gerald Bull, a brilliant ballistics engineer, who believed that large-bore guns - 'superguns' - could be used to send payloads into earth orbit. After working for the Canadian government and the US Army for some years his ideas fell out of favour and funding was withdrawn. Bull continued his work with funding from several interested governments including South Africa, China and Yugoslavia and finally Iraq. The story of the so-called Babylon Gun is well-known: Bull arranged for different parts of the gun to be constructed in various countries in an attempt to conceal their true purpose. Many of these were intercepted by the authorities as they were in transit to Iraq. The size of the barrel was such that the gun could not have been fired unless it was fixed on a solid surface thus making varying the aim of the gun impossible. Western experts consequently discounted the Babylon Gun as an effective weapon, nonetheless confiscating the parts that came to light. A few months before Saddam's army moved into Kuwait, Bull was assassinated in Brussels, with Mossad operatives favourites as perpetrators. That much is factual, although Forsyth lays the blame for the murder elsewhere.With the invasion of Kuwait accomplished, the diplomatic negotiations begin, as does the preparation of Desert Shield, the build up of Coalition forces to protect the Saudi/Kuwait border. Forsyth gives us a lot of detail on this, looking at the actions of many real people and real organisations. He is good at sounding convincing: the reader believes that the auxiliary tanks of the USAF F-15E Eagle fighter hold 4,000 pounds of fuel or that the Saudi Defence Ministry in Riyadh is 400 metres long and 100 feet high and so finds it easy to accept that Benyamin Netanyahu is pushed into disclosing Mossad's asset in Baghdad by a very rich Jewish-American banker or that Mikhail Gorbachov provided cover for a British agent at the behest of two Western spooks. His speculations and fiction start here with the US/UK need to have on-the-ground intelligence, first from Kuwait and later from Baghdad. We get to know a typical Forsyth hero, Mike Martin, a SAS major with perfect Arabic and an uncanny ability to melt into the background. We are treated to exciting times on the streets of Kuwait City and Baghdad, a lot of black-ops and flying detail and a neat Mossad sting operation in Vienna. It's not a spoiler to confirm that the book conforms to history and Desert Storm rolls on to a sort of victory.Forsyth clearly has no problem including his personal feelings in the book, from half a page describing a rugby match between Haileybury and Tonbridge (his old school) to a clear judgement of Margaret Thatcher's political demise at the hands of colleagues of "ineffable incompetence". He closes the book with a postscript decrying the madness of advanced industrial nations selling sophisticated weaponry to "the crazed, the aggressive and the dangerous" and opining that, despite all the high-tech electronic information gathering, there is still a need for the human spy. He writes of the range of 'Weapons of Mass Destruction' (WMD) possessed by Saddam and the Iraqi's skill in concealing them. I guess he would have preferred Saddam to have been ousted by Desert Storm but he left a book which might have been a manual for George Dubbuyah and Blair in their attempts to justify the Second Gulf War 13 years later.