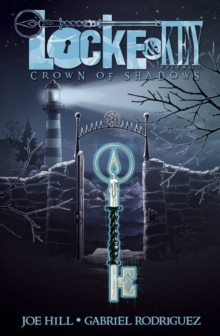 Locke & Key : Crown of Shadows Volume 3
Hardback
Description
* Sam Lesser may be dead and gone, but Dodge still has uses for him, and in the first chill days of October, will make contact with him again.
The dead know things the living may not, and Sam's restless spirit has had time to discover the thing Dodge wants to know most of all...where to find the key to the black door.
Information
Format: Hardback
Pages: 152 pages, chiefly col. Illustrations
Publisher: Idea & Design Works
Publication Date: 10/08/2010
Category: Comics and Graphic Novels
ISBN: 9781600106958
Free Home Delivery
on all orders
Pick up orders
from local bookshops
Reviews
Showing 1 - 5 of 17 reviews.
Previous | Next
Review by bragan
16/06/2015
I really should learn not to start series like this while they're still in progress. When I have to wait between installments, I tend to lose the momentum of the story and it takes me far too long to really get back into it, in part because I get distracted trying to remember everything that's already happened.Which was a bit of an issue for me here, but that's my problem, not the series'. This, like the earlier two volumes, is both well written and beautifully drawn, with supernatural elements both wonderful and horrible, and characters who are so believable that it's sometimes painful.Unless the remaining volumes turn out to be almost unimaginably disappointing, I recommend this series wholeheartedly. But you might be better off waiting for it to finish first, unless you're far less distractable and impatient than I am.
Review by tapestry100
16/06/2015
Well, this series has gotten nothing but better as it has gone along. I've been thoroughly impressed with Hill's writing and Rodriguez's art right along. They haven't lost anything in the storytelling and haven't weakened in their storytelling either. One of the things that I was worried about is that at some point they would lose their momentum, but five volumes in and that hasn't happened yet.In Volume 2, <i>Head Games</i>, the kids are still recovering from the events at the end of <i>Welcome to Lovecraft</i>, events that may brought back a lot of memories that they were trying to forget. Kinsey and Tyler find some companionship in their new friend Zack, not realizing Zack's dark secret or intentions. Bode finds a new key, and as they start to uncover the secrets of this new game, Zack starts to become a little too recognizable for his liking.Volume 3, <i>Crown of Shadows</i>, finds more secrets and more revelations in the background about Dodge and more keys. This volume deals a little bit more with the emotional impact prior events have had on each of the members of the Locke family. I really found these issues handled well in this volume, especially watching Kinsey after her change in the previous volume.Volume 4, <i>Keys to the Kingdom</i>, was a series of shorter stories that all tied into the Key house and what is happening with the various characters. While not necessarily on complete story throughout the entire volume, each of these stories still successfully moves the story along.I was concerned about going into Volume 5, <i>Clockworks</i>, as I'd heard that this was mostly a background story, and I wasn't exactly sure how a volume dedicated almost entirely to background was going to help move the story along, but holy crap was I wrong! I think this might be the best volume so far. We learn about the history of the Locke family, the Keys, Key house, the purpose of the villain behind everything (SPOILERS! - which ties directly in the title of the first volume). It just all came together amazingly well.Needless to say, you won't find much about the actual story in this review, because it's almost impossible to talk about the story without giving anything away, as Hill seems to find a way to tie in almost every plot thread one way or another into all of the story. What I can say, is that this is completely worth reading and might be one of the better graphic novels you'll find. If you're not a fan of horror or of violence, this might not be the best series for you, but if you can stomach it, this is a fantastic series. I'll definitely be picking up the final volume when it's released.Happy (creepy) reading!
Review by lovejoy_rat
16/06/2015
This is the third in the Locke and Key series of graphic novels by Joe Hill. This piece of the story focuses more on the development of the main characters, filling them out and making them more three dimentional. We see the family dealing with the loss of their father and the strange things happening in Lovecraft, as well as the mother's decent into alcohol abuse. Can't wait for the next volume! :D
Review by callmecayce
16/06/2015
I don't know what to say about this book. I'm completely in love with the Locke & Key series and I keep devouring them as fast as I can get my hands on them. The drawers are sheer perfection and the writing is astounding. I love our three main characters and their story lines. I'm scared for them, but at the same time I cannot wait to find out what happens next.
Review by krau0098
16/06/2015
This is the 3rd graphic novel in the Locke and Key series. The 4th, Keys to the Kingdom, comes out July of 2011. This was an excellent installment in this series; this story just keeps getting more and more interesting. I think this was my favorite one yet, which is really saying something since I have loved them all. I should also mention that the hardback version of this is just beautiful; even has a lovely ribbon to keep track of your place in the book.As the Locke children's mother is incapacitated by grief and forced to deal with yet another loss, the Locke children are left to fend for themselves in a house where things are becoming increasingly strange. Dodge continues his search for the Black Door Key and summons an army of shadows to torment the Locke children. The Locke children are forced to fight for their lives against the shadows within.This is just such an interesting, if profoundly creepy, series. Every installment introduces new mystery to the storyline and every installment introduces strange new keys that do fantastical things. I am so excited to see what each new key does, and so interested in how this battle between the living and the dead, between Dodge and the Locke children will play out.This is definitely a novel for adults, some of the things in here are disturbing. The mother of the Locke children continues a rapidly increasing descent into misery and spends a lot of time drinking and being generally useless and tragic. The Locke kids struggle along as well as they can. It is interesting to see some of the affects from Head Games and how they played out in this book. I was thrilled by the fact that this installment cranks up the level of fantasy quite a bit. When Dodge uses the Key of Shadows and summons and epic army of shadows things get really awesome.The artwork is incredibly beautiful and the shadow army lets the illustrators show off even more of their considerable talent. The story ended well enough, but I am still desparate to see what will happen next.Overall just an outstanding addition to this series. These books just keep getting better and better; more and more engaging and interesting. I can't help but feel that this is all building up to something incredibly tragic and I am desparate to know what will happen next. This is one of the few graphic novels I will go out and buy new in hardback; they are definitely keepers. The hardbacks are very beautiful with a lot of attention to detail to the quality of the book; making this book something that is a pleasure to hold in your hands and read. I can absolutely not wait to read Keys to the Kingdom!