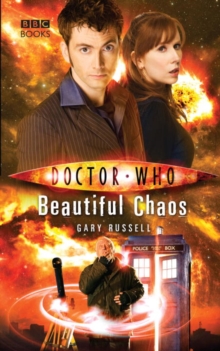 Doctor Who : Beautiful Chaos
Hardback
Description
Donna Noble is back home in London, catching up with her family and generally giving them all the gossip about her journeys.
Her grandfather is especially overjoyed - he's discovered a new star and had it named after him.
He takes the Doctor, as his special guest, to the naming ceremony.
But the Doctor is suspicious about some of the other changes he can see in Earth's heavens.
Particularly that bright star, right there. No not that one, that one, there, on the left...The world's population is slowly being converted to a new path, a new way of thinking.
Something is coming to Earth, an ancient force from the Dark Times.
Something powerful, angry, and all-consuming...Featuring the Tenth Doctor and Donna as played by David Tennant and Catherine Tate in the hit Doctor Who series from BBC Television.
Information
Format: Hardback
Pages: 256 pages
Publisher: Ebury Publishing
Publication Date: 26/12/2008
Category: Science fiction
ISBN: 9781846075636
Free Home Delivery
on all orders
Pick up orders
from local bookshops
Reviews
Showing 1 - 3 of 3 reviews.
Review by kaionvin
16/06/2015
The Doctor and Donna are popping over for a quiet weekend in Chiswick— the usual: regaling Wilf on his granddaughter's latest adventure, catching up on life in London, and trying not to argue with Sylvia. But life on the TARDIS brings no quiet weekends, and the Doctor starts to suspect there's a little something strange in the air —talk of M-TEKs, a new exciting gadget that's launching—… or is it something in the sky?Gary Russell has the best handles on the characters' voices that I read in one of these tie-in novels before, settling right into the groove of the Doctor and Donna's funny and affectionate relationship. His understanding of canon characters is put to great use— while there's some nice ominous global conspiracy and trekking around London and hilarity as the Doctor meets the Royal Astronomy Society, the real meat in this is how Russell is pretty brilliantly able to use it to address Donna's departure in "Journey's End'.Full disclosure: I freaking love Donna Noble and Wilf's speech to the Doctor in the rain? Devastated me. <i>Beautiful Chaos</i> provides almost the perfect coda to that, fleshing out the characters of Wilf and Sylvia and the Mott-Noble family dynamic. We get the "softer" Sylvia, the caring underneath her cruel cynicism. And Wilf gets a "star"ring role, both serving as the bridge into the mystery and providing a touchingly mundane conflict through his relationship with a female "friend", Netty.I don't want to give too much of it away, but the cleverness in how Russell ties in the emotional climax to the adventure really elevates what otherwise might be a somewhat under-explained or underdeveloped mystery. And how he uses it to decipher meaning (or at least, hope) in the end offered in series four? Bonus.
Review by goth_marionette
16/06/2015
The Dr Who series of books can range from great to atrocious. This is a great book. I found it to be well written and the characters were well developed. For those who liked Donna this is a nice addition to the series and focuses on her grandfather who is one of my favorite characters. Enjoy!
Review by Jami_Leigh
16/06/2015
Plot: 3 stars <br/>Characters: 2 1/2stars <br/>Style: 3 stars <br/>Pace: 3 stars <br/><br/>Oh flat version of Donna, how much lamer you are than the TV show version. And given as you had all the depth of a pencil sharpener on the show, that says something. (Yes, she's my least favorite companion of the new series, even as, storytellingwise, I can see how she's also exactly what he needed at that point.)
Also in the Doctor Who series | View all