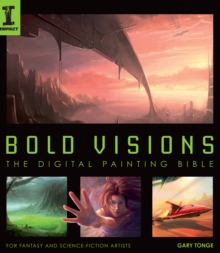 Bold Visions : A Digital Painting Bible
Paperback
Description
Bold Visiosn is is a comprehensive and up-to-date guide to working with computers to create powerful art, whether it's your hobby or your vocation.
It provides detailed and easy-to-follow advice on how to get the most from digital materials and tools, on their own or combined with traditional media.
Gary Tonge - one of the UK's top conceptual designers - shares his passion for the creative freedom offered by digital art and shows how you can achieve exciting results.
Clear and in-depth instructions on everything from planning your work to making your fantasy pictures believable sit alongside beautiful artworks in this must-have book that's as breathtaking as it is practical.
The in-depth materials section introduces all the equipment you'll need, from computer hardware and software (Adobe Photoshop, Corel Painter and 3D modeling packages) to more traditional art media, and the ways in which you can integrate the two mediums.
The detailed basic techniques section caters for newcomers to the digital medium plus those who want to brush up on their skills. From easy to follow techniques for effectively using Adobe Photoshop (tools, brushes, layers, line art) to painting with colour, and advice on using a mouse or tablet, Tonge breaks down the basics.
The Colour and Light chapter explores different concepts and examines how different colour themes and usage can radically alter the final feel of an image, from monochrome palettes through dual tone images to the careful use of colour to project temperature, depth and emotion. 'Concept work' is the term used for the time when artists conceive and try out new visial ideas, shapes, colour schemes, backgrounds or characters.
In the Concept and Design chapter Gary Tonge highlights the importance of a solid conceptual phase and he runs through the different stages in a step-by-step format: working from a brief, exploring a theme, composition, focal points and framing, scale and perspective, and painting a concept piece.
The Textures and Special Effects section helps you to discover just how powerful the tools in paint packages are at helping you to add texture, light, special effects and colour tweaks to your images. Diverse subject matter ranges from futuristic spacescapes and revolutionary vehicles to medieval landscapes and beautiful maidens.
Tonge explores how you can transport a real figure into fantasy, and provides tips on how to create a believable futurescape or bring a fantasy landscape to life; the ability to capture the essence of something real-world and add something supernatural, extraordinary or mystical.
Gary concludes the book with an incredibly useful chapter on What to Do with Your Art, from posting your work online and creating internet portfolios to organizing exhibitions, and using your art in games and movies. 'Essential to fantasy and Sci-fi artists alike. The book itself presents a high-gloss, professional approach that allows the attractive working examples.' --Advanced Photoshop 'A remarkable, well produced guide to creating science fiction and fantasy art on our computer.
Calling something ' The Bible' of its own particular field is a mite presumptuous, but for once it's well justified.' --Death Ray 'Your personal digital painting bible [...] written by Gary Tonge, one of the UK's top game concept designers [...] jam-packed with luscious and inspiring images.'--Photoshop Creative
Information
Format: Paperback
Pages: 128 pages, 200 colour illustrations
Publisher: F&W Publications Inc
Publication Date: 25/07/2008
Category: Painting & paintings
ISBN: 9781600610202
Free Home Delivery
on all orders
Pick up orders
from local bookshops