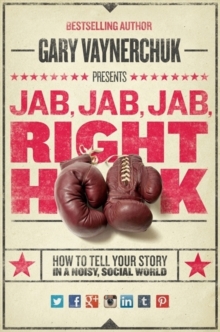 Jab, Jab, Jab, Right Hook: How to Tell Your Story in a Noisy, Social World
Hardback
Description
When managers and marketers outline their social media strategies, they often plan for the right hook-their next highly anticipated sale or campaign that's going to put the competition out for the count.
Even companies committed to jabbing-patiently engaging with customers to build the relationships so crucial to successful social media campaigns-still yearn to land the powerful, bruising swing that will knock out their opponent or their customer's resistance in one tooth-spritzing, killer blow.
Right hooks, after all, convert traffic to sales. They easily show results and ROI. Except when they don't. In the same passionate, street-wise style readers have come to expect, Gary Vaynerchuk is on a mission to improve marketers' right hooks by changing the way they fight to make their customers happy, and ultimately to compete. Thanks to the massive change and proliferation in social media platforms in the last four years, the winning combination of jabs and right hooks is different now.
Communication is still key, but context matters more than ever. It's not just about developing high-quality content, but developing high-quality content perfectly adapted to specific social media platforms and mobile devices-content tailor-made for Facebook, YouTube, Instagram, Pinterest, Twitter, and Tumblr.
A mash-up of the best elements of Crush It! and The Thank You Economy with a 2013 spin, here is a blueprint to social media marketing strategies that really works.
Information
Format: Hardback
Pages: 224 pages
Publisher: HarperCollins Publishers Inc
Publication Date: 26/11/2013
Category: E-commerce: business aspects
ISBN: 9780062273062
Free Home Delivery
on all orders
Pick up orders
from local bookshops
Reviews
Showing 1 - 2 of 2 reviews.
Review by plappen
16/06/2015
It is getting increasingly hard for companies, big and small, to tell their story in this noisy, chaotic, social media world. This book attempts to make that task a little easier.Most companies are on social media because it is "expected," or because their competitors are already here. But they have little, or no, idea as to how to do it the right way. Perhaps the biggest rule is to Create Interesting Content. Give people a reason to visit you on Facebook or Twitter more than once. Post something funny, or something that makes the reader think. Later, you can ask for their money ("Buy Our Stuff"). It should be obvious that the link included with the request for your customer's money should go right to your website's ordering page, not the main page. Make it as easy as possible for people to buy your stuff.What works on Facebook will not work on Twitter or Instagram, nor should it. You need to get creative and tailor your posts to each site. The author spends much of the book looking at actual marketing campaigns, from big and small companies, on various social media sites. He explains exactly how Company A got it right, Company B got it half-right, and Company C really shouldn't have bothered.The days of a company choosing a motto or a face of the company, and using it everywhere for several months, are also gone. Don't be afraid to change your marketing often, even every day. If your Twitter or Pinterest approach is not working (there are ways to gather, and analyze, such information), dump it, now. It is not going to suddenly get better.The author makes it easy in showing, instead of telling, how to do social media marketing. Even those companies who have yet to "get it," will be able to understand. This book is recommended for companies of all sizes; if your company is not already active on social media, why not?
Review by Terrell_Sanzone
10/11/2015
I got a copy of this book through a Goodreads giveaway in return for a honest review. <br/><br/>I admit that I need to re-read this book but I believe that to be my attention and not the book itself. It is a very good read with a lot of information and a common sense approach.