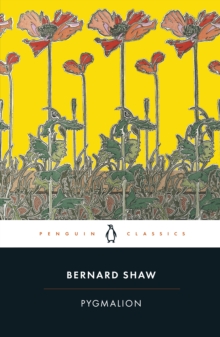 Description
George Bernard Shaw's witty comedy of manners, Pygmalion includes an introduction by Nicholas Grene in Penguin Classics. Pygmalion both delighted and scandalized its first audiences in 1914.
A brilliantly witty reworking of the classical tale of the sculptor Pygmalion, who falls in love with his perfect female statue, it is also a barbed attack on the British class system and a statement of Shaw's feminist views.
In Shaw's hands, the phoneticist Henry Higgins is the Pygmalion figure who believes he can transform Eliza Doolittle, a cockney flower girl, into a duchess at ease in polite society.
The one thing he overlooks is that his 'creation' has a mind of her own.
Adapted into the Oscar-winning musical film My Fair Lady starring Audrey Hepburn and Rex Harrison in 1964, Pygmalion This is the definitive text produced under the editorial supervision of Dan H.
Laurence, with an illuminating introduction by Nicholas Grene, discussing the language and politics of the play.
Also included in this volume is Shaw's preface, as well as his 'sequel' written for the first publication in 1916, to rebut public demand for a more conventially romantic ending. Although essentially shy, Dublin-born George Bernard Shaw (1856-1950) created the persona of GBS, the showman, satirist, conversationalist, critic, pundit, wit, intellectual buffoon and dramatist.
Commentators brought a new adjective into English: 'Shavian', a term used to embody all his brilliant qualities.
Deeply concerned by what he saw as the exploitation of the working class, Shaw was an active Socialist and a brilliant platform speaker.
He remains the only person ever to have been awarded both the Nobel Prize in Literature and an Oscar. If you enjoyed Pygmalion, you might like Oscar Wilde's The Picture of Dorian Gray, also available in Penguin Classics.
Information
Format: Paperback
Pages: 144 pages
Publisher: Penguin Books Ltd
Publication Date: 30/01/2003
Category: Plays, playscripts
ISBN: 9780141439501
Other Formats
Paperback from £3.20
Paperback / softback from £4.95
EPUB from £1.81
Hardback from £9.85
eAudiobook MP3 from £9.79
Free Home Delivery
on all orders
Pick up orders
from local bookshops
Reviews
Showing 1 - 5 of 7 reviews.
Previous | Next
Review by soylentgreen23
16/06/2015
One of the few plays listed in my catalog. I've never spent much time looking into this side of literature - a shame, considering what's out there. I read - several times - this play simply because I had to, for the engrossing OU course "Introduction to the Humanities." A lot of it has stuck with me, and probably because of the exposure. Nicely done, GBS.
Review by im-imagined
16/06/2015
Utterly fantastic - one of my favourite plays. Though really...Eliza should have married Henry.
Review by iron_queen
16/06/2015
A geniunely funny and charming play, with a fascinating message about the function of manners with regards to a class-based society. The characters are lovable and entertaining, even if some of them are more human than others. Higgins will always be amusing to watch, no matter how you slice it: he is an immature, overly-cultured little boy whose intellect so eclipses emotion that, to him, intellectual pursuits are passion. Eliza is also fun, after she somehow develops a sharp mind with Higgins' cultivation.However, I had one major criticism that almost ruined the entire play for me. Call me a swooning, hormonal romantic, but I really wanted Eliza and Higgins to get together in the end! I perfectly understand Shaw's explanation at the end about how they could never have married because not only is Higgins not the marrying type due to the admiration he holds for his mother, but because Eliza refuses to submit herself to him, to be the Galatea to his Pygmalion. But still, all that chemistry seems like so much of waste when she goes and marries Freddy, that love-struck milquetoast. I couldn't help but write a mental fanfiction about Eliza's private fantasy about Higgins comes true, in which they are stuck on a remote island together and she seduces him into "making love like any other man." Guess that's just the hopeless romance-whore in me.
Review by hjjugovic
16/06/2015
This is the delightful play that My Fair Lady was based upon. The characters jump off the page, the action is swift, and the story irresitable. The ending is very strange, since it is all told in narrative, unlike the rest of the story which is a script.
Review by joririchardson
16/06/2015
One of my favorite works of British theater. A funny story with a sad ending. I love the deep characters and epic storyline underneath the comedy.Though normally I like to read the book first, I was grateful for having seen the movie already while reading this play. Audrey Hepburn is truly the essence of Eliza.I can't really say that "Pygmalion" was better or worse than "My Fair Lady" (the movie adaptation) because they were nearly identical. The script might as well have been read from George Bernard Shaw's writing itself. Shaw has very intricate, detailed descriptions about all the scenes and emotions of each scene, which I loved. It made this book feel somewhere in between a work of theater and a work of fiction. And, like the dialogue, the movie seemed to have followed these descriptions down to the last lace curtain.A charming, highly enjoyable piece of literature.