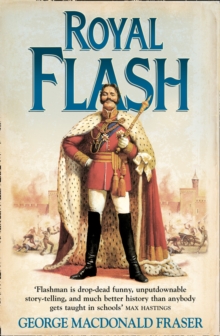 The Flashman Papers (2) - Royal Flash
Paperback
Part of the Flashman series
Description
Coward, scoundrel, lover and cheat, but there is no better man to go into the jungle with.
Join Flashman in his adventures as he survives fearful ordeals and outlandish perils across the four corners of the world.
A mission calls for a master of disguise, deceit and treachery: there's only one man for the job.
When a legendary femme fatale delivers him into the clutches of the dastardly Otto von Bismarck, Flashman will need all the cunning and seductive charm he can muster to escape this plot.
Information
Format: Paperback
Pages: 352 pages
Publisher: HarperCollins Publishers
Publication Date: 01/02/1999
Category: Crime & mystery
ISBN: 9780006511267
Other Formats
EPUB from £5.49
eAudiobook MP3 from £10.39
Free Home Delivery
on all orders
Pick up orders
from local bookshops
Reviews
Showing 1 - 5 of 5 reviews.
Review by dougwood57
16/06/2015
Perhaps it is unfair to give Royal Flash only 4 stars, but I had to distinguish its rating from the first Flashman book, which I would have given 5+ stars. The Royal Flash takes Harry Flashman from the comforts of home to Munich - at the invite of Lola Montez! Flashy, what are you thinking? (By the way, Lola Montez is an historical figure - and quite a beauty.) Once in Bavaria he meets his old nemesis Otto Bismarck, who entangles Harry in the intrigues of 1840's Germany, Denmark, and the Schleswig-Holstein Question.
Review by jztemple
16/06/2015
The recent death of George McDonald Fraser has brought a close (maybe permanent, maybe not?) to this delightful series of books. I have had the pleasure of following this series every since the release of the first book back in the sixties. The Flashman novels combine history (including substantial endnotes) with sex, action, adventure and the secret pleasure of enjoying the exploits of one of the most notoriously popular non-politically correct characters of 20th Century literature. Flashman is a womanizer, a coward, a scoundrel and a cheat, but in the novels, which are all narrated by Flashman himself, he is utterly honest with his readers. He is a man not proud of his faults, but certainly unabashed about them.The Flashman novels could be dismissed as sensationalized light reading , but Fraser cleverly tied his character into most of the major events of the last sixty years of the nineteenth century, a Victorian Zelig or Forrest Gump. Flashman casually mentions this minor detail or that simple observation, then Fraser in his assumed role as editor of the Flashman papers meticulously explains in the endnotes how these mentions by Flashman confirm the truth of his narrative, since only if Flashman was there could he have known about this fact or that. Fraser's endnotes also round out the historic details of the narrative, giving background and elaboration to the history-as-I-lived-it tales told by Flashman. It all works wonderfully, even if you somewhat suspect that some details are being outrageously fabricated.I very strongly recommend these books to anyone who has an interest in history and is willing to keep an open mind towards the womanizing and the language (the n-word appears quite a bit, but completely in character for Flashman). I would suggest the best way to read them is in order of publication. This doesn't follow Flashman's own life chronology, but the books published later often make reference to previous editions of the "Flashman Papers" and so is more fun for the reader to follow.
Review by MrBookface
16/06/2015
Oh, Flashman, you cheeky scamp! What are you up to today?"Well, Mr Bookface, I've been kidnapped by Chancellor Bismark and forced to impersonate a Danish prince. But don't wory, I'm sure to fit some fighting, drinking and whoring in along the way!"This second Flashman novel is my personel favourite. Wonderfully politically incorrect, funny and full of fascinating military history. Go buy it! Buy all the Flashman books! Now!
Review by malrubius
16/06/2015
Audiobook. Read this about 20 years ago. Lacks the culture clash and introductions of characters that makes the first Flashman great. Still, a fun read. Great funny writing. Flawless narration.
Review by jcbrunner
10/11/2015
The second Flashman book is the weakest I have read so far. Compared to the other ones, there is a lot of inaccurate information present whereas usually Fraser's careful attention to detail is one of the joys in reading about Flashy's exploits. In 1848, Otto von Bismarck was not yet in an important position (just a Prussian member of parliament) and would never have had such influence to intervene in the fictional country.Like his virtual successor James Bond, Harry Flashman's adventures are a sequence of capture and escape, interrupted by bedding activities. The Flashman girl in this episode is Lola Montez (whose Anglo-Irish background I have not known, though I have seen her portrait among the gallery of beauties in the wonderful but stuffed with tourists Nymphenburg Palace in Bavaria.The 1848 revolution era could have been much better used in the Flashman timeline from the revolution in Paris to those in Italy and Hungary. Plenty of much better episodes than this fictional and unhistorical prelude to German unification.
Also by George MacDonald Fraser | View all