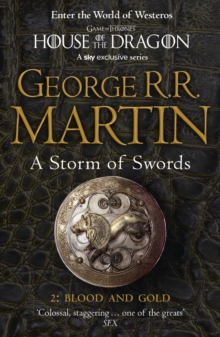 A Storm of Swords: Blood and Gold [Part 2]
Paperback
Description
HBO's hit series A GAME OF THRONES is based on George R R Martin's internationally bestselling series A SONG OF ICE AND FIRE, the greatest fantasy epic of the modern age.
A STORM OF SWORDS: BLOOD AND GOLD is the SECOND part of the third volume in the series. 'Colossal, staggering ...one of the greats' SFX The Starks are scattered.
Robb Stark may be King in the North, but he must bend to the will of the old tyrant Walder Frey if he is to hold his crown. And while his youngest sister, Arya, has escaped the clutches of the depraved Cersei Lannister and her son, the capricious boy-king Joffrey, Sansa Stark remains their captive.
Meanwhile, across the ocean, Daenerys Stormborn, the last heir of the Dragon King, delivers death to the slave-trading cities of Astapor and Yunkai as she approaches Westeros with vengeance in her heart.
Information
Format: Paperback
Pages: 656 pages
Publisher: HarperCollins Publishers
Publication Date: 01/09/2011
Category: Fantasy
ISBN: 9780007447855
Free Home Delivery
on all orders
Pick up orders
from local bookshops
Reviews
Showing 1 - 5 of 9 reviews.
Previous | Next
Review by devenish
16/06/2015
In my view this is the best book of the series to date. Certainly more of the main characters are disposed of than of here than in any other book. ( I'm certainly not going to tell you who,though.)Also several of the blackest villains are shown to have hidden depths.Constructed as before with each chapter headed with the name of a main character,which works extremely well in these thick books.As for the story-line,well I'm sure the others who have written reviews have all detailed that and it does not need me to add to those reviews. I can say that this series should give all who read them,great enjoyment.
Review by gmehn
16/06/2015
Good, but you'll need to have read the first two. I like this, I really do, but it seems like it's sometimes getting a bit tendril-y. As in, too many threads. It can be hard to follow. When it's good, it's brilliant. I'm afraid it may be going down that road of too many plot threads so its going to have to be a dozen books long. One can hope, though. Still and all, worth a read.
Review by Elliots89
16/06/2015
This is probably my favourite book of the series so far as there is so much action and death in this instalment. Martin does like to kill off his main characters and this book is no exception, with some big plot twists this book was just a gripping read. Can't wait to get the next one now!!
Review by atreic
16/06/2015
Again, I read these through back to back in a couldn't-put-them down way, but they have all merged!
Review by reading_fox
16/06/2015
Best of the series so far. Which isn't saying all that much. But it is coherant and finally packed fll of action that has been sadly missing from the first 3000 pages. In this tome we also finally lose some of our heros - somethign the series has been famous for, but hasn't actually happened prior to this. I'm not going to tell you which ones though, but you can probably guess.I guess the best bit is that the magic ramps up a little. The Dragons finally are able to do something, although a long way from carrying their riders. In the North the Others are a more significant issue. Meanwhile religion is spreading, and the preists (and priestesses) are starting to be able to do true miracles. I'm hoping that George will explain how all this works, and the difference between years and the 'Winter that is coming' but my guess is that he won't and even at the end of the series (I bet summer comes again) we still won't know how the world actualy works. Which is disappointing.All the rest of the faults and pleasures remain. Each chapter is worth reading, but there is little to hook you into the next.
Also in the Song of Ice and Fire series | View all