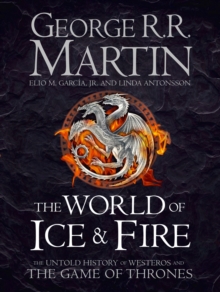 World of Ice and Fire: The Untold History of the World of A Game of Thrones
Hardback
Description
The never-before-seen history of Westeros and the lands beyond.
With hundreds of pages of all-new material from George R.R.
Martin. If the past is prologue, then George R.R. Martin's masterwork-the most inventive and entertaining fantasy saga of our time-warrants one hell of an introduction.
At long last, it has arrived with THE WORLD OF ICE AND FIRE.
George R.R. Martin, in collaboration with Elio M. Garcia, Jr. and Linda Antonsson, has written a comprehensive history of the Seven Kingdoms, featuring the epic battles, bitter rivalries, and daring rebellions that lead up to the events in the bestselling A Song of Ice and Fire series.
Collected within this volume is the accumulated knowledge, scholarly speculation, and inherited folk tales of maesters and septons, maegi and singers, including over 170 full-colour illustrations and maps, family trees for the Houses Stark, Lannister and Targaryen, and in-depth explanations of the history and culture of Westeros.
This is the definitive companion volume to George R.R.
Martin's dazzlingly conceived universe; THE WORLD OF ICE AND FIRE is indeed proof that the pen is mightier than a storm of swords.
Information
Format: Hardback
Pages: 336 pages
Publisher: HarperCollins Publishers
Publication Date: 28/10/2014
Category: Fantasy
ISBN: 9780007580910
Free Home Delivery
on all orders
Pick up orders
from local bookshops
Reviews
Showing 1 - 3 of 3 reviews.
Review by sloopjonb
16/06/2015
I possibly wouldn't have bought this if Amazon hadn't offered it very cheaply, but it was a good read, a worthy addition to the bookshelf of any fan of A Song of Ice & Fire/Game of Thrones. The artwork is all of good quality, and the fictional history was interesting and entertaining. Not for anyone who isn't a committed fan, but recommended to those who are. The only gripe I have is that for those parts of the world that GRR Martin isn't all that interested in, far away from the main action, the co-authors seem to have trawled through every fantasy trope they could think of to fill them out (lost cities in the jungle, etc.).
Review by renbedell
27/08/2015
It's very interesting if you are a hardcore fan of the Ice and Fire world. Goes into great depths about the history of Westeros and a good amount of Essos and the rest of the world. The writing is decent. It reads like a textbook for the most part, while at times like a gossip column. The drawings are amazing and worth it just for that.
Review by aadyer
27/08/2015
An easy to access, large coffee table book with great illustrations, essentially divided into two halves. The first is about the history of the lineages which have sat on the Iron Throne, & the second part is about the various locales in the world of Ice & Fire, & these stretch from not only Westeros but other locations in George R Martins world. Intially I would say thins was engaging but I found he seemingly endless delivery of Targaryen Kings to be tedious after a while. I thought the description of various locations in Westeros to be more rewarding, but this was hampered by incomplete maps, & this was especially the case with regards to the continent of Essos. This I thought was disappointing. All of that aside, I enjoyed this, it's a good companion i would imagine, to the books, & certainly helpful for those who have only experienced the TV series.