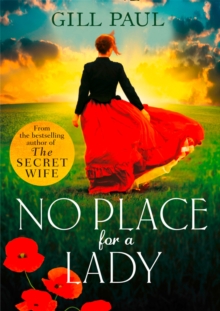 No Place for a Lady
Paperback
Description
FLORENCE NIGHTINGALE WASN'T THE ONLY HEROINE ...1854.
Britain is fighting a gruesome war. There has been no news of Lucy Gray since she eloped with handsome and impetuous Captain Charlie Harvington and embarked with him to the Crimea.
Dorothea Gray will risk anything to heal the rift with her little sister and bring her home safe.
She determines to join Florence Nightingale and the other courageous women travelling to the battlefield hospitals as nurses.
She will not rest until she finds her sister. Lucy, however, is on a very different journey, a journey through tragedy, trauma and true love.
But neither sister is prepared for the challenges they will face, the passion they will each taste and the simple fact that they might never see one another again ...A spellbinding and exquisite tale of courage, adventure and love.
Prepare to be swept of your feet!
Information
Format: Paperback
Pages: 400 pages
Publisher: HarperCollins Publishers
Publication Date: 02/07/2015
Category: Historical romance
ISBN: 9780008102128
Free Home Delivery
on all orders
Pick up orders
from local bookshops
Reviews
Showing 1 - 1 of 1 reviews.
Review by Sarah_Gruwell
27/01/2016
4.5 StarsMost definitive statement for the historical research that went into this book: Holy carp!! There is a ton of information that serves as a background for this story of two sisters and their relationship during one of the Crimean War. Everything from horrifying details on battle and carnage to everyday life in hospitals and military camps to the glittering world of Constantinople and the seedy underbelly of that same city find their way into this book. I literally was learning as I read, and I love that in historical fiction.I do have to give the author kudos for not being afraid to explore dark material as well as the general historical story. From just jaw-dropping carnage at Dorothea's hospital to the emotional turmoil on the soldiers and those experiencing the shells and death, this story covers it all and makes the reader think. I was especially touched at how the author portrayed PTSD and the depression present in the soldier population. It really made me think about our modern soldiers and what they're going through. At first, I wasn't that thrilled with out two sister leads. I felt they were almost stereotypical or caricatures of female roles in the mid-1850s, something I loathe with a vengeance. However, once the story gets rolling and the events start slamming our girls, I grew to love them more and more. They both mature and change their life outlooks as the war and story progresses. I found myself engrossed with their growth as chapters flew by.Lucy's and Dorothea's relationship is the heart of the story; seeing how it develops and changes as the months go by kept me enthralled. The war changed both of them; the reader can see that reflected in how both girls' views changed about each other. Lucy starts to view Dorothea as more than just someone trying to butt into her life as a bossy pseudo-mother. Dorothea starts to see the intelligence and maturity that Lucy possesses deep down as she deals with tragedy after tragedy.At first, I was going to rate this book lower due to how much I was gritting my teeth in the beginning over the girls' characterization. Yet, as the story progressed into the Crimea and the war story really got rolling, my adoration of the book rose and rose. The author's attention to detail/research shines through, and her attention to the girls' and their relationship is just astounding. I would recommend this book to any lover of historical fiction, as it's topnotch, and I look forward to delving into more of the author's HF!Note: Book received for free from publisher via NetGalley in exchange for an honest review.