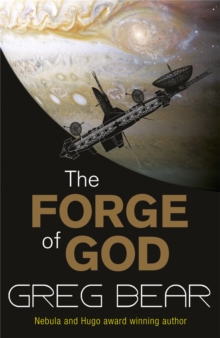 The Forge Of God
Paperback
Description
A stunning novel of alien invasion from a master of the genre The disappearance of one of Jupiter's moons, the appearance of "little green men" in Australia and the American Southwest, and the sudden presence of unidentifiable objects on a collision course inside the Earth's core add up to the inescapable conclusion that the Earth has been invaded by an enemy it cannot fight. Powerfully and gracefully written, the latest novel by the author of EON and BLOOD MUSIC stands far above most examples of "doomsday" science fiction.
Information
Format: Paperback
Pages: 336 pages
Publisher: Orion Publishing Co
Publication Date: 01/11/2010
Category: Science fiction
ISBN: 9780575096837
Other Formats
Paperback from £8.85
EPUB from £2.99
Free Home Delivery
on all orders
Pick up orders
from local bookshops
Reviews
Showing 1 - 2 of 2 reviews.
Review by malcrf
16/06/2015
I liked the premise, mostly well-written, undermined by becoming a bit overly drawn-out towards the end, and we had to be fed an unnecessary taste of a happy ending. Probably 40--50 pages too long.
Review by SandDune
16/06/2015
I thought I was going to enjoy this book a lot more than I did, as it was nominated for a number of awards, but disappointingly in practice it didn't really work for me at all. Jupiter's moon Europa has suddenly disappeared: not exploded or knocked out of orbit, just gone. And then new geographical features appear on the Earth overnight where none existed before, a miniature Ayers Rock in the Australian Desert and a new cinder cone in Death Valley, from which appears an English speaking alien bearing the bad news that the Earth is about to be completely and inevitably destroyed by a different alien race who have previously destroyed its own planet. Scientists Arthur Gordon and Harry Feinman are recruited as part of a US presidential advisory committee to deal with the situation, but are soon sidelined as the president becomes convinced that the destruction is part of God's plan to punish a erring human race and that the coming destruction is the biblical apocalypse. While the president pursues his own path, there are increasing calls for him to be impeached, but political machinations look increasingly unimportant as the destruction of the Earth seems more and more likely.I had a number of issues with this book which cumulatively meant that I didn't enjoy it very much - OK at best:- It was far too US centric. OK I know that every disaster film ever made in the history of the world is US centric but at least you usually do have the obligatory picture of the Eiffel Tower or Big Ben toppling to the ground. After the initial interest with Australia there is hardly any indication there any others countries exist at all. This wouldn't be a problem for me if the book focused on the reaction of people other than politicians or top class scientists, but it doesn't - surely the end of the world would have needed a little bit of international communication? Particularly with the increasingly erratic pronouncements from the US president?- There are no credible female characters - and this is a book that was written in 1987 not 1957. Women appear as wives, girlfriends or potential girlfriends to the all-important male scientists and politicians.- The end of the world scenario just didn't ring true for me - no riots, no major civil disorder - just everyone mainly going about their normal business or coming together in a happy clappy sort of way. And I found the characterisation of the main characters as Armageddon approaches a little unbelievable as well.There seems to be a sequel Anvil of the Stars but I don't think I'll be looking out for that one in a hurry
Also in the S.F. Masterworks series | View all