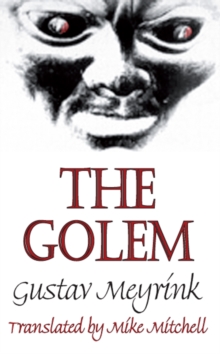 Information
Format: Paperback
Pages: 262 pages
Publisher: Dedalus Ltd
Publication Date: 03/03/1995
ISBN: 9781873982914
Free Home Delivery
on all orders
Pick up orders
from local bookshops
Reviews
Showing 1 - 5 of 6 reviews.
Previous | Next
Review by StevenTX
16/06/2015
The Golem is nominally a story of supernatural horror, but the elements of the supernatural are so arcane as to make this novel, at most, unsettling, but never terrifying. The story takes place in 19th Century Prague, mostly in the Jewish ghetto. The narrator, Athanasius Pernath, is a gem cutter and restorer. He is a man disturbed by strange dreams and loss of memory. He is also involved with a bizarre collection of characters: a sinister junk dealer and his lascivious daughter, a friend obsessed with revenge against a man who may be his own father, a beautiful countess desperate to hide evidence of her extramarital affair, and a mysterious Jewish scholar and his otherworldly daughter. Soon Pernath's dreams and his reality begin to blend, and he finds himself living a role in the legend of the Golem, a man-made creature that haunts the ghetto.The essence of the spiritual phenomena depicted in The Golem is that the mind may have not only an existence independent of the body, but multiple such existences. This theory isn't strongly developed, nor are its manifestations particularly frightening, but it is intriguing. The real appeal of the book lies, not in its plot, but in its setting. Meyrink has vividly depicted the sights, sounds, smells, and moods of old Prague. A pall of dark mystery and menace hangs over its twisting alleys, its narrow, creaking staircases, and its decadent, smoke-filled cafes, making this a most memorable novel.
Review by pgmcc
16/06/2015
Meyrink's horror story set in the Prague Ghetto and based on the cabalist legend of a human-like being created from clay is much richer than I had expected. It has been on my "to-be-read" list for a long time and I always perceived that it was going to be a slower and more arduous read than it turned out.From the very start Meyrink blurred the boundaries between sleep and consciousness; dream and reality; madness and sanity. He also played with the narrator's, and consequently the reader's, sense of identity. The initial sections are dense with ideas and it is worth taking them slowly but the story soon picks up the pace. This tale is enthralling and as I read the book I was taken up with the narrator's problems and fears.
Review by DieFledermaus
16/06/2015
I enjoyed the Gothic atmosphere of this book and the many interesting and nicely creepy stories. There's a rather disjointed plot and I don't think I got all the Cabala-related mysticism that goes on. The occasionally overheated prose effectively conveys the settings - dark back alleys, underground passages, supernatural houses, dank prisons as well as the inside of the narrator's head.The narrator is a Pernath, a gem-cutter living in the Jewish quarter in late 19th c. Prague. A number of plots and characters are introduced in the first couple of chapters and then finally coalesce into several plots. Pernath realizes that he's been in an asylum and had his memory of the past wiped out. While occasionally trying to figure out the past, he becomes involved in a melodramatic plot of blackmail and revenge. Somehow this is intertwined with his encounter with a golem – a creature brought to life that, in this book, appears every 33 years. Pernath has a number of other supernatural encounters but they could just as easily be his dreams or delusions – he can be rather unstable. He's also torn between a beautiful woman from his past and the sweet and spiritually-inclined daughter of his friend.There were a number of well-written passages, often describing Pernath's obsessions and dreams. Meyrink captured the claustrophobic feelings of Pernath when he's stuck in one dream, thinks that there's something menacing him in his room but is unable to leave, and wanders, lost, through tunnels and streets. We get a number of stories from a variety of characters – some of them are tangential to the plot, but are interesting anyway. The story of the golem appears with the others but Pernath has some personal memories as well as an early appearance of a golem at his apartment. While some legends have the golem brought to life to protect the Jewish community or act as a sort of menial servant, here the appearance of the golem is related to the development of Pernath's spiritual side. At one point, he sees a golem as his doppelganger – sort of a spiritual double. The appearance of the golem precedes his realization that his memories have disappeared and leads to his search for his self, often with the help of his neighbor, Jewish scholar Hillel. His love for the worldly, beautiful, philandering Angelica contrasts with his attraction to Hillel's daughter Miriam, who has something of a foreign beauty and only thinks about religion and miracles. I probably missed a lot of the meanings of the golem- and mysticism-related stuff. I did like the overall ambiguity of the book – many things were left unexplained or hanging.I was bothered by the portrayal of the Jewish characters – the horrible, greedy Wassertrum and the saintly Hillel with his beautiful daughter Miriam. It's certainly good that they weren't all negative portraits, but there are a number of books that have this dichotomy of good/bad Jewish characters (often the good character is someone's beautiful daughter who the Christian protagonist falls in love with and possibly wants to convert). Somewhat irritating.
Review by denmoir
16/06/2015
I read this in small bites and found myself getting a little confused each time I came back to it. It is atmospheric but unconvincing.
Review by Poquette
16/06/2015
The Golem is a surprising book in two ways. First, Meyrink's Golem is not the frightful simian horror suggested by the book's cover. Instead, it is an enigmatic and elusive figure, dreamed up in the Middle Ages by a conjuring rabbi who "had first to create it in his mind before he could clothe it in physical form." It is an archetype, then, the sight of which forces penetrating insights from the reluctant observer. This encounter is life-changing in the deepest, most profound way for the many people who claim to have seen him. It is the confrontation with one's very soul that identifies the phantasm as the Golem, which is only a horror insofar as confronting one's own demons makes it so.Second, the other surprising aspect of the book is its modern tone. In places, it has an almost stream-of-consciousness style which Meyrink employs to pile on much life-like detail to the milieu of the Prague ghetto. Of course, part of its feeling of modernity may reflect the very readable new translation by Mike Mitchell.Gustav Meyrink flourished during the teens and twenties in Berlin where he was seen as a writer of fantasy. Both The Golem and The Green Face — which shares many similarities with The Golem — are certainly fantasies, but of a particular kind which reflects the writer's interest in the mystical movements of Theosophy and Gnosticism.The narrator is an obviously troubled young artisan, living and working in the Jewish ghetto of Prague, whose memory of his childhood, youth and education are lost to him. He is beset alternately by sleeplessness and disturbing dreams. As the novel unfolds it seems that even his name belongs to someone else, for he vaguely recalls having taken the wrong hat at some point in the dim past and read the name "Athanasius Pernath" imprinted in gold letters on the silk lining, which name he then appropriated."Pernath" undergoes a variety of strange adventures as he tries to figure out who he is and where he came from. His encounters are fraught with deep gnostic meaning and just when one expects a profound climax to it all, Meyrink leaves one feeling duped at having been sucked into what amounts to a literary game, for the ending is very much in the spirit of a shaggy dog story. One is left questioning the sincerity of all Meyrink's philosophizing.
Also in the European Classics series | View all