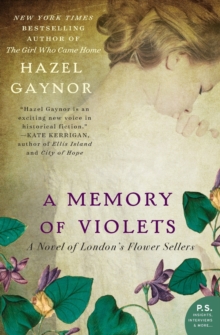 A Memory of Violets: A Novel of London's Flower Sellers
Paperback
Description
The author of the USA Today and New York Times bestselling novel The Girl Who Came Home has once again created an unforgettable historical novel.
Step into the world of Victorian London, where the wealth and poverty exist side by side.
This is the story of two long-lost sisters, whose lives take different paths, and the young woman who will be transformed by their experiences. In 1912, twenty-year-old Tilly Harper leaves the peace and beauty of her native Lake District for London, to become assistant housemother at Mr. Shaw's Home for Watercress and Flower Girls. For years, the home has cared for London's flower girls-orphaned and crippled children living on the grimy streets and selling posies of violets and watercress to survive. Soon after she arrives, Tilly discovers a diary written by an orphan named Florrie-a young Irish flower girl who died of a broken heart after she and her sister, Rosie, were separated.
Moved by Florrie's pain and all she endured in her brief life, Tilly sets out to discover what happened to Rosie.
But the search will not be easy. Full of twists and surprises, it leads the caring and determined young woman into unexpected places, including the depths of her own heart.
Information
Format: Paperback
Pages: 432 pages
Publisher: HarperCollins Publishers Inc
Publication Date: 03/02/2015
ISBN: 9780062316899
Other Formats
EPUB from £4.49
eAudiobook MP3 from £17.49
Free Home Delivery
on all orders
Pick up orders
from local bookshops
Reviews
Showing 1 - 5 of 24 reviews.
Previous | Next
Review by 68papyrus
16/06/2015
I was pleased to win a copy of A Memory of Violets through the LibraryThing Early Reviewers Program in exchange for a fair and honest review. A Memory of Violets alternates between the story of two young women from different eras, Tilly Harper and Florrie Flynn, both of whom have had difficult although different upbringings. Florrie was born in the mid 1800's into a hardscrabble life in London's East End, while Tillie was born in the late 1800's in a village in the English countryside. Tillie and Florrie's stories become intertwined when Tillie leaves home to become assistant housemother in one of the Training Homes for Watercress and Flower Girls. When she begins unpacking and putting away her belongings after moving into the room that will be hers in the training home she comes across a diary belonging to Florrie Flynn. Florrie, had previously inhabited Tillie's room and had written a diary detailing her time at the home and her quest for her lost sister Rosie. The book alternates between Florrie's story told in through diary entries and Tillie's story told in the third person. Loved this book! The book was well written and thoroughly researched with plenty of period details from the differing eras. I loved Florrie's character and how she remained positive and strong despite her hard knock life and her disabilities. At first I wasn't a big fan of Tillie but as her character matured emotionally and came to terms with the mistakes she had made I came to like and respect her. This book will appeal to fans of historical fiction or anyone looking for an enjoyable and well written read.
Review by Soniamarie
16/06/2015
I thought this an absolutely lovely read. At first I worried it would be a difficult read due to the grammar of Florrie, but she doesn't narrate the entire story and once I became adjusted to the whats in place of thats, I realized the narrative suited her and her situation and that it also served to make her and Tilly's parts immediately distinguishable. So I advise readers who are often deterred by poor grammar to keep reading.There's so much going on here, so many stories that will either make you sad, angry, or happy. There's a myriad of emotions within these pages. It's heartbreaking to read about the flower sellers and the extreme poverty of 1800s London. It's uplifting to learn about John Groom (Albert Shaw in the story) and how he saved so many orphans, crippled, and blind flower sellers and gave them homes and a purpose: the making of fake flowers. The whole Queen Alexandra day really happened and it's an inspiring thing to read about. It's infuriating to read about a woman who though her intentions were good, her reasons were selfish, when she deprives another of the only person they have in the whole world.But what I enjoyed the most about this story is how Tilly goes to work with the crippled and blind and at first distinguishes each one by their handicap. As the story continues, she sees the error in that way of thinking and no longer sees their handicaps, but who they are individually. Many people today should take such advice to heart. I also appreciated the difference between Esther--a handicapped child with no purpose in life, coddled, pitied--and the flower girls--handicapped but self-reliant as much as possible and happy to have a purpose each day. It's so important and her story line served to show us this.I have failed to mention the story itself...a quick bit: There are two story lines, the late 1870s and 1912. In 1912, Tilly leaves her home in Northern England to work in Albert Shaw's home for orphaned flower girls, where she overseas and cares for handicapped young women who work in a flower-making factory. She finds a journal from a previous resident, Florrie, who lost her beloved sister in 1876. While Tilly tries to track down the missing sister, she also comes to find out some truths in her own family life and learns to forgive herself for a past misdemeanor.Loved the writing, the characters (except Mrs. Ingram. Grrr.), the story itself, and the morals within. My quibble has to be that there were far too many coincidences. Though they mostly tied up very nicely with a beautiful ending, I thought there were a bit too many. Perhaps the final revelation from Tilly's life could have been left out as it was a coincidence that added nothing to the tale really. (I'm trying to avoid spoilers)
Review by knittingmomof3
16/06/2015
A Memory of Violets by Hazel Gaynor is set in early twentieth century London, at Mr. Shaw's Home for Watercress and Flower Girls with is a home for orphaned and crippled girls who sell posies of watercress and violets to survive. Twenty year old Tilly Harper moves to the home to work as Mr. Shaw's assistant and not long after her arrival she comes across the diary of an Irish flower girl, Florrie, who was separated by her sister Rosie, and Florrie's words touch Tilly so deeply she becomes determined to find out what happened to Rosie. Gaynor's prose is remarkably beautiful and filled with such vivid descriptions, the reader feels as though they are back in time with Tilly, Florrie, and Rosie. The characters are well written, strong, and believable. A Memory of Violets is an exceptional work of historical fiction with the added bonus of unexpected plot twists along the way as Tilly looks for an explanation for the disappearance of Rosie. I would not hesitate to recommend A Memory of Violets to all readers, especially those in book discussion groups.
Review by AliciaClark23
16/06/2015
I really enjoyed this book. It contains several great characters and the central theme is flowers. Specifically it tells the story of London's flower sellers. The character Albert Shaw (based on a real man) takes in disabled orphans and gives them a place to live and a job making artificial flowers to get them off the streets where they once sold flowers and lived in horrendous conditions. It was refreshing to read a book about truly difficult circumstances that left you with a real sense of hope. It was a reminder that there are always people who dedicate their lives to helping those that are less fortunate. That is a powerful message in a time when it can feel like all the news is bad news. I also enjoyed that the language of flowers was included. This is the second book I have read that delves into that fascinating subject. The relationship between sisters is another theme in the book and that is one that touches me personally since my sister and I are very close. I like this author's writing style and I would love to read her first novel as well.
Review by dpappas
16/06/2015
"That's the funny thing about sisters, ain't it," the driver continued. "Some can't stand the sight of each other and some can't bear to be apart."I really enjoyed reading Hazel Gaynor's previous book, The Girl Who Came Home, so when I saw that this book was available as a Librarything Early Reviewers giveaway I immediately requested it. Hazel Gaynor created yet another hit with this book and she is now on my list of favorite authors.This book is mainly about two pairs of sisters; Florrie and Rosie, and Tilly and Esther (although Esther herself isn't really prevalent in the story until the last 1/4th of it). The book switches back and forth in time to cover both stories and I found both of the storylines to be interesting. Florrie and Rosie's story will really pull at your heartstrings and Tilly and Esther's story, once it is fully revealed, will leave you shocked. I really loved how the storylines ended up connected towards the end of the book. All four of the girls were such interesting characters that I felt such a connection with each of them (yes even Esther, who wasn't as prevalent in the story as the other girls).What I really loved about this story was that while some plot twists you could see coming there were also major surprises towards the end of this book. I loved all the twists towards the end of the book and loved how they ended up connecting the two storylines. I also really enjoyed all the emotional scenes towards the end. Yes I was sobbing at the end but I love that this book was able to bring those emotions out in me.There were a few things that I didn't like about this book (which is why I didn't rate it 5 stars). I wasn't all that sold on the change in Edward's behavior. Yes I did like the man he became but I felt like his transformation was extreme and took place in too short a time period. I also didn't really like the interaction between Tilly and Herbert and didn't feel that those scenes were all that necessary.It was clear that Hazel Gaynor did her research. These fictional flower girls in this story our based on the real work that John Groom did. After reading this book I am really interested in learning more about John Groom and his work. If you are looking for a really good story that highlights the relationship between sisters and also gives a glimpse into the life of a flower girl than this is a book for you. I can't wait to see what Hazel Gaynor writes next.