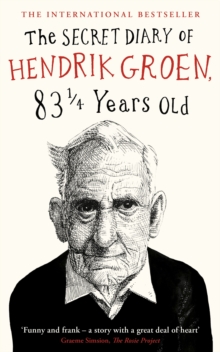 The Secret Diary of Hendrik Groen, 83 Years Old
Hardback
Description
** THE INTERNATIONAL PHENOMENON ** 'There are many laughs in this book but it's so much more than just a comedy.
It's a story about how friendship, selflessness and dignity lie at the heart of the human experience.
When I'm an old man, I want to be Hendrik Groen' John Boyne, author of international bestseller The Boy in the Striped Pyjamas *** 'Another year and I still don't like old people.
Me? I am 83 years old.' Hendrik Groen may be old, but he is far from dead and isn't planning to be buried any time soon.
Granted, his daily strolls are getting shorter because his legs are no longer willing and he had to visit his doctor more than he'd like.
Technically speaking he is ...elderly. But surely there is more to life at his age than weak tea and potted geraniums?
Hendrik sets out to write an expose: a year in the life of his care home in Amsterdam, revealing all its ups and downs - not least his new endeavour the anarchic Old-But-Not Dead Club. And when Eefje moves in - the woman Hendrik has always longed for - he polishes his shoes (and his teeth), grooms what's left of his hair and attempts to make something of the life he has left, with hilarious, tender and devastating consequences.
The indomitable Hendrik Groen - Holland's unlikeliest hero - has become a cultural phenomenon in his native Netherlands and now he and his famously anonymous creator are conquering the globe.
A major Dutch bestseller, The Secret Diary of Hendrik Groen will not only delight older readers with its wit and relevance, but will charm and inspire those who have years to go before their own expiry date. *** Praise for The Secret Diary of Hendrik Groen, 83 Years Old 'Amusing [and] wickedly accurate ...I was constantly put in mind of One Flew Over The Cuckoo's Nest, another comi-tragedy concerning the tyranny of institutions of the unwanted.
Enjoy Groen's light touch but do not be fooled by it.
We live in an ageing society. The Secret Diary of Hendrik Groen is a handbook of resistance for our time. ***** FIVE STARS' Daily Express 'Hendrik Groen's account of daily life in a care home for the elderly pulled me in with its self-deprecating humour, finely drawn characters and frank accounting of the trials of old age.
Behind Hendrik's light touch and grumpy-old-man persona is a story with a great deal of heart, and some important themes.
Hendrik effortlessly incorporates the politics of aged care, from funding to euthanasia, into his personal story and offers his own acerbic insights.
Anyone who has a friend or relative in a nursing home or retirement village, or who hopes to grow old with dignity themselves, will find much to reflect on' Graeme Simsion, international bestselling author of The Rosie Project And here is what the readers are saying ...'The Secret Diary of Hendrik Groen, 83 Years Old is a book I'd really want everyone to read, it is funny, sweet and aims straight to the heart.
It's been a long time for me since I read a book I love this much.
I've had a big grin on my face throughout the whole book.
It has nested itself in my top 3 favourite books of all time fighting for first place with Umberto Eco's Foucault's Pendulum. It's for sure by far the best book of 2016 so far!' 'What a change this was from my usual genres, but I'm so glad I read it, it was a pleasure and an honour to share Hendrik's life, if only for a year!' 'It should be compulsory reading for all those teenagers who have recently discovered another diary of A.
Mole to see how the older generation thinks' 'This book is one of the most touching, heart-wrenching stories' 'Is there only room for 5 stars??' 'One of the funniest, touching books I have ever read.' 'Some of it is so funny I cried.' 'An absolute gem of a book.' 'The best book I have read in the last few years.'
Information
Format: Hardback
Pages: 384 pages
Publisher: Penguin Books Ltd
Publication Date: 25/08/2016
ISBN: 9780718183004
Free Home Delivery
on all orders
Pick up orders
from local bookshops