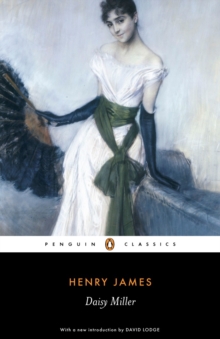 Description
Travelling in Europe with her family, Daisy Miller, an exquisitely beautiful young American woman, presents her fellow-countryman Winterbourne with a dilemma he cannot resolve. Is she deliberately flouting social convention in the outspoken way she talks and acts, or is she simply ignorant of those conventions?
When she strikes up an intimate friendship with an urbane young Italian, her flat refusal to observe the codes of respectable behaviour leave her perilously exposed.
In Daisy Miller James created his first great portrait of the enigmatic and dangerously independent American woman, a figure who would come to dominate his later masterpieces.
Information
Format: Paperback
Pages: 128 pages
Publisher: Penguin Books Ltd
Publication Date: 28/06/2007
Category: Classic fiction (pre c 1945)
ISBN: 9780141441344
Other Formats
Paperback from £1.99
EPUB from £1.29
Mixed media product from £12.11
Paperback / softback from £6.95
PDF from £1.29
Hardback from £20.65
Free Home Delivery
on all orders
Pick up orders
from local bookshops
Reviews
Showing 1 - 3 of 3 reviews.
Review by StefanY
16/06/2015
If you enjoy reading classic literature, you might consider giving Daisy Miller a try. James' eloquent writing style and study of cultural ideas make this a very entertaining read. James looks closely at the culture of 19th century Americans on holiday in Europe. The narration makes for a very good window into the attitudes and opinions of the upper class at the time and the perceived differences between those with "old money" and those with "new money."For the most part, this is a light read. It does contain a few dark moments, and in the end the main character really does not exhibit any real growth. All in all, I found it to be interesting and enjoyed James' humor throughout. He has a very nice way of poking fun at some of the conventions of the time while managing to make these things seem of import to his characters. This infuses the story with the life that it needs to keep the reader interested enough to keep reading.
Review by Armand_Inezian
16/06/2015
This was my first exposure to Henry Miller, and I wasn't entirely sure what to expect. There were a lot of good things about this lengthy short story (or very short novella), including accessible writing, and a wonderful sense of that transitional period in history (when wealthy Americans first started visiting "Old Europe" in droves.) Even though I gave it three stars above, I really want to give it 3.5 stars. I have to admit- however- that after I was done, I didn't know exactly what to make of the story which is roughly about a passive narrator (Winterbourne) trying to understand a free-spirited, rough-around-the-edges American woman (Daisy). It was only after I studied the story some more (using Sparknotes- I admit it), that I got a broader sense of the social context. In this case, Henry James was exploring a cultural clash between new-money American tourists (like Daisy Miller and family) and old-school American ex-pats (like Winterbourne- who apparently has no first name). Furthermore, even though most of the drama in the novel concerns Daisy Miller, a lot of the novel is about how stuck Winterbourne is. He's American in Geneva. He doesn't know whether he can fall for Daisy or not. He is unsure of the value of social standing. He is unsure of how to approach the freedom that Daisy represents. All in all, a good book, and despite the drama (including some social scandal and even a death!), the story has a soft, old fashioned feel to it.
Review by mbmackay
27/01/2016
This volume included other stories by Henry James: THE ASPERN PAPERS, THE TURN OF THE SCREW. All good short fiction - maybe I have been wrong about James & he is actually readable!!Read Samoa Dec 2003