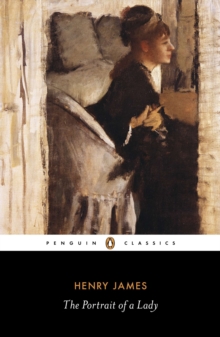 The Portrait of a Lady
Paperback
Description
When Isabel Archer, a beautiful, spirited American, is brought to Europe by her wealthy aunt Touchett, it is expected that she will soon marry.
But Isabel, resolved to enjoy her freedom, does not hesitate to turn down two eligible suitors.
Then she finds herself irresistibly drawn to Gilbert Osmond.
Charming and cultivated, Osmond sees Isabel as a rich prize waiting to be taken.
In this portrait of a 'young woman affronting her destiny', Henry James created one of his most magnificent heroines, and a story of intense poignancy.
Information
Format: Paperback
Pages: 768 pages
Publisher: Penguin Books Ltd
Publication Date: 28/07/2011
Category: Classic fiction (pre c 1945)
ISBN: 9780141441269
Free Home Delivery
on all orders
Pick up orders
from local bookshops
Reviews
Showing 1 - 4 of 4 reviews.
Review by gbelik
16/06/2015
Oh, Isabel Archer, you seemed like such a strong, independent young woman, newly rich and off to see the world. You had good friends who gave you good advise. Why did you make the wrong choice of husband and change the whole character of your life? But you were young and had the means and opportunity to fix things. Why did you make the decision you did? I mostly enjoyed the process of reading this book, though I ran across many passages whose meaning eluded me and was obviously very frustrated by the main character. Great characters who I won't forget for quite a while.
Review by SandDune
27/08/2015
I haven't read much Henry James before (I might possible have read The Europeans previously but I couldn't swear to it, and to be honest if The Portrait of a Lady is representative then I'm not sure if I'm going to be reading much in the future. I had great difficulty maintaining any interest at all in any of the characters, even in the heroine Isabel Archer (who is supposedly a remarkable woman) and I couldn't get a sense that the characters could ever have been real people. Isabel Archer is a young American woman who is invited by her aunt to spend some time with her in Europe. Mrs Touchett has her permanent home in Florence, only visiting her husband at his house of Gardencourt, overlooking the Thames Valley in England, for a month or so each year. But it is to Gardencourt that she initially takes Isabel, to meet her husband and her invalid son Ralph. Appreciating Isabel's determination that she must do something with her life, which has caused her to reject two offers of marriage during her stay in England, he is instrumental in obtaining for her the legacy which allows her to pursue the true freedom that she craves. But Isabel's new independence takes her to Paris, Florence and Rome the freedom which she craves remains elusive...To be honest I've never come across an account of the grand European tour that has just come across as so boring! The lives that are being led just seem so stultifyingly dull. I had hoped that when the novel reached Florence it would catch my attention as I've spent a lot of time there in the past, but no! According to the blurb on the back this is 'one of the finest novels in the English language' but do fine novels have to be so dull? It's not just that nothing seems to happen for long stretches, that I can cope with, but I can't cope with the artificiality of the characters.I'm giving this three stars because it seems too well written to give it less but I can't say that I enjoyed it.
Review by baswood
27/01/2016
American Henry James thought long and hard before putting pen to paper to write The Portrait of a Lady. He was determined to answer his critics by producing a literary masterpiece. He likened his process of writing this novel to the erection of a particularly fine building: a classical building of course. In his preface to the novel James was at pains to point out this process:<i>"So far I reasoned, and it took nothing less than that technical rigour. I now easily see, to inspire me with the right confidence for erecting on a plot of ground the neat and careful and proportioned pile of bricks that arches over it and that was thus to form, constructionally speaking a literary monument…………That solicitude was to be accordingly expressed in the artful patience with which as I have said I piled brick upon brick. The bricks for the whole counting over - putting for bricks little touches and inventions and enhancements by the way - affect me in truths well nigh innumerable and as ever so scrupulously fitted together and packed in."</i>This extraordinary preface prepares the reader for the long haul, but it also confidently claims that the reader will be in the safe hands of a master craftsman and storyteller, one who is blessed with a gift that can reveal aspects of the human condition to the patient reader. Patience is perhaps the supreme virtue for Henry James as the last sentence of this monument of a novel is:<i>"She walked him away with her, however, as if she had given him now the key to patience."</i>Patience is what a modern reader will need for the first three quarters of this novel, but as Henry James says it will have it's rewards. He moves his readers crablike through the first chapters where he introduces some of the main characters and sets them in a beautiful old Country House in England. His writing is delicate and fine and when we meet his central character: Miss Isabel Archer we are soon lost in admiration for her independence and wit, expressed in some splendid conversation exchanges with her hosts at Gardencourt. Miss Archer is a young American lady of exceptional talent who values her independence above all things and one can't help feeling that Henry James imbued much of his own character in the portrait of this lady. Fine, splendid, delicate are words that we could use to describe the society that James is portraying here. These are people with independent incomes living in mid nineteenth century England, who have impeccable manners and who can call on titled individuals as their friends. Miss Archer from America can fit into this society through her intelligence and wit and because of her good American breeding. This book is about upstairs people, nobody from downstairs gets a look in.The story line of the novel follows the career of Miss Archer. She dazzles almost everybody she meets. She has offers of marriage from Lord Warburton a fine Englishman with radical ideas who is forging a career as a diplomat and also from Casper Goodwood a leading American industrialist. She rejects them both in pursuit of something finer for herself. When her protector old Mr Touchett dies, on the advice of his invalid son Ralph he leaves Miss Archer a fortune and so suddenly she is even more attractive on the marriage market. She travels to the Italian home of Mrs Touchett, where under guidance from Madame Merle she meets Gilbert Osmond, the embodiment of fine taste and culture. After a courtship she decides to accept Gilbert Osmond waiving away Lord Warburton and Casper Goodwood who have followed her to Italy. Osmond has been married before and has a young daughter Pansy who has just left the convent to live with him and his new wife. It doesn't work well for Isabel Archer, who after the first year of marriage becomes estranged from her traditionalist husband, but she soon grows to love his young daughter. It is Pansy's prospects on the marriage market that bring Isabel Archer's big mistake to a head and the novel's main theme then becomes how Isabel can come to terms with her future.The novel was originally serialised in Atlantic Monthly and Macmillan's magazine before being released as a novel a year later in 1881. The novel gains both power and depth as you read through; the almost painstaking preparatory work in the first sections of the novel reap rewards once the story starts to unfold. It is the quality of James's writing that kept me reading; his descriptions, conversations and character building are first class and once the story gets rolling the groundwork provides an excellent reference for the characters and their actions. Henry James valued his own independence and so one feels he is speaking from the heart when he is describing Isabel Archers point of view. He never married himself and it is therefore no surprise to learn of Isabel Archer's mistake once she falls into that trap. There may be some evidence for thinking that the author of The portrait of a lady was a misogynist. For example his heroine for all her intelligence, manners and charm has an inherent character fault: it is her pride that in the end leads her into a miserable existence. Most of the other female characters are shown as manipulative and uncaring or dull and it is only the young virginal Pansy that can claim to be good. By contrast there are plenty of good and upstanding male characters; Lord Warburton, Casper Goodwood, Ralph and old Mr Touchett, although the most evil characterisation is reserved for Gilbert Osmond.This is a slow moving novel whose storyline can be pretty well predicted, but this is not why we read Henry James. We read him for his characterisation, his brilliant descriptions and his observations on the human condition as well as his skill as a novel writer. There is no evidence of his rather mannered and tortured sentence structures that he favoured in his later novels. An added bonus for readers today is the depiction of life in mid nineteenth century England, even if it is reserved for the top tier of society. Yes James can sound snobbish and a little prissy at times and this in the end makes me think that his excellent novel is not a great novel. 4.5 stars
Review by mbmackay
27/01/2016
The first book of Henry James that I have enjoyed. A wonderful picture of the life of Americans of unearned incomes in Europe in the Victorian era.Read Samoa Dec 2003