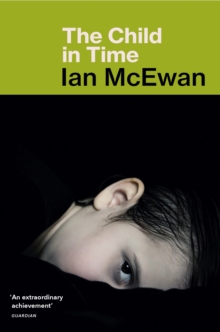 The Child in Time : Winner of the Whitbread Novel Award 1987
Paperback
Description
The Child in Time opens with a harrowing event. Stephen Lewis,a successful author of children's books, takes his three-year-old daughter on a routine Saturday morning trip to the supermarket.
While waiting in line, his attention is distracted and his daughter is kidnapped.
Just like that. From there, Lewis spirals into bereavement that has effects on his relationship with his wife, his psyche and time itself.
Information
Format: Paperback
Pages: 256 pages
Publisher: Vintage Publishing
Publication Date: 05/06/1997
ISBN: 9780099755012
Free Home Delivery
on all orders
Pick up orders
from local bookshops
Reviews
Showing 1 - 5 of 6 reviews.
Previous | Next
Review by dylanwolf
16/06/2015
Every parent's nightmare dealt with suprisingly deftly by McEwan, who sometimes has a tendency to become playfully melodramatic. But here the inevitable break of the marriage and the falling apart of personality and the slow dulling of time are all expertly recorded. A poignant and sad book reflecting on the relationship of effect and causality.
Review by mareki
16/06/2015
One of my favourite McEwan's. Compelling plot, sympathetic character, innovative style - incredibly carefully & densely written, without being a laborious read at all. And the ending is beautiful, & redemptive, celebrating the simple miracles of humanity. feb 08
Review by Fullmoonblue
16/06/2015
I don't think this is a book to be read only once. Why: The pace and main settings/characters shift pretty distinctly a couple of times over the course of the novel, and the reader who looks for a linear sort of plot development will be disappointed (if not annoyed). It's not giving anything away to say that a child disappears; that's laid out right on the back cover and happens within the first few pages. So one might expect this to become the driving force behind the plot: who took the kid, where is she, will the parents ever find her again...? But this is less a detective story than a chronicle of how the somewhat miserable main character watches his life fall apart in the kidnapping's aftermath. If I did read the book a second time (possibly this summer) I would watch for whether or not McEwan may have snuck in any subtly cohesive plot devices that I missed on the first read. For instance, I wonder if perhaps he interwove gestures toward different stages of grief (eg Stages of Grief) throughout this meandering, somewhat unconventional plot. A device like that might help me understand why and how McEwan chose to include such vastly different (but not unconnected) characters and scenes: the husband and wife, the parents, the political world, institutionalized school-related settings, a pub lost in time, a treehouse... During a reread, I would also make a list of the overt questions this book raises about childhood and about loss. Some seem grand (as time passes, where does the past go?) and others are more particular (how is it different to lose a child than to lose an old friend?) Can looking at one's parents differently change your own sense of identity? And what role does the state (or rather the wackos who may make up institutional bodies) play in the definition and identity formation of its citizens/subjects/children...? To sum up, The Child in Time was not, for me, as immediately gratifying as Atonement or On Chesil Beach; those two resist gratifying the reader also, in different ways. But I did enjoy it anyway, especially upon getting to the end and trying to figure out how I felt -- same as I did after finishing Atonement and Chesil. The Child in Time just comes off as more experimental, in my opinion, which isn't necessarily a bad thing.
Review by Rach974923
16/06/2015
I first came across this book when taking my English literature A-levels in 1994. It remains one of the few books that I have studied in depth and still totally and utterly adore. It has so many levels. Each time I read it (and I've read it a few times now) it gets better, even though I know exactly what's going to happen. For me, this is novel writing at its best. Prosaic, haunting, real, emotional and with a wry humour. I can accept that this is a polarizing book: people either love or hate it and it is not an easy read. Stick with it, though, and the rewards are great.
Review by martymojito
16/06/2015
I was disappointed in The Child in Time. I am a big McEwan fan but this lacks a compelling story. Not enough plot and too much feelings, is that the right word. McEwan can do great plots but this left me cold. I didn't really care about any of the characters and certainly not about the blasted committee about children's literacy.It started so well, a very dramatic disappearance of his child, but then lost its way I thought.