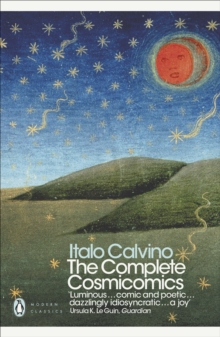 The Complete Cosmicomics
Paperback
Description
This title enchants stories about the evolution of the universe, with characters that are fashioned from mathematical formulae and cellular structures.
They disport themselves among galaxies, experience the solidification of planets, move from aquatic to terrestrial existence, play games with hydrogen atoms - and have time for a love life. 'Naturally, we were all there, - old Qfwfq said, - where else could we have been?
Nobody knew then that there could be space. Or time either: what use did we have for time, packed in there like sardines?'
Information
Format: Paperback
Pages: 432 pages
Publisher: Penguin Books Ltd
Publication Date: 06/05/2010
Category: Science fiction
ISBN: 9780141189680
Free Home Delivery
on all orders
Pick up orders
from local bookshops
Reviews
Showing 1 - 1 of 1 reviews.
Review by dmsteyn
16/06/2015
I have read two other books by Italo Calvino ([Invisible Cities] and [If on a Winter's Night a Traveller]), but that hardly seems to matter when trying to coral one's thoughts into a review of one of his books, each book being such an idiosyncratic achievement. The same may be even more true of <i>The Complete Cosmicomics</i>. Written over twenty years, and scattered across several collections, these stories defy categorisation other than Calvino's own: they are "cosmic" stories that contain an element of the "comic". But Calvino could as easily have called them cosmitragics, or romanticomics. The stories contain their fair share of tragedy, and almost each one contains a yearning for an other, usually female, counterpart who almost always remains beyond the reach of the protagonist.Most of the stories are related by Qfwfq (yes, that is spelled correctly) who appears in various guises. He is a bit of a cosmic trickster figure, sometimes human, sometimes animal, always absurd and beyond understanding. Not that Calvino's stories are unintelligible; they are highly lucid ruminations on cosmic subjects. Calvino uses science to ground his stories, but he goes far beyond the bounds of proven facts to hypothesise about the universe, time, death, and everything in-between. Usually, saying "everything in-between" would be a bit of cop-out in a review, but in this case, I am being completely honest: Calvino writes about things that seem inconceivable, such as the origin of the universe, in a format that is immediately recognisable, that is, the short story. And all of his musings <i>are</i> stories, no matter how esoteric and unbelievable they become.I must admit, the more cosmic the stories, the less interesting they seemed to me. Not uninteresting, note. They just seemed a bit hard to connect with, these stories about the inexpressible vastness of space and time. That said, in hands other than Calvino's, they would have been a shambles. Calvino manages to avoid science-fiction while still engaging with science-fact. He is simply brilliant at exploiting the possibilities of theoretical knowledge for his own ends. If this paragraph seems a bit, well, nebulous, that is because it is hard to describe Calvino's method without spoiling a story. I deal in commonplaces and inexactness to give the flavour of Calvino's achievement, while probably missing the heart of his accomplishment. And there is certainly heart to Calvino's writing. Lesser writers would have turned these stories into stylistic exercises, conceits meant to show off their versatility. Calvino, although experimental, keeps his stories grounded in narrative plausibility and character. Some of the stories are not as successful as others, but the best ones are incomparable.My favourite story is a bit of an idiosyncratic choice in itself, but I guess that goes with the territory. In his re-working of [The Count of Monte Cristo] called, audaciously enough, <i>The Count of Monte Cristo</i>, Calvino depicts a prisoner (Edmond Dantès) trying to escape the Château d'If. But, in fact, he does not attempt to escape. Instead, he listens as another prisoner, Abbé Faria, digs through the prison walls. These walls, however, are not merely stone and mortar. Rather, the Château d'If resembles an M.C. Escher drawing, with the dimension of time added to increase the confusion. Faria continually digs through the walls, only to emerge back where he has come from, sometimes years later (or <i>earlier</i>), sometimes upside down, and sometimes from the same hole that he exits. Edmond, meanwhile, attempts to think through the problem of the prison. As an added twist, he is also aware of a writer, one Alexandre Dumas, trying to write a book called, of all things, <i>The Count of Monte Cristo</i>. Not only does Faria dig through the prison; sometimes he arrives in Dumas's writing room… I will not reveal the conclusion to this story, but the whole construction is so brilliant and mind-wrenching, that I just had to outline it here.I have yet to read anything by Calvino that could be described as "conventional" or "boring". I loved this collection of all the Cosmicomic tales. There is much more that I could relate (the stories' recurring motif of the moon, a pre-occupation of Italian writers since Dante, for example), but there is an excellent Introduction by Martin McLaughlin included in the volume that deals with most of these considerations. Besides, the hour grows late, and I can hear the scrape-scrape of a shovel echoing through my room…
Also in the Penguin Modern Classics series | View all